ISTE 2014: How to Make Child's Play Work in the Adult World
Self-proclaimed 'Katalyst' Kevin Carroll urged conference attendees to reclaim the spirit of play that fueled their youth and find 'their red rubber ball.'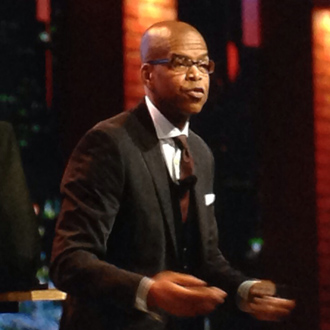 Photo: Marla Clark
Inspiration is a funny thing: What stimulates or compels one person to do something creative may mean little to his neighbor, his colleagues or even the family members who know him best.
For author, speaker and change agent Kevin Carroll (a.k.a. the "Katalyst"), a staple of playgrounds and school gymnasiums around the world became the driving source of inspiration behind everything he does today. The ubiquitous object in question: a red rubber ball.
In Monday morning's keynote address at the International Society for Technology in Education 2014 conference and expo, Carroll fired up the crowd with his "energy, enthusiasm and insights," which he gave freely in exchange for just one thing: "I ask you to be present for me, right here, right now," he said.
Carroll's compelling life story — and the ways in which he has turned challenges into opportunities — reminded attendees of all ages that "play is serious business" and the fuel that can inspire unexpected creativity, productivity and so much more.
Playing to Win
Carroll opened his lively remarks by acknowledging that he is "a mosaic of all the people who have helped" him over the course of his life. He also insisted that everything he ever needed to know, he learned "on the playground."
The middle son of two addict parents who both abandoned Carroll and his brothers by the time he was 6, Carroll stressed that circumstances don't have to dictate one's destiny. "I was placed here for a very specific purpose," he said.
A harrowing, yet remarkable journey back to his grandparents in Philadelphia following his mother's departure in 1964 set Carroll on the path that he continues to travel today. His "mom-mom and pop-pop," as he lovingly called his grandparents, "were our angels and our rescuers — and so wise." The neighborhood kids who befriended him — and nicknamed him "Little Fast Kid" — made him feel like he belonged. "Isn't that what we all want?" he asked. "To be part of something?"
The red rubber ball they were playing with on that first day of friendship stayed with him too. "I claimed that ball for myself," he said. "I thought to myself, 'If you can help me belong, if you can help me connect, I'm going to keep you with me, no matter what.'" It was that very day, at that young age, that Carroll says he made a commitment to himself "to always keep a ball with me."
Ball Game
Kevin Carroll's ongoing pursuit of the red rubber ball — and the insights he has gathered along the way — are chronicled in these books:
Rules of the Red Rubber Ball (ESPN, 2005)
What's Your Red Rubber Ball? (ESPN and Disney Press, 2008)
Red Rubber Ball at Work (McGraw-Hill, 2008)
Throughout his formative years, Carroll played countless sports — everything from football to soccer to hockey. "It was never about anything but connecting," he explained. And then two more important things happened: he discovered reading (Where the Wild Things Are was the first book he ever checked out from a library) and became friends with "Miss Lane," the mother of his best friend, whom he dubbed his CEO: "Chief Encouragement Officer."
With the love and support of the grandfather who ultimately raised him (his grandmother died when he was 10) and Miss Lane, Carroll graduated from high school; spent 10 years in the Air Force "doing things I would have never thought possible," including learning five languages; and earned a college degree.
His pursuit of play and that metaphorical red rubber ball led to an array of professional opportunities that could fill any number of books. He worked as an athletic trainer for his hometown team, the Philadelphia 76ers, and later, for Nike, where he was charged with creating a position for himself that would add value to the brand's overall mission. "They told me to call myself whatever I wanted," he told the audience. "So I decided to be a 'Katalyst' — but I changed the 'c' to a 'k,' for Kevin."
For the next seven years, Carroll served Nike as a creative change agent, helping the company develop a deeper understanding of athletic product performance, team dynamics and interpersonal communication. He then formed his own company, Kevin Carroll Katalyst, to elevate the power of sport and play around the world. Through his consulting, Carroll has helped organizations of all sizes — including ESPN, Hasbro, the National Basketball Association, National Hockey League and Starbucks — "embrace their spirit of play and creativity to maximize their human potential and sustain more meaningful business and personal growth."
Fearlessness and openness to new opportunities are central to Carroll's business and life philosophy, it seems. "If your dream doesn't scare you, it isn't big enough," he told the ISTE crowd. "When we bring our collective energy around something, anything is possible. If we bring a community together around an intention, we can do amazing, magical things. Mine just happened to be around play."
Carroll also urged his audience to reclaim the spirit of play as adults. "Every single one of us has a play history," he said. "Play shapes who we are and is as important to us as eating, drinking or sleeping. But what do we do with play? We marginalize it, push it to the weekends."
Instead, he continued, we should take play as seriously as we do everything else in our busy lives. "Play is an amazing convening tool," he said. We all speak play. It's so amazing to see the humanity in play."
Learn more about Carroll at kevincarrollkatalyst.com and follow him on Twitter at @kckatalyst.
 EdTech will be providing constant coverage of ISTE 2014, including video interviews, session information and tons of photos. Keep up to date with all of our coverage of the event on our ISTE 2014 conference page.
TAYLOR HINTON/THINKSTOCK
More On