ISTE 2014: National Teacher of the Year Jeff Charbonneau's STREAM of Consciousness
Zillah High School alumnus and educator revels in the art and science of education.
The 3,100 people who live in Zillah, Wash., know Jeff Charbonneau well. And now, many of his K–12 peers do too.
A 1996 graduate of Zillah High School, Charbonneau returned to his alma mater as a teacher soon after earning two degrees from Central Washington University. He didn't go to college to become an educator, but midway through his pre-med coursework, he discovered his true calling.
Twelve years later, the Council of Chief State School Officers honored Charbonneau as its 2013 National Teacher of the Year for his innovative instruction and tireless efforts to help his students succeed in all subjects. He spoke to EdTech Managing Editor Marla Misek Clark just a few weeks before his closing keynote address at the International Society for Technology in Education's 2014 conference about his professional evolution; his tour of duty as National Teacher of the Year; what he wants for ISTE attendees; and why he's so passionate about adding an "R" and an "A" to STEM education.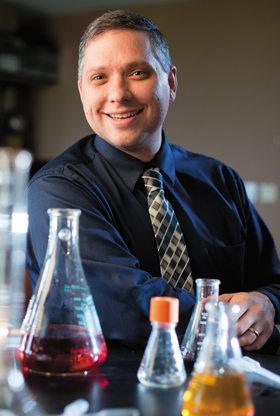 Photo: Leah Nash
2013 National Teacher of the Year Jeff Charbonneau
EDTECH: When and why did you decide to become a teacher?
Charbonneau: Growing up, I always wanted to be a doctor. Between my sophomore and junior years of college, I knew that I was going to need a lot of community service hours and as much experience as possible to get into medical school, so I began volunteering at the local hospital.
While doing that, I learned that one of the high schools needed a volunteer to tutor students in biology. Thinking about my med school application, I signed up. It was really the perfect scenario. The university gave me keys to the science building and said, "Go, teach." Next thing I knew, I was thinking more about my next tutoring session than I was about my studies. I found myself canceling time at the hospital to spend more time with my students.
What really hooked me on teaching were those moments when I saw students understand some new scientific process for the first time —and their whole world changes. When you can see that as a teacher, it becomes very addictive. You just want to have more of that.
EDTECH: What's it like teaching in the high school from which you graduated?
Charbonneau: When I came back to town and started teaching at Zillah High School in fall 2001, many of my former teachers were still there. In fact, the majority of the teachers who are still there were my teachers when I was a student. I think it took about three years before I addressed anyone by his or her first name. It was always Mr. This or Mrs. That.
What's really neat about my experience is that I have memories of those teachers as their student, and now I see them from the other side of the desk. I see the thought process that drove their lessons and why they were trying to motivate me as they did. I get to learn from them not only as a student, but also as an educator.
I also went to the middle school in this town, and when I was named National Teacher of the Year, everyone was incredibly excited for me. But they also remember me as a middle schooler. The community has done a very good job of keeping me humble.
2,000+
The number of Washington students who have participated in the Zillah Robot Challenge since Jeff Charbonneau launched the competition in late 2008
EDTECH: You teach chemistry, physics and engineering, but you're also the assistant director of the drama department and the yearbook adviser. Why the diversity?
Charbonneau: I've always loved science. I still remember getting in trouble as a kid because I wanted to "mix the potions" and see what types of shampoos I could mix together to get something cooler. I've always had an inquisitive mind, always wanted to experiment. And I was very blessed growing up because my parents and all of my teachers told me I could do and be anything I wanted.
Learning in general has always been a passion of mine. I took a lot of humanities courses at Central Washington University at the same time I was taking the science courses. I think we need to integrate the humanities into the sciences as much as possible, to educate the whole student.
My jobs at Zillah High School don't necessarily go hand in hand. But that's what we need to help shape the next generation of students. We need both the scientists and the literary experts. We need the poets to be our architects. We need people who can immerse themselves in multiple worlds.
EDTECH: How do you get your students excited about the perceived "hard" courses that you teach?
Charbonneau: I'm an adjunct faculty member at three different institutions of higher learning: Central Washington University, Eastern Washington University and Yakima Valley Community College. As a result of the agreements I have with them, every course that I teach counts for college credit. When you take high school chemistry from me, you're actually taking Chemistry 151 from Eastern Washington University. When you take physics from me, you're going to get Physics 111 and Physics 112 credits from Central Washington University.
Simply stated, my classes are hard. I'm a big fan of rigorous content, and I want to push my students harder and further than they're used to. But the only way I can do that is by putting relationships before content. It's my job to understand my students as people — what they're thinking, what their interests are — and then make the connections that help them understand the content. Great teaching doesn't focus on content; it focuses on the individual and makes the content relevant to him or her.
A class is only hard when it's not relevant. If you can see a connection to your own life, it will be a lot easier. One of the phrases you hear in teaching that I really don't like is, "You will need to know this later in life." No, tell me why I need it now, what in my life today can be different because of my learning. That's what great teaching does.
The Born-Haber process, for example, is a series of equations in chemistry and a fundamental part of my teaching. At the end of the day, I'm not as interested in whether my students know this process as I am in whether they can break down this complex information and apply it. It's not about the content per se; it's about the overall process, teaching problem solving.
EDTECH: What role does technology play in your teaching?
Charbonneau: Technology is integrated into everything I do in my classes, but it's not the goal. The goal is to teach and educate and then, if technology is the best tool for the job, we use it.
We have used everything from interactive whiteboards and 3D printers to AutoCAD and classroom management software to Microsoft PowerPoint and OneNote. I try not to limit my students in terms of what they use.
EDTECH: Do you allow students to use their own devices in class? How do you prevent that from becoming a distraction?
Charbonneau: When you are a student in my classroom, if you have a cell phone, I want to see it on your desk. What this does is help them learn when it's appropriate to use their devices. If I happen to be doing a lecture or there's a classroom discussion or group activity, those phones should be sitting untouched because it's not the appropriate time to use them. When we go into project work or independent practice, then by all means, use the phones to access all of the information that's out there for the taking.
How do you prevent it from becoming a distraction? You model it. You show the kids what it's like to use the devices in a proper way, and then, as a teacher, you monitor the classroom. People get on their devices when they are bored or not engaged in the learning process. So the better you make your lessons, the more you think about how to connect the students to the content, the less likely they are to become disengaged.
"I am a STEM teacher and a huge STEM advocate — but not at the expense of other programs." -Jeff Charbonneau
EDTECH: What was it like meeting President Obama and U.S. Secretary of Education Arne Duncan when you were honored as National Teacher of the Year? Have you talked STEM education with them?
Charbonneau: That was an amazing day. I had the opportunity to take my family into the Oval Office, and I spoke with President Obama and Secretary Duncan for a few minutes. President Obama said that it seemed like I really loved my job, and I said, "I do — and I wouldn't want yours." He also said that he believes STEM education is vital to the prosperity of America and that we need to make sure our students are STEM-literate and get the skills they need to succeed in the future.
I have talked with Secretary Duncan multiple times since then, mostly at conferences. One thing that I have mentioned to him — and I know many others have as well — is incorporating the arts into STEM programs. But I have also mentioned adding reading to the mix and turning it into a "STREAM" of knowledge.
STEM education is vitally important, but the arts and literature are just as important. I need my students to be able to read, articulate and synthesize information. A true STEM education, to me, means utilizing all of your skills and all of your tools to solve problems. I am a STEM teacher and a huge STEM advocate — but not at the expense of other programs.
EDTECH: Looking ahead, which emerging technologies most excite you as a teacher?
Charbonneau: A specific one that I'm excited about as a teacher is 3D printing. We actually just got a MakerBot Replicator that I use with my engineering students. I don't know if 3D printing is still emerging — it's been around for a while now — but it's definitely being refined.
Rapid prototyping has fundamentally changed how we think about career and technology education. In the past, if you wanted to build things, you went out to the woodshop or the welding shop. But now, you can do these things inside the classroom. It's allowed us to think completely differently about fabrication. I love the fact that Makerspaces and Fab Labs are popping up all over.
We hope to add a course next year at Zillah High School that will be co-taught by the welding/woodshop teacher and me. We're going to do advanced engineering and fabricating, where students are designing in my classroom using AutoCAD and then going out to the shop to build it. One of our main goals is to build a three-wheeled, street-legal vehicle that's student-designed and student-created. We can do that now because of technology and rapid prototyping. We can build these things at scale on a computer, 3D printer and plasma cutting system and then build them for real, in steel.
That's where I think Technology 3.0 is going to be — going from visualization on a computer to real-world objects in the physical world.
EDTECH: You're delivering the closing keynote address at the ISTE 2014 conference. What do you hope audiences will take away from your remarks?
Charbonneau: Don't underestimate your students. They are incredibly talented and so gifted at learning new information; they're going to create things that you've never even imagined.
This means we need to refine our thinking about the educator's role. Our role is to give students the skills and techniques — and then get out of the way and allow them to really grow. I have a lot of examples of how teachers can do this.
I also encourage teachers to lead. Teachers tell me all the time that they aren't leaders. Well, of course you're a leader. Even our kindergarten teachers are leaders. They have 25 or so kids in their classroom. If those kids ever decided to overthrow the teacher, they could because there are 25 of them. And yet, that doesn't happen — because of the quality leadership of the teacher. Teachers are leaders.
What I'm really pushing for is redefining what the school day looks like. Can we have the school open from 6 in the morning until 9 at night so we can also teach courses for parents in the community? So many parents come to me saying they would love to learn AutoCAD or drafting techniques. Let's start doing that — let's be advocates not only for the students that are in our classroom, but also for those in the community who aspire to be lifelong learners.
EdTech will be providing constant coverage of ISTE 2014, including video interviews, session information and tons of photos. Keep up to date with all of our coverage of the event on our ISTE 2014 conference page.
Leah Nash
More On