How Do Districts Decide Which One-to-One Device to Deploy?
Officials in Missouri, New Jersey and Arizona districts detail the functionality and cost considerations that influenced their decision-making.
Most schools embrace one-to-one for the same reason: to provide students with the skills they'll need to succeed in college and the workforce.
By giving every student his or her own notebook computer, tablet, smartphone or other handheld device, schools make it possible for students to find information instantly — and use these devices ­continuously — to produce rich multimedia content. In one-to-one environments, teachers are no longer the main conduit for information; instead, they're stewards for teaching critical-thinking skills and ­problem solving and for fostering collaboration in technology-infused classrooms. With high-stakes assessments moving online and testing students' knowledge of 21st century skills in addition to traditional subject matter, the need to immerse students in ­technology has become even more imperative.
What often distinguishes one-to-one initiatives from district to district is the device used. With new form ­factors hitting the market — sometimes weekly, it seems — no single make or model is right for every school. So how do school leaders decide which device to buy?
District officials from Missouri, New Jersey and Arizona point to device functionality and cost as the ­primary factors that influenced their decision-making. Although their one-to-one programs are in different stages and rely on different devices, the paths they took to get there are surprisingly similar. In the end, they agree, it takes research, collaboration, infrastructure and professional development to make one-to-one work.
Form Follows Function(ality) in Missouri
When officials in the Reeds Spring School District began preparing for a one-to-one program, they knew they wanted a device that could run powerful software programs such as Adobe Photoshop and Premiere and integrate easily into the instruction of every subject. For mathematics in particular, they wanted a device that could function as a tablet.
"Math was the big hole," explains Michael Mason, superintendent for the five-school district of 1,950 ­students from Reeds Spring, Branson West, Kimberling City and Cape Fair, Mo. The challenge, he says, was ­primarily operational. On a notebook, without using special math software or fonts, students would have to use the function button to access Greek mathematical operators such as sigma and gamma and trigonometric functions such as sine and cosine. "No one wants to do math on a keyboard and have to figure out those crazy symbols," he explains.
They found their solution in the Lenovo ThinkPad X230t, a convertible device that combines the power of a notebook with the functionality of a tablet. "This device allows us to do everything," Mason says, adding that the district has always found Lenovo products to be both reliable and durable. "You can write on it as you would a piece of paper. You can type on it. You can run software. It really does all of the things that we want it to do."
The district has been using the X230t since January, when it issued the device to each of Reeds Spring High School's 650 students. The one-to-one program will extend to Reeds Spring Middle School next January, when 350 seventh- and eighth-grade students will receive their devices.
So far, at least, the nascent program is running smoothly. The toughest challenge has been deciding what to filter on the district-owned devices, which ­students are allowed to take home but must return at the end of the school year. "In the beginning, we allowed some things that were really a distraction for the kids," says Instructional Technology Specialist Janna Elfrink. "I think it was a case of too much, too soon."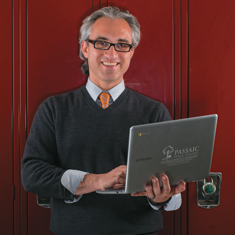 John Emerson
Going for Chrome in New Jersey
Functionality considerations also drove the decision-making process for officials in New Jersey's Passaic Public Schools system. When one-to-one preparations began in 2010, they had netbooks in mind. But the potential ­management issues, viruses and long boot-up times that can plague traditional computers gave them pause.
And then, in spring 2011, Google introduced its line of Chromebooks, which feature a traditional keyboard rather than a touch interface.
"I refer to the Chromebook as a 'right-time' tech­nology," says Joshua Koen, director of information ­technology for the 16-school district of 14,500 students. "It came out after netbooks but yields the same price-point and form-factor benefits."
By early 2012, Koen had identified the Samsung Chromebook Series 5 550 as the district's best option. The device's functional advantages were simply too numerous to ignore, he says.
Because Chromebooks boot up in less than eight seconds, teachers lose very little instructional time in the classroom. The devices' roughly six-hour battery life means they will last through the school day without needing a charge. In addition, Chromebooks run the Google Chrome browser as their operating system, ­giving users easy access to Google Docs, Google Drive and other apps; and function as thin clients, saving everything to the cloud.
The form factor "really met our educational objectives," Koen explains. "Collaboration is baked right into it."
Chromebooks' ease of management was just as appealing to the district's 17-person IT staff, he ­continues. Google servers handle all of the processing power, ­eliminating the potential for viruses, and updates are handled remotely.
After successfully piloting the Samsung Chromebook 550 at Abraham Lincoln Middle School and Passaic High School last fall, the district purchased additional devices for every student in grades seven through 12. The deployment of those Chromebooks began in January, after groups of pilot teachers had been trained to use and teach with them.
"There's no way we could implement or support a one-to-one program without the Chromebooks," Koen says. "We don't have the technicians to support it, to ensure that they are constantly functioning and working."
As part of the purchase agreement, CDW•G provided its "white-glove" service, helping district IT staff enroll and validate all 5,500 devices on the network, apply ­network and wireless configuration settings, and update to the latest release of the Chrome OS. "That saved us hundreds of hours of work, so we could focus on deploying the devices to our teachers and students," Koen adds.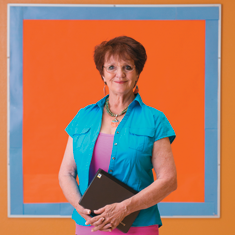 John Burcham
Money Matters in Arizona
Located on the Navajo Reservation within northeast Arizona's Holbrook Unified School District No. 3, Indian Wells Elementary School faces a number of challenges. Much of the student population "lives in a culture of poverty," explains Ann Gardner, ­technology director for the five-school district. "They don't have any resources at home. They don't have paper, reading materials, crayons or pencils." Indeed, most people on the reservation live without running water or electricity, although some do use generators to watch movies, and cellphones are becoming more prevalent.
In addition, many of the district's preschool-age students lack basic skills such as knowing colors and letters or how to speak the English used at school because there are few, if any, print materials in their homes. To combat that, Gardner adds, the district runs a preschool program that helps prepare those students for the classroom.
To increase student performance, HUSD officials decided to launch a one-to-one program for Indian Wells ­students in grades three through six. Pricing and durability were important factors in their ­evaluation of devices. Ultimately, they chose Lenovo ThinkPad Edge ­notebooks, deploying nearly 400 devices at the school during the 2012–2013 school year at a cost of about $550 per unit. "It's a sturdy little machine," Gardner says of the notebook, "and the price was right for us at the time."
So far, students have used the notebooks for ­writing, research and math remediation. District ­officials hope the one-to-one program will help ­students perform better on state assessments. But they also hope the devices will help extend students' knowledge base and connection to the world around them — and give them choices for their future.
"I want our kids to have the same skills as their peers in other schools," Gardner explains. "That way, if they do want to live in the city or wherever there are more jobs, they are equipped to do that."
The Road Traveled
Choosing a device is relatively easy compared with the planning that goes into implementing a successful one-to-one program. For many school districts, the process takes years.
"You can have lots of drivers in an implementation like this, but what is going to be best for your students is key," says Janna Elfrink, instructional technology specialist for the Reeds Spring (Mo.) School District, which partnered with the Anytime Anywhere Learning Foundation to form an implementation framework that was based on the district's goals and objectives.
Areas that need to be addressed include:
Infrastructure Upgrades: This step includes budgeting for and procuring funding to upgrade — or in some cases, install — a wireless network.
Vision Creation: This step involves researching, planning and setting goals and objectives with a team of primary stakeholders, as well as securing buy-in from teachers, students, parents, board members and the community.
Policies and Procedures Development: This step should involve as many stakeholders as feasible, including school board and community members, parents, and district staff. Team members should meet and communicate often, taking as much time as needed to ensure that every aspect of a program is properly addressed.
Professional Development: This step can take months or even years. Districts that have launched successful one-to-one programs say an instructional transformation must occur before devices are deployed to students.
Passaic Public Schools in New Jersey, for example, built a "Year Zero" into its Samsung Chromebook 550 deployment plan.
Teachers receive carts of devices for use in their classroom only after they have ­completed the necessary training and become comfortable using and teaching with the technology. To date, only 800 of the district's 5,500 devices have been issued.
"We found, based on conversations with others, that when you rush into deployment, almost all of the conversation revolves around management, which is where we did not want it to be," says Joshua Koen, the district's director of information technology.
"We really want powerful learning environments in the classroom" — and that takes time and patience, he adds.
ER = Electronics, Resuscitated
For one-to-one environments to truly work as intended, devices must be functional. When they aren't, there needs to be a backup plan.
Officials in Missouri's Reeds Spring School District came up with a creative solution to keep the 650 Lenovo ThinkPad X230t devices issued to Reeds Spring High School students up and running. They transformed a no-longer-needed computer lab into an "Emergency Room" and hired a dedicated staff person to solve students' hardware and software ­problems on the spot. If the fix will take time to complete, the ER staffer gives the student a loaner device to take to class.
"The key is to keep the kids learning with those devices," says Janna Elfrink, the ­district's instructional technology specialist. "That's the culture of the high school now."
Shane Bevel