ISTEgram: Snapshots from ISTE 2012
Ed-Tech leaders share images from a well-attended convention in San Diego.
If you're an educator, or spend any amount of time at all thinking about the intersection of technology in schools, chances are you know someone at the 33rd annual International Society for Technology in Education Convention in San Diego this week.
If you were worried that your colleagues might squander their time out West basking in the glow of those famously sunny and mild California afternoons, rest assured attendees worked nearly as hard as they played on the convention's first full day—and they posted plenty of photos online to prove it!
Below, our editors have assembled a collection of images posted during the show by attendees. If you weren't jealous before, we won't blame you if you are now!
First ever #cuerockstar #ISTE12 Shred Sessions are standing room only!! twitter.com/jcorippo/statu…

— jcorippo (@jcorippo) June 25, 2012
RT @zachgalin: Our first @studyblue pin-wearing winner at #ISTE12 ! Don't forget to wear yours! #PinWin twitter.com/ZachGalin/stat…

— StudyBlue (@studyblue) June 25, 2012
Just meet @web20classroom at the tweetup table #iste12 twitter.com/rbuckhoff/stat…

— Rebecca Buckhoff (@rbuckhoff) June 24, 2012
At CDWG watching all the magic they can do #iste12 twitter.com/misspelsor/sta…

— Amanda Pelsor (@misspelsor) June 25, 2012
Mayim Bialik on stage! #iste12 This going to be a great panel! twitter.com/kathyschrock/s…

— Kathy Schrock (@kathyschrock) June 25, 2012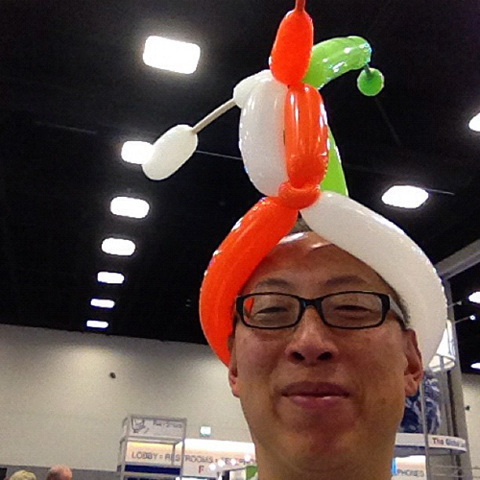 My @fablevision balloon hat. Yeah, I know you want one. #iste12 #nwpinstagr.am/p/MThfqvRbUA/

— Paul Oh (@poh) June 25, 2012
Woot. "@gericoats: #iste12 Sir Ken Robinson if u don't tweet you are at the fray twitter.com/gericoats/stat…"

— Lisa Dabbs (@teachingwthsoul) June 25, 2012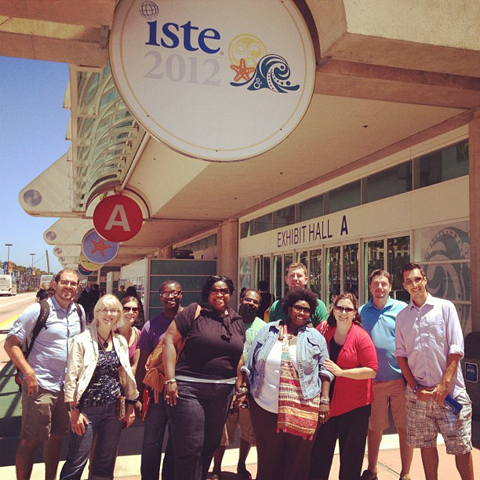 @DHFBaltimore's #EdTechLink fellows at #iste12 cc @techucation @teachbaltshaw @joemanko@ ISTE 2012 instagr.am/p/MTMxbCvah1/

— Andrew Coy (@andrewcoy) June 25, 2012
I hope this is a door prize at #ISTE12 !!!! twitter.com/mrpiercey/stat…

— mrpiercey (@mrpiercey) June 25, 2012
#ISTE12 The fab @cybraryman1 presenting on the importance of #chats and twitter and developing a PLN! twitter.com/teachingwthsou…

— Lisa Dabbs (@teachingwthsoul) June 24, 2012
"Flip Your Classroom" by @jonbergmann & @chemicalsams. Attend #Cisco session @ #ISTE12 for a copy. #flippedclassroom twitter.com/CiscoEDU/statu…

— CiscoEDU (@CiscoEDU) June 24, 2012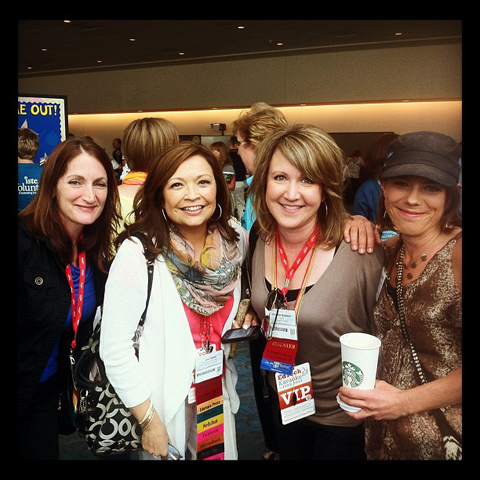 With @zbpipe @flourishingkids @teachingwithsoul#iste12 instagr.am/p/MRgvu5OumL/

— Michelle Baldwin (@michellek107) June 24, 2012
This is a crazier setup than a rock concert! Ready for @SirKenRobinson #iste12 twitter.com/dorakio/status…

— Akio (@dorakio) June 25, 2012
Earned my stripes as #TechNinja #ISTE12 - I think this is what our official #hwdsb title should be:-) Great networking twitter.com/bloggucation/s…

— Aaron Puley (@bloggucation) June 25, 2012
Want more great ISTE content? Check out all the stories and videos from ISTE 2012 on our ISTE content hub.
<p><a href="https://twitter.com/bloggucation/status/217356038821785601" target="_blank">Aaron Puley</a></p>
More On