Rapid Response Times Enhance Gameplay
The Acer Predator XB273 GZbmiiprx LCD is designed to provide an optimized esports and gaming display without breaking the bank. It's built from the ground up with features that are good for competitive gaming, while leaving out expensive or advanced features that gamers don't need.
For example, the monitor has a native resolution of 1920x1080 (1080p) instead of the higher-resolution 1440p format. This slightly lower resolution still looks great and enables the monitor, with overclocking, to achieve an incredible 240 hertz refresh rate using an HDMI input and 280 hertz using a DisplayPort cable.
That means almost instantaneous response times of as low as 0.5 milliseconds, just about as fast as a human brain.
Nobody playing with the XB273 is going to get killed in competition because his or her display lagged.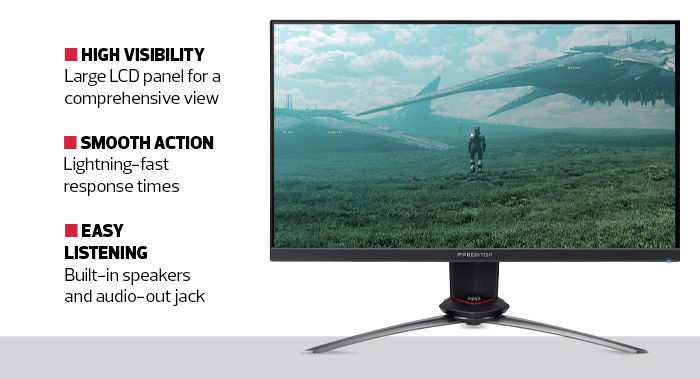 Display Offers More Contrast and Universal Light Levels
The display also has been optimized so that gamers can see all the details of their playing field. The XB273 supports high dynamic range, and games with HDR compatibility — which includes almost all new titles designed for the PlayStation 5, Xbox Series X and other modern PC gaming consoles — will display brighter highlights with more contrast on this monitor. That not only makes images more striking, but also allows players to gaze deeper into shadowy or darkened areas to quickly identify threats hiding there.
Light levels are also universal across the entire panel. The XB273 is rated at 400 candelas per meter, and in my tests, that dipped only slightly in the corners of the screen. I had to record the dim areas using a light meter as the difference was too small for the human eye to detect.
As a bonus, the monitor's stand has good tilt and height adjustment capabilities, making it accessible for any size player and great for shared environments.
Specifications
Display type: TFT active-matrix LCD
Size: 27 inches
Video resolution: 1080p
Inputs: Two HDMI ports, one DisplayPort
Aspect ratio: 16:9
UP NEXT: Lessons learned from collegiate esports investments.