RoboSHOT 12E Adapts to Changing Lighting Conditions
The RoboSHOT 12E camera can produce simultaneous HDMI, IP (H.264) streaming and uncompressed USB 3.0 streaming for solid video performance. It can all be automatically controlled or adjusted using an easy-to-use web-based user interface.
Classroom illumination is often provided by overhead fluorescent lights, and the rooms are rarely optimized for video. The RoboSHOT 12E camera compensates for this with an enhanced wide dynamic range that automatically corrects uneven lighting.
DISCOVER: How colleges and universities can use instructional studios.
I reviewed this feature in a large room with vaulted ceilings and large windows. At all times of day, the camera perfectly compensated for the varying lighting conditions, and I was able to see all images clearly through a laptop positioned in a separate room.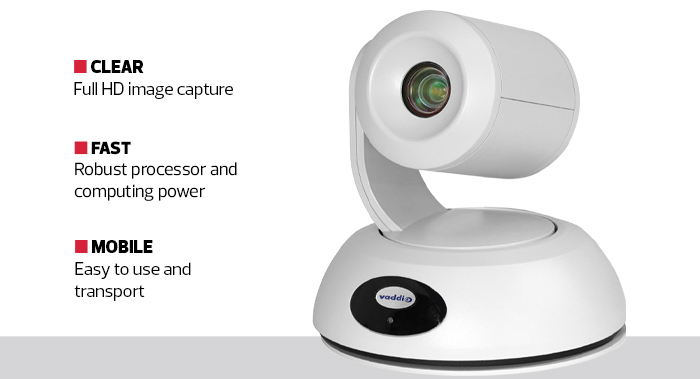 Camera Control Can Be Automatic or Manual via Web Browser
Unlike fixed cameras whose focus can drift over time, the RoboSHOT 12E is equipped with tri-synchronous motion technology. That allows it to smoothly pan, tilt and rotate along all three axes of motion while the onboard software tracks presenters in real time.
As instructors walk around the room, those watching the feed remotely can easily follow the action. The camera keeps everything in focus, while the software ensures that any poor lighting is compensated for, even if a presenter only briefly wanders through a bad spot.
If automatic control is not precise enough, the web-based user interface enables a professional level of control over the camera. The 12E can be controlled from any location with an IP connection, and students can view a feed by entering the URL of the presentation into any standard media player.
LEARN MORE: Using Power over Ethernet to support connected devices.
In addition to being extremely portable, the RoboSHOT also comes with all the hardware needed for mounting the device in a more permanent location. Because it can rotate on three axes, it can be attached to a desk, a wall or even a ceiling. It also has Power over Ethernet, so no power cable is needed. Simply string a network cable to it and it's ready to go.
Professional cameras rarely come in such small, easy-to-use packages. The RoboSHOT 12E takes the kind of technology normally only found in the most upscale boardrooms and makes it available to support remote learning in any classroom.
Specifications
Zoom: 12x optical zoom
Sensor: 1/2.5-type Exmor R CMOS sensor
Field of view: 70.2 degrees horizontal
Connection: USB 3.0, HDMI and IP H.264 streaming
Management: Remote IP management