Game On: Building a Collegiate Esports Program from the Ground Up
With relatively low upfront costs and high rewards, esports programs are an easy investment choice for some universities.
With global esports revenues expected to reach $1.1 billion this year, more and more colleges and universities are pressing start on competitive gaming leagues. Teams of students compete in these leagues in multiplayer games, such as League of Legends, Overwatch and Fortnite.
About 130 colleges now have their own esports teams — up from seven in 2016 — according to data from the National Association of Collegiate Esports. It's estimated that esports will be on 150 campuses by 2020.
Additionally, nearly 200 colleges are now offering scholarships for students who participate, with a total of about $15 million in aid available.
MORE FROM EDTECH: Check out how esports can be used to boost STEM equity in higher education.
Competitive Gaming Brings Low Risks and High Rewards to Universities
Layne Shirley, former esports director at NACE, says in a recent CDW white paper that it is the relatively low startup costs and potential returns that make esports so appealing.
NACE reports the average cost of starting a higher education esports program is $41,000, and the average program draws 15 students in its first year.
"One reason people are making esports into a varsity program is because it's an enrollment driver, and a lot of these students are interested in STEM fields and computer science," Shirley says.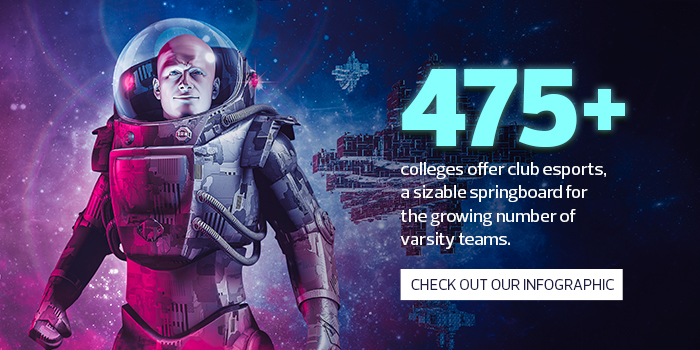 Basic Hardware Necessities for HiEd Esports Programs
Some colleges, such as Concordia University Texas, are investing in dedicated facilities to house their esports programs.
Joshua Pann, a college esports specialist for HP, says it can cost between $44,000 and $87,000 to outfit such facilities with needed equipment.
Basic investments include adequate computers to accommodate gaming, including some that are specially designed for the sport from MSI, Acer, ASUS and others. CDW suggests consulting with a third party to determine whether schools' existing technology will support esports.
The central processing unit inside of each gaming computer also is another key to success.
"Keeping the processor, or CPU, up-to-date with cutting-edge technology is essential to maintaining the integrity of esports matches," according to NACE. "Processors that are unable to keep up with the proper frame rate, the game's running speed, can put a player at a big disadvantage."
"The CPU has to feed information to the graphics card, and the CPU can be a limiting factor in gaming if the CPU cannot keep up," writes Talha Amjad for Segment Next. 
Pann says among other key investments is the display quality of the monitors. The optimal size is 24 to 25 inches, with a minimum refresh rate of 144 hertz.
The sweet spot for competitive gaming is 2560x1440 resolution, according to PC Gamer.
CDW finds that colleges may be able to transform their existing computers into gaming machines or expand the usability of a gaming computer by updating graphics cards, according to a recent white paper. The cards range from between $200 and $1,000.
Competitive programs also should invest in specialized furniture designed for gamers, such as gaming chairs outfitted with ergonomic pillows and adjustable headsets, CDW notes. Gamers also need related equipment, including keyboards, headsets and gaming mice.
These basic building blocks are the first steps towards a successful esports program. However, universities should remember that without buy in from important stakeholders such as administrators and the athletic department, a competitive gaming program will not be able to get past the first level.
EKKAPHAN CHIMPALEE/Getty images