Esports Can Increase STEM Equity in Higher Education
Competitive gaming opens new pathways for underrepresented student populations through scholarship opportunities and inclusion initiatives.
Some experts speculate that esports could be a powerful way for universities to invigorate science, technology, engineering and math program enrollments, narrowing the racial and gender gaps persisting in STEM education.
According to recent data from the American Council on Education, African American and Hispanic students were the least likely to enroll in and complete their degree programs, accounting for just 12 and 17 percent, respectively, of all STEM graduates.
Similarly, while the number of female STEM graduates is increasing, women are still globally outnumbered 2 to 1 in related fields, according to the most recent findings from UNESCO.
Competitive gaming could present an opportunity to expand access to STEM by offering scholarships and using esports as a platform to build and grow interest in STEM, according to the Connected Learning Alliance.
MORE FROM EDTECH: Check out why esports should be on your university's radar.
Higher Education Esports Scholarships Bridge the Divide
Esports, like traditional athletic programs, can open doors for students through financial aid. Higher education institutions now offer nearly $15 million per year in scholarships for competitive gamers, Wired reports.
By combining this support with the inherent link between video games and STEM subjects, such as coding, esports investments are becoming a catalyst for new levels of diversity in STEM fields.
According to a recent column in The Baltimore Sun, historically black colleges and universities in particular can take their focus on esports to the next level, investing in esports clubs, degrees and facilities to encourage students to join the gaming movement and, subsequently, to pursue STEM-related careers. "
To take esports from the province of the athletic department to preparing the entire student body for rewarding computer, scientific and other technical careers, it should be part of the signature program, magnet and STEM offerings," writes Jonathan Yates, host of the talk show "The Culture of Sports." He proposes that such opportunities can prepare students for "careers in the future workforce, which will be more technical than the workforce of today." 
Esports Arenas Offer New Opportunities for Inclusion
Esports arenas can be more than places that host collegiate competitions. They can also serve as gaming community centers, where all students can join together for practices, friendly matches and STEM-related events.
In 2018, researchers at the University of California, Irvine identified specific strategies that help institutions make a connection between esports programs and underrepresented students. These include themed housing, where men and women can encourage each other to explore STEM subjects through a mutual love of gaming.
UCI also hosts formal panel discussions in its esports facility, covering topics such as gender and racial equality in STEM. In its first panel, "Women in Gaming," held in 2016, UCI hosted female game developers and esports professionals who shared advice for female students wanting to pursue STEM careers.
UCI also uses its esports programs to address gender equity at the high school level. Its Girls and Gaming summer camp, where female students hone their esports competitive skills and learn how to create their own games, also provides hands-on experience with audiovisual and virtual reality equipment.
"We are radically committed to inclusive excellence in all our programs and esports is no exception," UCI outlines in its inclusion plan. "We believe that esports has the opportunity to create a competitive environment that transcends geography, race, ethnicity, gender identity, sexual orientation, language and religion."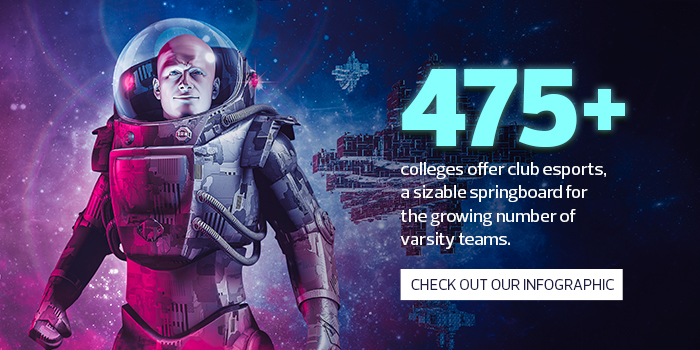 Competitive Gaming Opens Doors for Learners
Students with cognitive disabilities can benefit from higher education's growing interest in esports. Before transferring to Camden County College, Jason Zimmerman struggled to connect with his peers, many of whom made assumptions about his intelligence because of his autism, he told The News School. 
In video game competitions, however, Zimmerman found a level playing field, where he improved his social and academic proficiencies and discovered a passion for STEM.
"I developed my social skills over the past nine years," Zimmerman said. "I wasn't exposed to situations as much as most people. When I do something different or weird, people assume I'm dumb, but then I play them in Smash and they realize I'm way smarter than they think."
As esports continues to grow, educators will no doubt find more ways that it can benefit young learners and competitors. Increasing access to STEM fields is a powerful one that is just getting started.
This article is part of EdTech: Focus on Higher Education's UniversITy blog series.

adamkaz/Getty images
More On