Review: Dell Latitude 3390 Two-in-One Is a Versatile Campus Tool
This two-in-one notebook offers power, flexibility and security for productivity on and off campus.
The role of educators today encompasses much more than teaching students. That's central, but faculty also may need to create innovative lesson plans, perform budgeting for classrooms or departments, pursue academic research, assist with distance-learning programs and even continue their own education. That's in addition to tasks such as grading papers, evaluating students and developing curricular materials. 
On top of that, these activities may not be confined to one campus, much less to a dedicated classroom. As such, educators need a flexible, portable and powerful computing device able to configure itself for anything.
MORE FROM EDTECH: Check out these three lessons on the state of innovation in higher education.
Dell Latitude 3390 Includes Windows 10 Professional
The Dell Latitude 3390 two-in-one notebook has been engineered to work — and work well — anywhere. The innovative design features a keyboard that rotates completely behind the monitor, supporting a variety of configurations: standard notebook, pure slate tablet and standalone display. And it all fits in a package that weighs less than 3.5 pounds.
At the heart of the 3390's configurations is a generous 13.3-inch LCD touch screen coated with a glare-resistant film. It has a maximum resolution of 920x1080, so anything displayed on it looks great.
Dell 3390s run a full, 64-bit version of Windows 10 Professional. The inclusion of a solid-state hard drive supports the performance of resource-intensive applications. Nearly akin to memory in terms of read and write speeds, the 256-gigabyte drive also has no moving parts, which makes it a lot more rugged and able to withstand travel.
Full-Size Keyboard and Digital Pen Extend Latitude's Functionality
When the 3390 is being used in its laptop configuration, its keyboard is full size. Dell designed the keys to be extremely quiet and durable, so users can tap or pound away as needed. Keys are even backlit, further opening up more environments where the 3390 could easily be deployed. 
The addition of a digital pen, which supports a natural pen-and-paper feel when taking notes, could also be used as a way to highlight elements in a presentation or even to digitally sign documents.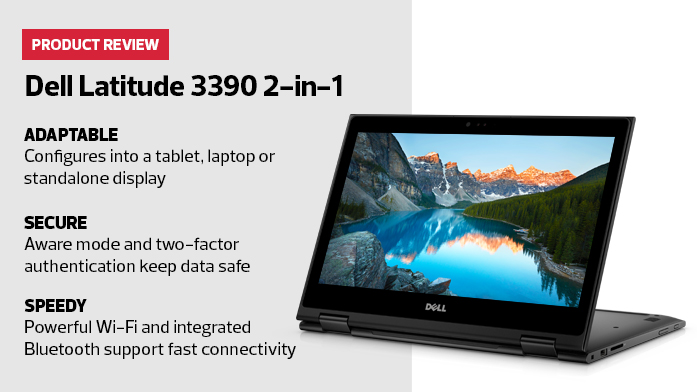 With so much functionality, the number of ways that a Dell 3390 could assist enterprising educators — or the administrators who support them — is practically limitless. It's ready to excel in any educational environment. 
Providing access to their devices regardless of the environment is only one way the Dell 3390 can help educators. The other is keeping users and their data safe. 
MORE FROM EDTECH: See how higher education institutions can make their active learning classrooms more versatile.
Security Is a Strong Suit for Dell Latitude
Like every system in Dell's Latitude line, the 3390 comes with robust security to keep the device and its data safe from prying eyes or malicious programs. 
For starters, every 3390 comes with an integrated high-definition camera and an infrared camera. They work in conjunction with Windows Hello to add facial recognition as part of the natural login process. When used in conjunction with a PIN or password, Windows Hello provides easy two-factor authentication with very little setup. 
The Latitude also can be configured to work in a constantly aware mode, in which it continuously checks for the authorized user's face. Should that user step away from the system for a set amount of time, the 3390 will lock itself down and not resume operations until the user can be reauthenticated. The inclusion of the infrared camera means that these facial scans can work in any environment, even those with very low light.
A new platform, the Dell Data Protection toolset, allows for even more control, such as encrypting hard drives or specific work areas. For example, a user can specifically encrypt data associated with a grading application, ensuring that it remains secure even if a device is lost or stolen.
When notebooks are deployed as part of a fleet — for example, if a college provides notebooks to all faculty or administrators — users can also tap into the Dell Client Command Suite. Those tools are designed to help deploy and maintain multiple Dell systems, even if they have varying needs and security levels. 
These new toolsets offer a surprising amount of control. Extremely precise controls, such as not putting USB ports high in the boot order, are easily possible. A user could even program numerous possible scenarios, such as how the device will react if its Trusted Platform Module security chip detects a physical breach or a change in the basic input output system.
Whether supporting individual users who need to protect their investment and their data or an entire institution seeking to lock down a fleet, Dell has the tools to make it happen.
Dell Latitude 3390 2-in-1
Display: 13.3-inch anti-glare LCD touch screen
Processor: Intel Core i5-8350U
RAM: 8GB DDR4
OS: 64-bit Windows 10 Professional
Hard Drive: 256GB solid-state drive
Dimensions: 8.9x12.8x0.8 inches
Weight: 3.46 pounds