Universities Integrate Smartboards to Promote Collaboration on Campus
Interactive whiteboards give learners new ways to share, engage and interact.
The market for interactive whiteboards has hit its stride in the last few years. A variety of devices now make it easier for education communities to minimize technology barriers while maximizing the ways their members can work together. 
To that end, institutions are discovering that with proper training and the right support, such tools make collaboration a snap. In Cleveland, Case Western Reserve University launched a pilot with two Microsoft Surface Hubs. 
One objective was to assess how the Hubs would dovetail with Case Western Reserve's problem-based, collaborative approach to learning, says IT Director Tron Compton-Engle. 
"The goal was to have a device that was almost as easy to use as a traditional whiteboard but had the benefits of an electronic medium: easy sharing, ingesting content from other sources, an endless canvas to work on and the ability to include external collaborators," he says. 
SIGN UP: Get more news from the EdTech newsletter in your inbox every two weeks!
A Pilot Program Blossoms into Full Digital Integration
So far, says Compton-Engle, Case Western Reserve students have found the Surface Hubs beneficial for group work, an activity that many instructors now find integral to the classroom experience.
The digital whiteboards combine a high-definition touch screen, videoconferencing and features that support sharing notes, annotating content and saving files to the cloud. Students and instructors can cast content wirelessly to the Hubs from laptops and other devices. 
The pilot's success spurred CWRU to add seven more Surface Hubs and to review other issues in its digital collaboration space, including its heterogeneous technology environment.
Alongside the Surface Hubs, for example, the campus has six InFocus Mondopads, 31 Cisco TelePresence units and even some older-model Polycom videoconferencing systems. To tie everything together, CWRU adopted Zoom software as a core ­collaboration platform. 
The devices have started to shape the way the community teaches, learns and works together, says Compton-Engle. Now, meetings are more likely to include both people in a conference room and remote participants, and that facilitates better engagement and a more mobile workforce, he says.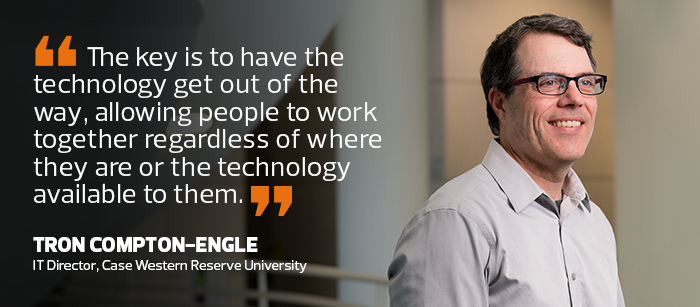 Photography by Angelo Merendino.
Ease of use and interoperability are crucial to the success of collaboration tools, says Compton-Engle. 
"The key is to have the technology get out of the way, allowing people to work together regardless of where they are or the technology available to them," he says.
Interactive whiteboards that can combine connectivity, videoconferencing and content sharing are powerful when matched to the right uses, says Phil Hill, a founder of the higher education consultancy MindWires and author of the e-Literate blog.
"They could completely change the way some areas of education work, most obviously in professional schools and upper-division courses where collaboration is imperative and the ability to conference in outside experts can really change the quality of the discussion," says Hill. "But these are tools for institutions with a particular vision that have matched the technology to it."
Do Not Let Any Smartboard Uses Go to Waste
At Brenau University in Georgia, InFocus Mondopads serve to bridge online and face-to-face components of the hybrid classes offered at Brenau's seven campuses and to distance learners. Since the first deployment five years ago, adoption has grown from 15 Mondopads to 68, says Daniel Odom, the instructional technology support technician who manages the devices. 
Use cases range from basic interactive whiteboard functions, such as live annotation of presentations, to videoconferencing across multiple campuses and to users in remote locations, says Odom.
"We were looking for technology that had a lot of capabilities at a good price point, but ease of use for students and instructors was very important," he says. "With the Mondopad, they just touch a button on the screen and they can use it as a whiteboard or click another button and they have videoconferencing." 
Departments use the Mondopads to support third-party applications specific to their disciplines, such as 3D anatomy software. In the classroom, the ability to wirelessly transmit content from mobile devices to the Mondopad screen facilitates discussion and input from students, he says. 
While ease of use is one of Mondopad's key attributes, students and faculty still may need a nudge to explore its capabilities, says Odom.
"When you invest in this technology, you want to make sure that all the features will be used," says Odom. "Do hands-on demos and keep showing its full potential. It's a lot more than a whiteboard."
Hill agrees, recommending that institutions teach instructors how to integrate the whiteboard with other classroom technologies, such as course management systems.
"You have to get the pedagogy right in order to make the investment worthwhile," Hill says. "Colleges have to provide professional development for faculty so they know when to use them and how to use them to the best advantage. With that staff preparation, internet-enabled whiteboards can be great tools."
Interactive Boards Encourage Students to Collaborate
At the University of Wisconsin-Whitewater, a pilot of Cisco Webex Boards was an opportunity to explore not only the hardware (previously known as the Spark Board), but also an associated app, Cisco Webex Teams. 
UW-Whitewater's pilot initially focused on evaluating the board as classroom technology, says Director of Learning Technology Nicole Weber. 
The Webex Boards have not disappointed, providing interactive whiteboarding, content-sharing, archiving and videoconferencing, but Cisco's cloud-based collaboration software was the real surprise, she says.
"We were drawn to the Webex Board as a learning tool, and then we also learned how powerful the virtual Teams space can be to increase communications and collaboration inside and outside of the classroom by leveraging different devices like phones, tablets and laptops," says Weber. "Instructors use the boards or the Teams app or use them together as fits their needs." 
In the classroom, Webex Boards let instructors and students share content, while the Teams app creates a virtual space where learners can interact with content and each other.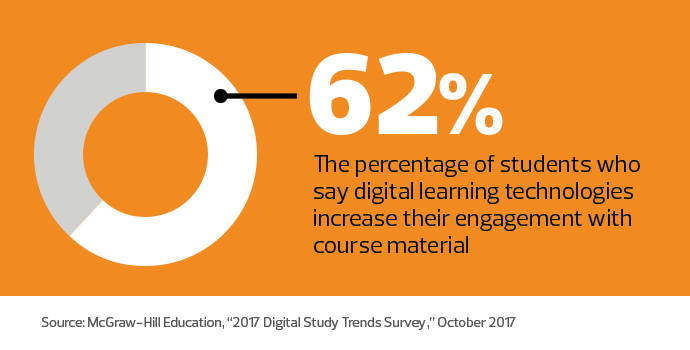 That connection can happen anytime, on any device, says Weber. Eric Loepp, a political science professor at UW-Whitewater, was interested in the Teams technology as a way to get students involved.
"In a class like my research methods course, I'm always looking for ways to make the work more interesting and interactive," Loepp says. "These tools foster team-based teaching and learning."
He echoes the emphasis on training, recommending that instructors and learning technologists invest time to teach students how to use the technologies and answer questions. 
"A small investment on the front end can pay huge dividends later on," Loepp says.
UW-Whitewater plans to expand its implementation of Webex Boards and Teams in the coming year, Weber says. Faculty development training, designed to help instructors tailor the tools to their curriculum, is under way.
"The idea is to give students an enriched and cohesive learning experience, not for the technology to be the center of attention," Weber says. "When we use the tools well, they disappear and just give us better content and connection."
Photography by Angelo Merendino
More On