Microsoft Teams with RIT to Boost Student Accessibility via AI Transcription
A digital partnership between Microsoft and Rochester Institute of Technology brings new learning opportunities to deaf students.
As technology integration grows, developers are looking for new, exciting ways to bridge classroom accessibility gaps using the latest digital innovations.
When attending college, classrooms should be a place where students have an equal opportunity to learn. While institutions work hard to ensure students of various backgrounds are accepted, certain circumstances can make accessing parts of the curriculum difficult. 
In a 2018 survey conducted by the EDUCAUSE Learning Initiative, 900 education community members ranked education accessibility as one of the most important key issues in teaching. This highlights the demand for classroom innovations that can ease the burden some students have with grasping learning material.
Luckily, exploration in new tools has opened the door for new technological advances that can be adopted by universities to help students make the most of their experience. 
SIGN UP: Get more news from the EdTech newsletter in your inbox every two weeks!
Leverage AI to Boost Student Learning
Physical impairments, learning disabilities or language barriers can be major roadblocks for students hoping to have full access to university courses. However, investments in technology and partnerships between universities and corporate entities are bringing futuristic solutions to campus.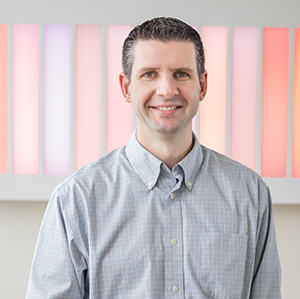 Brian Trager, Associate Director of the Center on Access Technology, Rochester Institute of Technology National Technical Institute for the Deaf.
At the Rochester Institute of Technology's National Technical Institute for the Deaf (RIT/NTID), students were having trouble engaging in lectures as their attention was split between following sign language interpreters, reading slides with course material and taking their own notes.
In response, the university forged a partnership with Microsoft to pilot the use of Microsoft Translator to transcribe professors' words on students' personal devices in real time, in whatever language they choose, using artificial intelligence.
Using Presentation Translator, professors allow the AI to scan their PowerPoint slides for keywords and phrases before class. The program then builds a specialized vocabulary for the class that day, which results in more accurate transcripts, explains Brian Trager, associate director of the school's Center on Access Technology, in an interview with EdTech.
"It typically takes a few minutes to build the model, but the accuracy can improve as much as 30 percent over a base model, which is a no-frills model that deals with everyday terms," he says.
After the system scans the slides, professors use Jabra 930 headsets during the lecture to pick up their words and caption them across the screen. At the end of the lecture, professors can choose to send students a copy of the transcript to review.
The program has been especially helpful for deaf and hard-of-hearing students taking science, technology, engineering and mathematics classes at RIT, especially the 700 who take classes with hearing students on campus.
"The first time I saw it running, I was so excited; I thought, 'Wow, I can get information at the same time as my hearing peers,'" freshman Joseph Adjei tells Microsoft. 
The program also helps Adjei communicate with hearing classmates outside of class.
"Sometimes when we have conversations they speak too fast and I can't lip read them. So, I just grab the phone and we do it that way so that I can get what is going on," Adjei says.
Trager, along with Gary Behm, director of CAT, has implemented the technology in 14 classrooms with positive results.
"So far, our preliminary data has shown very high marks for Microsoft Translator in the classroom," says Trager. "Being that this was our first year deploying the system in the classroom, we couldn't be more thrilled that it has been received positively among students and faculty alike."
RIT/NTID