Distance Learning Bridges the Digital Divide in Higher Education
Rural colleges achieve digital equity with distance-learning solutions and online curricula.
Digital equity has long been a hot topic for K–12 schools. But small, rural colleges and universities have also had to tackle the issue to ensure their students enjoy the same resources and opportunities as students in urban locations and large institutions.
In Anderson, S.C., Forrest College attracts students from rural areas as far as an hour's drive away. In the past, if students couldn't make it to campus because of transportation issues or a sick child, they missed out on class. But now, distance-learning solutions enable them to attend class wherever they may be. Students simply Skype in and watch lectures live, or they may ask an instructor to record class sessions using lecture capture technology so they can be viewed later.
"Whatever students see in the classroom, the students can see at home," says Scott Peterson, Forrest College's administrative dean and IT services manager.
Making the Rural Landscape High Tech
Rural colleges face a number of challenges, according to Randy Smith, president of the Rural Community College Alliance. They lack the large population base and resources of urban areas, which translates to a smaller pool of potential faculty members and fewer mass transit options.
Faculty shortages, especially in fields such as nursing, welding and culinary arts, are a huge issue. "It takes a unique person with an advanced degree and teaching experience who wants to live in a rural area," says Smith, whose organization advocates for the country's 589 rural and tribal colleges and their 3.4 million students.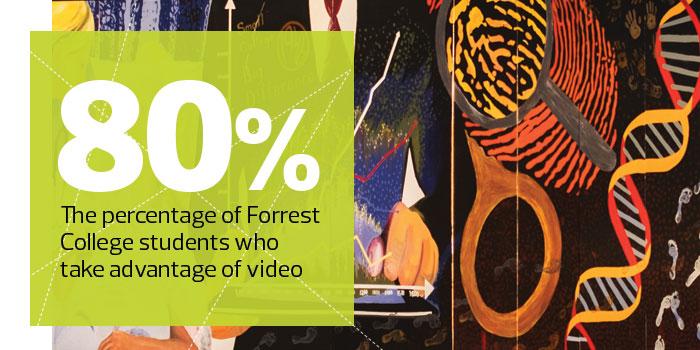 Photo by Ian Curcio
Transportation is also an issue, particularly for students living in remote areas with little or no public transportation.
"The majority of students drive an average distance of 25 miles one way to get to class," says Smith, who is also president of Sisseton Wahpeton College in Sisseton, S.D.
Broadband is a great equalizer. Most, if not all, rural colleges today have the fast internet connections they need to provide not only Wi-Fi on their campuses, but also online and distance-learning courses. That gives students increased learning opportunities and more convenient access to education, Smith says.
"For the most part, we have as much technology as urban colleges," he adds.
Finding Creative Classroom Solutions with Ed Tech
Rural colleges find a variety of ways to support distance learning. Some equip classrooms with high-end video conferencing equipment and high-definition displays on main and satellite campuses. That way, if the main campus is too far away, students can go to a distance-learning classroom at a satellite campus to watch lectures and interact with faculty at the main campus, says Smith.
Some rural colleges are beginning to solve their teacher shortage by hiring faculty in urban areas who then teach students remotely through distance-learning classrooms.
"You can have local lab assistants, but the experienced faculty members could be located a thousand miles away as long as they have a good internet connection and a webcam," Smith says.
Forrest College offers distance learning another way: letting students attend class remotely with the Skype for Business app from Microsoft Office 365. The college is accredited as a brick-and-mortar institution, Peterson says, but it lets students log in to class from home on those occasional days they can't get to campus.
About a year and a half ago, Forrest College purchased HP EliteOne 800 all-in-one desktops for each classroom. Instructors share their desktops with students and, through the classroom PC's built-in webcam and microphone, students can watch lectures live from home and participate in discussions.
"During regularly scheduled class times, they can see their instructors online on Office 365. They hit a chat window, hit 'screen share' to make themselves available, and the instructor can launch them into Skype," Peterson says.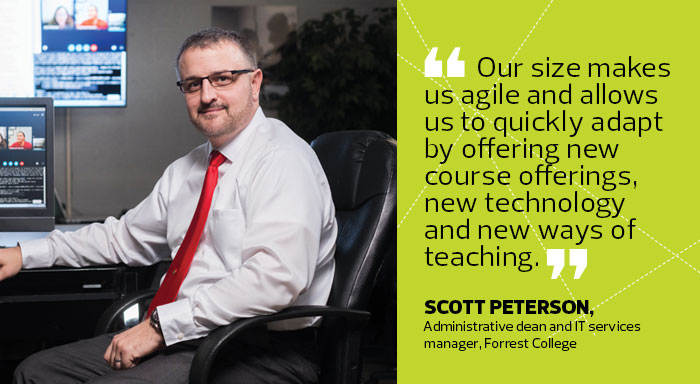 Photo by Ian Curcio
Providing Flexibility for Students
Forrest College also outfitted classrooms and a computer lab so that faculty can deliver more interactive, multimedia-rich presentations.
Peterson's team equipped one classroom with an Epson BrightLink interactive projector and another with an Epson PowerLite projector, a Steelcase ēno interactive whiteboard and an Epson document camera. A computer lab that's used for instruction now has a 70-inch Vizio LED TV.
When faculty teach in those rooms, students at home can see the instructor and his or her presentations through multiple windows on a home computer screen. If students choose, instructors can project their faces on the projector screen or TV in front of the class, so the rest of the students can see them.
If absent students can't log in live, instructors can record lectures using Microsoft's OneNote application or the Epson projectors and share them with students on Office 365, Peterson says.
The remote-learning feature and lecture capture technology are important because they provide flexibility to students, many of whom are working parents or depend on others for transportation to class. "We serve a community in need," says Peterson.
Over the course of a year, more than 80 percent of students, on average, will take advantage of the video conferencing option to ensure they don't miss any classes, he says.
Remote Lectures via Video
Hillsdale College in Michigan is a different type of rural college. Most students are not locals; in fact, only 35 percent of its 1,451 full-time students are from Michigan. The rest are from throughout the United States and 13 other countries.
Broadband access is not an issue at Hillsdale College. The institution is a point-of-presence location for two service providers, so it has fast, redundant internet access.
About 15 years ago, the college ran fiber to every building, says Network/Systems Manager Pat Chartrand. Today, it has a Brocade network with 10-gigabit speeds at the core and 145 Aruba IAP-105 and AP 225 access points in all staff, faculty and classroom buildings. More than 200 Ubiquiti Networks APs are deployed in residence halls. Students and faculty now have plenty of bandwidth to access the learning management system and other educational apps, Chartrand says.
Hillsdale College doesn't offer online classes for credit, but in spring 2016, it invested in high-end Lifesize Icon 600 video conferencing equipment for staff meetings and distance-learning opportunities. The technology brings remote guest speakers to campus and lets professors continue teaching when they travel, Chartrand says.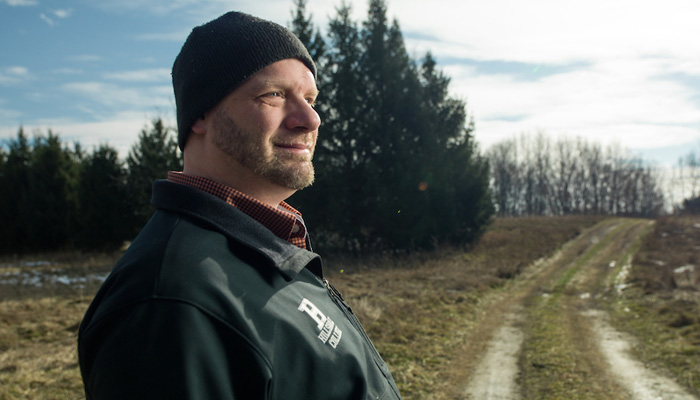 Pat Chartrand manages the network and systems at Hillsdale College, which uses video conferencing to bring remote guest speakers to campus. Photo by Adam Bird/AP
The college installed the Lifesize equipment in the president's office, a conference room, a college-owned hotel and conference center, and the Kirby Center, a satellite campus for graduate students in Washington, D.C.
The conference room features four 55-inch LG LED displays, enough screen real estate for students to see a speaker alongside a PowerPoint presentation. The speaker connects using a tablet or notebook computer webcam, while on campus, a Lifesize pan-tilt-zoom HD camera lets the speaker see the students.
This past fall, a guest lecturer taught a class session to 10 students at the conference room for the first time — and it went perfectly. "That was probably the first of many to come in the future," Chartrand says.
Streamlined Connectivity Opens Up Access
Most rural community colleges offer online courses, Smith says, and their flexibility makes them popular among the many students who are working adults. Casper College, a community college in Casper, Wyo., has increased its online offerings in recent years. Its course mix now includes seven online-only degrees.
To ensure campus connectivity is as fast and streamlined as its urban counterpart, Casper College IT Director Kent Brooks has focused on beefing up the campus broadband, Wi-Fi and portfolio of online tools. Since 2011, the college has boosted its internet speeds from 25 megabits per second to 1 gigabit per second. It also increased the number of Wi-Fi access points nearly tenfold in the past six years, from 49 APs in 2010 to about 450 in 2016. Among other benefits, Medical Lab Technology students can now access standardized course content online using Google Chromebooks.
Brooks also launched a web portal to simplify access to applications. A single sign-on connects students to email, the learning management system, student information systems and other online educational materials.
"For equity, it's about being able to handle students who want to log on to multiple devices on campus and allowing them to access content anytime they want," Brooks says.
Jayne Chapman/Shutterstock