What is a Scantron: How Scantron Technology Paved the Way for Testing Tools
With a scanner and a bubble sheet, one company became the champion of easy multiple choice testing.
Get your pencils out, it's time for a quiz.
If you were a university student between the 1970s and today, it's likely you are familiar with the little bubbles of a fresh Scantron sheet ready to be filled in with your answer. We're betting you don't know the full history.
What Scantron did with Optical Mark Recognition — the beginnings of the which can be traced back to the early 1800s in devices created to help the blind — more than four decades ago made university testing (as well as standardized tests like the SAT) what they are today.
 WHAT 

Is Scantron?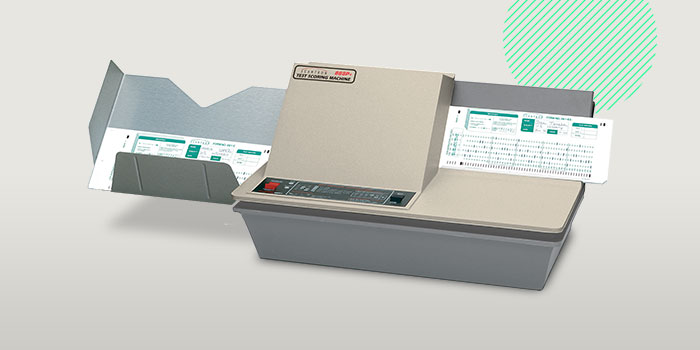 Courtesy Scantron (David R. Tribble)
Scantron is a form of Optical Mark Recognition (OMR), which, according to Mental Floss, occurs when a scanner beams light through a thin sheet of paper, noting where the dark marks were.
Mental Floss notes that OMR systems were truly invented in the 1930s, but Scantron introduced its own system of relatively inexpensive test-scoring scanners and proprietary OMR sheets.
"Although Scantron's optical system was patented, the Scantron corporation's other crucial innovation was its business model: by getting inexpensive Scantron test-scoring machines into schools, the company could later make a profit by selling the proprietary test sheets," reports the article.
 WHEN 

Was Scantron Introduced?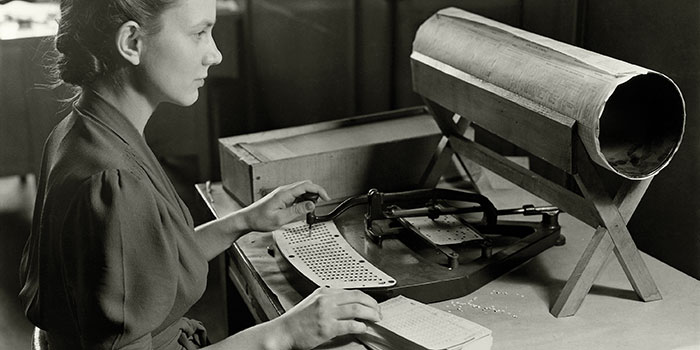 Courtesy U.S. National Archives and Records Administration
Though OMR tech — like the above punch card was around for years — Scantron was invented in 1972 by engineer Michael Sokolski, Mental Floss reports. K–12 schools and higher ed institutions immediately took note.
"Scantron led the way in education with smaller, inexpensive scanners that could score a classroom set of quizzes in a few minutes," according to a 2004 article in THE Journal.
By 2012, universities were selling Scantron sheets for 15 to 20 cents per sheet, an article on Gizmodo reports, and with 15 million full-time higher ed students in the country, "this accounts for a large consumption of OMR sheets in higher education if each student uses as few as 10-20 in the course of a semester."
 WHY 

Did Scantron Die Off?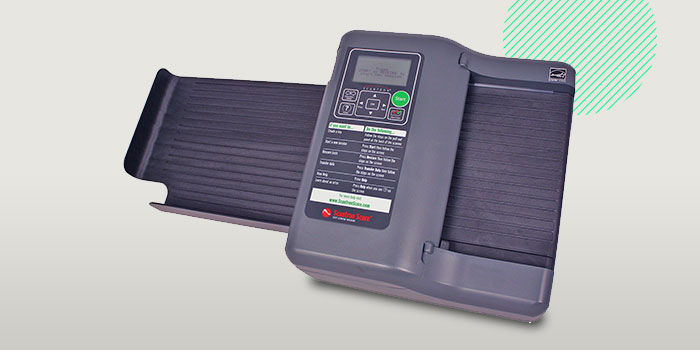 Courtesy Scantron (David R. Tribble)
To put it simply, it didn't — it has just vastly improved.
Their latest model, the Scantron Score "can accurately score 30 to 40 tests per minute then immediately determine how students performed." With new analysis features, teachers can quickly see how many students missed each question.
So, Scantron is still around, but is it still as widely used?
A quick Google search of "Scantron at universities" pulls up hundreds of college pages telling students where to get sheets and teachers how to grade them. Also, a recent University of Mississippi blog lists "OMG the student union is out of Scantrons" as the top thought all Ole Miss students have during finals week.
Though use of pencil and paper among university students seems to be disappearing in terms of notetaking and even assignments, Scantron seems to still have staying power.
And even if those little bubble sheets do disappear, Scantron has dipped its toe into online testing with ParSystem, which can work with Learning Management Systems to track grades.

Though widely debunked, it was rumored that putting lip balm on a Scantron sheet confuse the scanner and give the student a perfect score.
"This Old Tech" is an ongoing series about technologies of the past that had an impact. Have an idea for a technology we should feature? Please let us know in the comments!
More On