Product Review: HP EliteBook Folio G1 Performs Innovatively
HP's EliteBook Folio G1 is an impressive choice for users in pursuit of both form and function.
Tablets are driving innovation in notebooks: Users want the thin, stylish look of a tablet with the functionality of a notebook.
In particular, they want to be able to hold a system in their lap and type, which is difficult on tablets with separate keyboards. The HP EliteBook Folio G1 offers the best of both worlds. It's a stylish, light unit with great battery life, but it also boasts solid construction, a hinge that supports substantive work in small spaces or on the lap, and a great screen.
My testing experience left me quite pleasantly surprised; I didn't expect to like the Folio G1 as much as I did. Yet with an Intel M7 processor, chiclet-style keys and a full 0.6-mm travel keyboard, the Folio G1 offered greater usability than I predicted. The keys have a great feel and a lot of travel, and dedicated hotkeys support video conferencing capability.
The M7 processor, combined with an NVMe 256-gigabyte solid-state drive and 8GB of RAM, delivers performance in office tasks that equals Core i7 systems. The fanless design creates little effect on power or heat. The system is quiet and fast, and it feels comfortable to hold on the lap for hours at a stretch.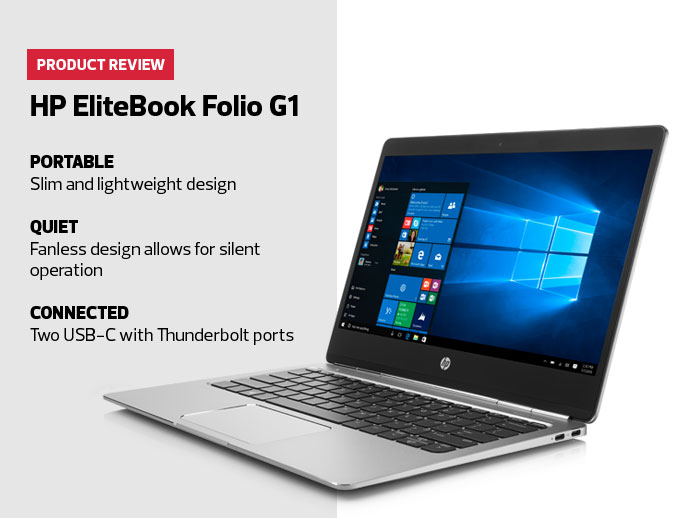 All the Options You Need
The screen is available in three forms — 1080p touch, 1080p nontouch and 4K touch — and the EliteBook comes with Intel HD 515 graphics. Initially, I was disappointed to learn that the unit I would receive was the 1080p version. However, I quickly found that the 1080p resolution is more than sufficient in the 12.5-inch screen size. I never missed the 4K resolution and doubt that I would have detected any difference. What's more, I enjoyed the extra couple of hours of battery life that the 1080p version gains from the lower graphics load. I was able to work in Microsoft Office and a browser for hours at a stretch without running the battery down.
Although small in the hand and extremely lightweight, the Folio G1 can serve as a user's only system. With the $249 HP Elite 65W Thunderbolt 3 dock option, you can have one or two monitors, four USB 3.0 devices and an Ethernet network connection on your desk. That setup rivals most deskside towers — with the added bonus of being portable when you need it to be. At $1,469 as tested, the Folio G1 isn't cheap, but it's less expensive than the equivalent MacBook models, with great performance to boot.
Features Stand Up to Enterprise Demands
HP touts the EliteBook Folio as a business system, and it delivered the management, security and functional chops to back that claim up. With HP SureStart self-healing BIOS, security tools and Touchpoint Manager, the Folio is well equipped to integrate into an enterprise network. In addition, the infrared camera allows for integration of the Windows 10 Hello feature, with low error rates even in low-light situations that tend to confuse conventional cameras.
HP Always on Remote Management lets administrators lock, unlock or remotely wipe systems that have been lost or stolen. Administrators can also remotely access BIOS error codes and other diagnostic tools. Touchpoint Manager provides a framework to handle dozens or hundreds of systems. HP Client Security provides the ability to fight malware through email and browser integration.
For institutions that are sticking with Windows 7 for now, the Folio does support it, although certain features (such as Windows Hello facial recognition) will only run in updated Windows versions.