Film and Communications Students Hone Their Craft in Industry-Standard Studios
From TV studios to animation render farms, students boost creativity and tech skills using real-world equipment.
It's fair to say that filmgoers who marveled this spring at Walt Disney Pictures' The Jungle Book, a mix of live action and animated footage, had no idea how much work went into the making of the film. Disney's creative team processed 1,984 terabytes of data and used 240 million render farm hours. The numbers are staggering, given that animators rely on render farms —high-performance clusters that generate images — to process animation and cut the time it takes to create their magic.
Students at the University of North Carolina School of the Arts, however, likely had an inkling of the movie's intense behind-the-scenes labor. They're honing their own skills on a render farm that is similar to Disney's, says Henry Grillo, associate dean of the film school.
"When we got the money to build our new media building, we decided to try to imitate what the industry is doing," Grillo says. "It's the way that we approach everything that we do."
The render farm is housed in the New Digital Media Building, a creative makerspace on the campus in Winston-Salem. Offering a program that mimics the equipment of professional animation and visual effects houses not only exposes students to state-of-the-art technology, it also makes the school more competitive, Grillo says, and helps students develop marketable skills.
For example, students shoot movies using the same cameras professional film production companies use and edit their footage using the same software, Grillo says.
"When they leave this institution and they go work on a professional set, they'll feel completely at home," he says.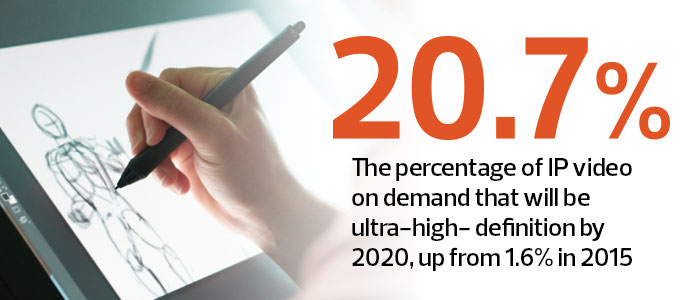 Source: Cisco, "Visual Networking Index: Forecast and Methodology, 2015–2020"; David Hillegas courtesy of UNCSA
Learning Before the Job
Institutions across the country — including the Pratt Institute in Utica, N.Y., the University of California at Berkeley College of Environmental Design and the University of Oklahoma's College of Architecture — are easing students' transition to the real world by implementing render farms on campus. The systems boast processing power, storage and software comparable to what students will see on the job.
Deploying technology with the purpose of helping students learn and work on the same technology they will encounter after graduation is one of six trajectories that EDUCAUSE set in 2015.
"Our thinking about digital technology in higher education is shifting away from seeing it as IT infrastructure and instead toward conceiving it as a digital learning environment," says Malcolm Brown, director of the EDUCAUSE Learning Initiative. For those in higher education IT, he says, that's a change: It moves technology from the foreground to emphasize the learning experiences that technology makes possible.
Meeting Employer Expectations
In UNC School of the Arts' case, the film school's former dean was already working with Sony Animation on several projects when the concept arose for the render farm. Leaders knew what was current in the industry and what employers would expect students to know, says Tiger Poston, a film school post-production technician.
The school turned to Hewlett Packard Enterprise to supply the technology that would power the greenfield project, and CDW•G assisted with implementation. Altogether, UNC School of the Arts installed 180 raw terabytes in an HPE MSA 2040 SAN, which is replicated on another 2040 in its nearby data center. Each animation studio — there are three of them, together with one visual effects studio — includes a 10 Gigabit Ethernet drop, and 10Gb fiber runs between the data center for the render farm and the IT networking closet.
In addition, three production design studios have 1Gb connectivity, primarily for the purpose of storage access. Finally, there are 16 HPE Proliant BL460c server blades to which students send render jobs. The entire system is accessed through an HPE StoreEasy 3840 Gateway Storage cluster.
PipelineFX's Qube! software, which manages all render jobs, acts as a traffic conductor for digital files moving to and from the system and students' PCs.
According to Poston, students' access to the render farm means they no longer have to struggle with "cobbled-together technology," an improvement that eases their work process and improves their finished products. "They've been able to get more work done a lot faster because of the processor power that they have at their disposal," he says.
Thinking Outside the Box
At Longwood University in Farmville, Va., the use of audio and video servers and high-tech equipment benefits students and the community alike, says Jeff Halliday, an associate professor in communication studies.
The university networked its editing suites and new broadcast studio, including a 28-foot green screen, to create a simulated newsroom environment. The studio includes three high-definition Hitachi broadcast cameras with an adjoining master control room that features a Ross Video Carbonite switcher and Xpression motion graphics software.
Altogether, the student-focused facility has 34 networked computers, each with Adobe Premiere Pro and Final Cut Pro X editing software. The faculty and staff combine the use of CatDV and StorageDNA programs for organizing their project workflow and archiving.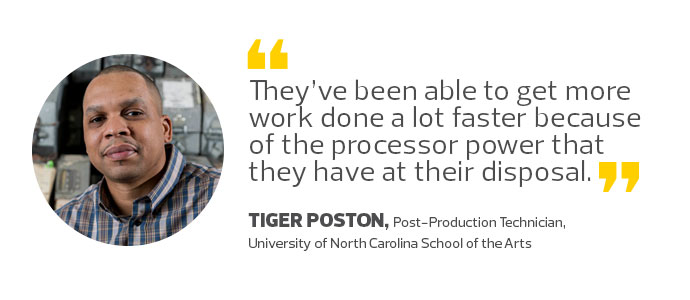 Connecting the College Community
When a colleague wanted to use the theater to create an online lecture series to help military veterans tell their stories, Halliday contacted a team of student interns, who filmed and edited the lecture series into digital content.
The program's alumni also are taking note of the new facilities, says Halliday, who also coordinates the communication studies program: "We have a former student who's doing editing for Animal Planet right now. He visited our facility a couple months ago and kicked me in the shins for not having it when he was a student there. For students, faculty and staff to have that hands-on experience is absolutely vital."
For just that reason, students in Ithaca College's Roy H. Park School of Communications are now working on technology that would be right at home in a professional studio. For instance, students in journalism, audio and film editing use a 48TB Isilon storage array, together with other film and editing components, says David Priester, the director of technical operations.
"We have a very active student television operation, which does a tremendous amount of production and a lot of live cable access, and the Isilon is used for their archive storage," he says. In addition, all of the students' television studio production is recorded on an eight-channel Grass Valley Summit server array.
For now, Ithaca College doesn't need a render farm, Priester says. But such a facility could be on the horizon as he and IT staff assess the college's ability to add a 4K production system.
This focus on industry-standard technology is the direction that most art and film colleges will need to pursue in order to remain competitive and teach students the skills they need to succeed, says Jeffrey Kaplan, managing director at THINKstrategies, a Massachusetts-based technology consultancy.
"The web and the Internet are changing the nature of art and film — creating a whole new channel to market and distribute film, art and audio," he says. "Those universities that can harness the power of digital technology are the ones that will succeed."
Charles Harris