Review: Logitech ConferenceCam CC3000e Makes Remote Meetings Feel Face-to-Face
This easy-to-use video conferencing unit delivers high quality at an affordable price.
With so many people dispersed at different locations or teleworking, video conferencing offers a useful and economic tool for assembling staff to conduct business, teach a lesson or formulate a strategy. That said, the experience can be awkward when it results in a lot of disembodied voices attempting to speak without any visual cues.
The Logitech ConferenceCam CC3000e adds life to conference calls and brings participants the benefits usually associated with a true face-to-face meeting. The unit includes a motorized camera, an omnidirectional speakerphone and a remote control.
Users can set up the CC3000e system in a snap. All we had to do was plug the USB 2.0 cable into a notebook and launch any number of video conferencing programs — the product works automatically with Lync, Jabber, WebEx, Skype and Vidyo.
Featuring a Zeiss glass lens with a 90-degree field of view, the camera can focus on a fixed object, on each speaker in turn, or provide a wide-angle view of everyone sitting around a table. Users can control camera movements through the included remote, though some video conferencing programs also support aiming functions. The camera uses its 10X zoom capability and autofocusing function to ensure it captures a clear picture. Users can also pair and control the speakerphone with any Bluetooth or near field communication–enabled smartphone
The full-duplex CC3000e speakerphone performs just as impressively as the camera. In our test, it picked up voices that were up to 20 feet away from the base station; sometime, even a bit further. The phone also features noise cancellation, which comes in handy for use in a busy area. Speakers register as they usually sound rather than as compressed or over-processed robots. We had no trouble knowing which of our testers were speaking on the other end of the conference without looking, because we know their normal voices.
An LCD display on the Logitech speakerphone makes controlling the call as simple and intuitive as the camera controls. This includes being able to see caller ID and access functions such as muting the line, volume control and answering or ending a call.
The sound and camera contributed to high-quality video conferences in our testing. Recorded sessions were movie-like, sounded great and could be played back in full 1080p resolution. Nothing can replace being in the same room with a group of people, but the CC3000e comes extremely close. That's an impressive feat, given how easy it is to set up and get started.
The Logitech ConferenceCam CC3000e offers truly inexpensive, reliable and quality video conferencing for all.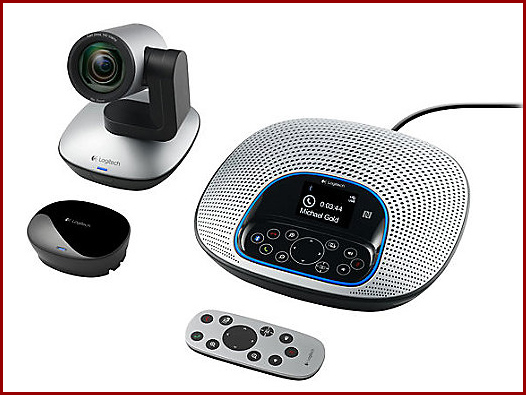 Logitech ConferenceCam CC3000e
Dimensions: 5.1x5.9x5.1 inches
Weight: 1.36 pounds
Maximum movie frame recording: 30 frames per second
Maximum recording resolution: 1920x1080 pixels
Range of motion: 260-degree panning, 130-degree tilting
Optical zoom: 10X with autofocus
Jon Feingersh/Thinkstock