Campus Clouds Bring Applications Home to Students
No matter their device, students can access much-needed apps thanks to Tri-C's recent cloud migration.
By late 2013, the IT staff at Cuyahoga Community College (Tri-C) was approaching a performance and feature wall.
The college provided top-notch email reliability to its students, but was running out of ways to offer more and better services from its own data center, says Peter Anderson, director of network services. In response, Tri-C vaulted to the cloud, migrating 90,000 student email accounts running locally on Microsoft Exchange 2010 to Office 365 email and providing students with free access to Office 365 ProPlus on multiple devices.
"We knew we couldn't continue with our on-premises email security and email hosting. We could maintain the same level of service locally, but to increase the level of services and save money, we had to move to the cloud," says Anderson, whose college enrolls about 60,000 students annually at 11 sites in Cleveland and surrounding Cuyahoga County communities.
For Tri-C, as with many other institutions, applications delivered from the cloud offer agility that's hard to match through onsite solutions, says Elizabeth Herbert, vice president and principal analyst at Forrester Research. Applications that require frequent upgrades to keep up with user needs are an excellent fit for the Software as a Service (SaaS) model, as are mobile apps and those that enable collaboration, she says.
Cloud applications usually have built-in mobile access or can be reached easily via a web browser, Herbert says: "That's huge in education — the users are students who are more likely than anyone to use a mobile app as their primary mode of communication."
More Space, More Access
When Tri-C moved to Exchange 2010 in the cloud, student email boxes grew from 100 megabytes to 5 gigabytes of storage, which meant that older messages didn't need to be deleted on a schedule as they had with on-premises Exchange 2010. Students could now configure college email on any personal mobile device. With five free downloads of Office 365 ProPlus, students also could access their productivity applications from their mobile devices, Campbell says, and they were assured of having the most up-to-date version of each application within the Office suite.
"We got a lot of feedback from students after the Office 365 ProPlus rollout thanking us," Anderson explains. "That was a huge win for us and for the students because it works on so many devices with full compatibility."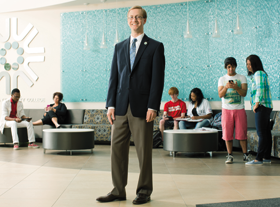 Photo: Callie Lipkin
Peter Anderson says students at Cuyahoga Community College can use up to five different devices with Microsoft Office ProPlus.
Cost savings, which were one reason for the cloud migration at Tri-C, are difficult to calculate, although shifting to Microsoft Exchange Online Protection from on-premises email security technologies represents significant savings, Anderson says.
"The move will definitely be saving us money in the future," he says. "But there's no doubt that, at minimum, we now provide much higher value to students for no extra cost."
The Exchange migration and adoption of Office 365 ProPlus were the college's first use of Microsoft as a cloud provider but Tri-C has used hosted services for several years, he says.
"Anytime we look at a new application, we choose the model that we think will work best for us, hosted from the cloud or on-premises, and we've chosen the hosted model many times," Anderson notes. "It's just part of our decision process now."
Manage Diverse Environments
Applications from the cloud have long been useful options for providing services at Boston College, a private research university in Chestnut Hill, Mass., says Michael Bourque, the college's vice president for information technology.
BC began using cloud-based FolderWave admissions and financial aid processing software in 2004. Within the past year, the college has adopted Google Apps for Education and is also working on a cloud-based learning management system implementation.
"We were using hosted applications before the term 'cloud,' was commonly used," he says. "Using cloud applications is not a strategy in and of itself for us, it's a method to provision technology.
"We use cloud services where it makes sense, but as technology and the market evolve, they make sense in more and more places."
BC is focused on managing the conversion to cloud services rather than being forced to move to the cloud by technology trends and market pressures, Bourque says. The key is identifying which mode of delivering a service adds the most value to the college, he says.
Security, reliability and viability should be thoroughly vetted when considering a cloud application, its provider and any subcontractors, Bourque advises. "I want to know where their data center is, where their backup data center is and what their plan is to ensure our users will have service."
The selective use of cloud-based applications leaves the IT staff with the responsibility of making all information services, whether local or hosted in the cloud, work together, Bourque says.
"If your learning management system is in one place and your registration system is in another, they need to talk to each other. Integration of systems will always be crucial," he says.
Mobility Via the Cloud
Thomas College in Waterville, Maine, just added Office 365 for Education to a portfolio of cloud services that already included Google Apps and an array of other applications.
IT resources at the college are all available through single sign-on, with a goal of seamless integration between cloud and on-premises applications, says Chris Rhoda, vice president for information services and CIO at the private business and liberal arts college.
"The cloud has advantages, local services have other advantages, and we're building an infrastructure that lets us deploy to whatever platform makes sense," Rhoda says.
Thanks to its pay-as-you-go model, the cloud offers agility that isn't easily available on-premises, he notes: "If I want to try something out for three months before my capital budget comes through, I can pay for just that time on [Microsoft] Azure. I can't buy a server for just three months."
Cloud services are almost always the right choice for mobile application users, especially students, in order to provide ubiquitous access to computing resources, Rhoda says.
"The mobile infrastructure is designed to be cloud-based," he says. "We had mobile devices long before we had cloud-based services and they never really took off. Cloud-based services are what make mobile computing easy instead of awkward."
Given the current focus on mobile computing, cloud-based services are not going to crowd out local applications, Rhoda says. The ideal computing environments will be hybrids, offering the best tools whatever their source.
"The essential question is not cloud-based or local, but 'What's the appropriate resource for what you're trying to do?' "
Callie Lipkin
More On