In Emergencies, Digital Signage Lights the Way
The latest generation of digital sign solutions offers more than content management.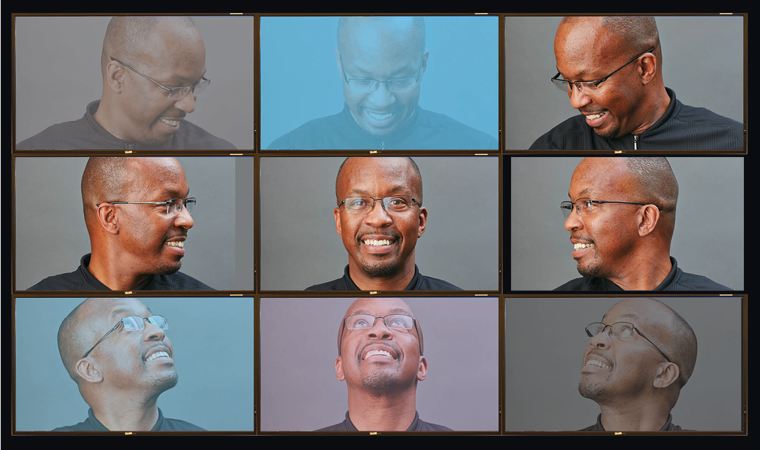 Pima Community College's Keith McIntosh says response to the new digital signage network has been positive. His team plans to integrate it with the college's emergency notification system in the coming year.
Credit: Steve Craft
On April 16, 2007, Spencer Graham received a call from administrators meeting at West Virginia University (WVU). They had been considering the purchase of a digital signage system for some time, but as they watched news of a shooter on the campus at Virginia Tech, they asked Graham to have 10 signs installed by year's end.
The events that unfolded at Virginia Tech illustrated the importance of a system that could notify students, faculty and staff of emergencies in real time, as they unfold. The signs have since become as ubiquitous on campuses as backpacks.
"We started with 10 signs, and now have more than 100 and growing," says Graham, who manages operations for WVU Information Stations. In addition to emergency ­notifications, WVU uses its signs for day-to-day communications, wayfinding, video walls and donor walls, which allow viewers to touch the screens to view more content — for instance, biographies, information, and videos about donors or honorees.
At Pima Community College (PCC) in Tucson, Ariz., officials sought a digital signage network to replace a makeshift system of stand-alone computers that broadcast PowerPoint slides. In 2011, Jeff White, the college's IT principal analyst, looked to install a new system on the northwest campus. By 2013, the IT and facilities departments sought a system to span PCC's six campuses.
"One of the problems that we had with our stand-alone systems is that it might be a different person doing content from one week to the next, and how that content looked on that screen depended on the skill level of that one staff member," White says. "We really lacked continuity, a uniform design."
In December 2013 and January 2014, PCC installed NEC digital displays with Scala software on all of its campuses. The project team decided to incorporate a mix of local and collegewide content that could be produced using design templates, which solved the continuity problem, White says. "When we brought the bigger group together, we had to reconcile all of the differences and come to some type of agreement on how we would roll this out for the entire college," says Keith McIntosh, CIO and vice chancellor for IT at PCC.
Follow Along
Assuring continuity is an important step, WVU's Graham agrees. (Graham also is a member of the board of directors of the Digital Signage Federation, based in Warrenton, Va.) He often meets colleagues at conferences who use digital signs, but only in their ­departments, for instance. "That's a nightmare," he says. "You need a centralized model. We don't allow people to ad lib, because we're here to protect the brand."
32
The number of NEC displays that Pima Community College installed at six campuses and one learning center
Day to day, many higher education institutions use digital signs as they once used banners or flyers — to advertise events and disseminate information on campus. While previous iterations had an average lifespan of five to seven years, the latest generation of digital sign solutions allows those campuses now replacing or adding to their digital sign inventories to incorporate touch screens or quick response (QR) codes, making the signs more interactive and effective.
"Seven years ago, the industry as we know it today was in its infancy," Graham says. Today, a wealth of available software packages make content options almost as limitless as the information digital signs can convey.
One of the features that attracted the PCC team to Scala was its interactive wayfinding software. Not only does it map routes for users, but it also allows them to download the content via a scannable QR code.
"That content can go with them rather than just remaining static on a screen," says Michael Smith, a program assistant with the college's facilities operations department.
The digital signage group is also considering assigning a digital media coordinator to drive more interactive content and push the boundaries of what the software can do, Smith says. "Just having a super-cool, fancy digital sign isn't going to do much unless it has the content going into it that motivates or gets information out to the students."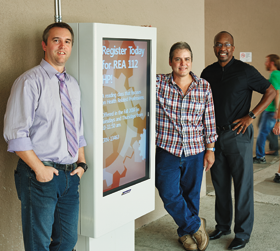 Photo: Steve Craft
Michael Smith, Jeff White and Keith McIntosh ensure design continuity in digital signs across Pima Community College's six campuses through a software tool.
The Right Stuff
As an early adopter of digital signs, College of Southern Nevada Multimedia Manager Eric Garner saw firsthand just how important it is to deploy the right system to meet a campus's specific needs.
"It was failing all over campus," Garner says of the digital signage network that was installed at the Las Vegas–based college before he took charge of the system in 2006. "The faculty didn't like it, the students didn't like it, and it wasn't stable."
Later that year, the college replaced the older solution — and its difficult-to-manage user interface — with Cisco Systems' Digital Media System, "and we haven't had an issue since," Garner says.
The differences among many of today's digital signage offerings are wide, so it's important to give content producers the opportunity to test a few systems before finalizing any purchase, Smith advises.
Pima Community College tested products from three vendors, he says, and while the interfaces were fairly similar, each product's back end — the templates and content management options — varied widely.
The College of Southern Nevada recently switched to cloud-based software from Cisco partner Appspace, because the college's current Cisco system is at the end of its life.
"The software has added more and more functionality over the years," Garner says. "Faculty, staff, students and campus visitors all comment on how good the college content looks on the TVs, and that makes me proud to do what I do."
Snowflock/ThinkStock
More On