What LinkedIn University Pages Means for Students and Colleges
Social networking is becoming even more important for higher education marketing.
LinkedIn launched University Pages last week as a way for students to learn more about different colleges before applying—perhaps to several—and eventually attending one. The approach is similar to LinkedIn's platform that allows business professionals to explore career opportunities, a feature that should also be helpful to high school students.
In a blog post about the launch, Christina Allen, director of product management at LinkedIn, noted that there is a wealth of data to be shared and explored by LinkedIn's 225 million users:
Through my relationships at LinkedIn, I knew that hidden in millions of member profiles were powerful insights about the career outcomes of educations from universities around the world. If harnessed, these insights could provide incredible value for students – helping them explore possible futures and build a support network to help them succeed on campus and beyond.
What It Means for Students
As tuition prices increase, students are forced to think of college as an investment. Until now, there hasn't been an easy way to see where a college's alumni have ended up in their careers. LinkedIn can help users find data that would likely facilitate college selection, according to The Verge:
The overarching concept is to allow high schoolers to look into where students from different colleges have ended up in life, and explore how a college might help them towards achieving their career goals. Existing users with an educational history linked to a participating institution will be able to join in, comment, and answer queries about the college in question.
The real question is, will the data ultimately make the college decision harder or easier?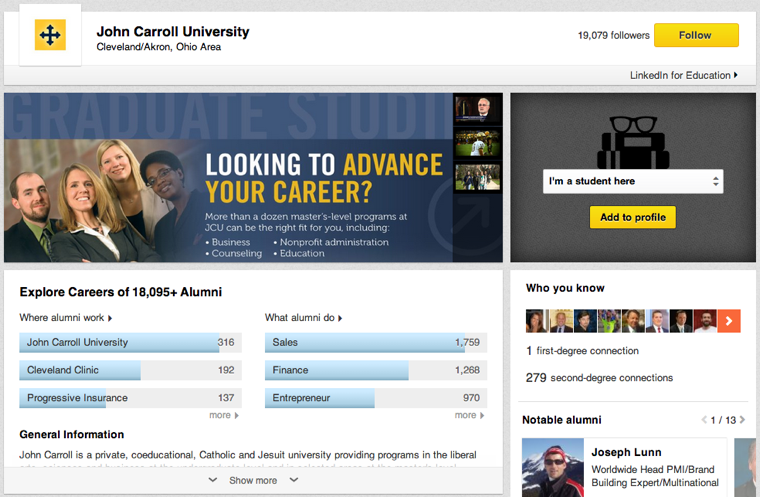 What It Means for Colleges
For the last 10 or so years, colleges have been making a big push to market themselves on the web. Universities have already invested heavily in sites like Facebook and Twitter, so LinkedIn now seems like an obvious place to create an engaging presence.
John Carroll University was chosen as one of 200 colleges to participate in the launch. Mike Richwalsky, senior director of creative services and e-marketing at John Carroll, is excited about the opportunity:
The fact that we can quickly and easily see all our alumni is good data for [institutions of higher education] to have. The ability to drill down by area, job, and job type is pretty powerful data.

I think this new network is good for those of us who manage content. I think the type of content we'll post on LinkedIn will be different from the type of content we post on Facebook. I can imagine us posting less about say, campus events like a speaker, and more about successful alumni, programs of interest and student successes.

Overall, it's an interesting first step by LinkedIn. I hope they continue to add features and functionality over the coming days, weeks and months, and make this a valuable tool for our alumni, students, prospective students and us marketing folks.
Must-read IT blogger Karine Joly created an overview to help colleges set up University Pages. See it here.
Are your college's pages up and running? Leave the link in the Comments section so we can check them out.
<p>Credit: LinkedIn</p>
More On