What 4,500 Professors and Administrators Think About Online Learning
Three important takeaways about the current state of this growing trend.
What do professors and administrators really think about online education?
Inside Higher Ed and the Babson Survey Research Group asked more than 4,500 of them. Here are three important takeaways from their survey.
Faculty Are Afraid of Online Education

Fifty-eight percent of faculty surveyed feel pessimistic about online education. Administrators, on the other hand, are overwhelmingly excited about teaching students over the Internet, with more than 80 percent indicating their optimism. It's easy to see why: Online education programs are a revenue stream for cash-strapped schools. At the same time, they redefine the professor's role in a way that may be difficult for some teachers to accept.
Faculty Are Wary of Online Learning at For-Profit Institutions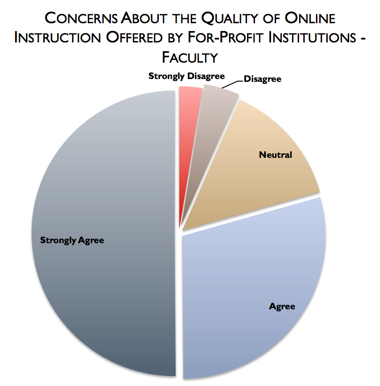 A full 79 percent of faculty surveyed agreed or strongly agreed when asked if they have "concerns about the quality of online instruction offered by for-profit institutions." Certainly, online, for-profit institutions are disrupting the traditional model of higher learning in the United States, and quality is not the only issue being raised. Here is what Cormac Foster of ReadWrite recently wrote about online education:
Academia is not like the business world, in which an online startup can trounce an established business by building in the cloud and delivering commodity goods with less overhead. Reputation and consistency matter when building trust in hard-to-quantify results. Ironically, innovation, lower costs, inclusion and reduced barriers to entry can actually hurt the prestige of online schools. One of the key functions of a selective college is to do some pre-sorting of applicants: "If you got into Yale you must be smart." Giant online schools that accept pretty much everyone may be democratizing education, but they're not helping employers or anyone else separate out the best and the brightest.
(Read Foster's full post on ReadWrite.)
Online Education Doesn't Pay the Bills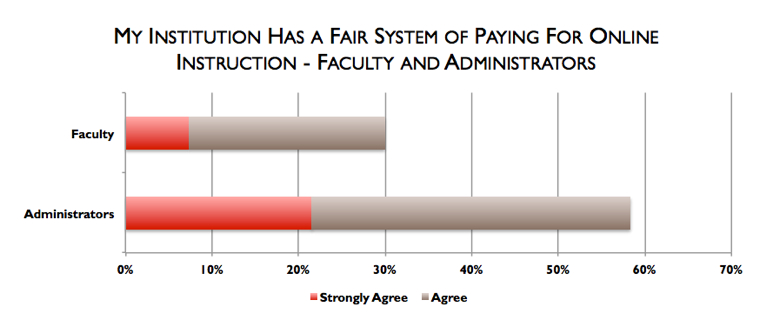 The survey reports a huge disconnect between faculty and administrators on the topic of compensation. Faculty note that "that teaching an online course takes more time and effort than does teaching face to face." Administrators surveyed believe that pay is fair. Such disparity, if unresolved, could hinder the development of online programs on some campuses.
We encourage you to download the full study for more information.
More On