Simulations Offer Nursing Students Practice for the Real World
The University of South Carolina College of Nursing combines mannequins with AV technology to train nurses for work in a real hospital.
Students at the University of South Carolina College of Nursing attend lectures covering blood glucose and symptoms that indicate abnormally high or low blood sugar levels in a diabetic patient. They learn when to provide food and when to administer insulin. But whether those nursing students actually treat a diabetic before they start work in a hospital can depend on what types of patients they see during their clinical sessions.
That's where the university's clinical simulation laboratory (CSL) comes in.
Inside the lab on the campus in Columbia, S.C., high-fidelity mannequins are paired with advanced classroom technology to create realistic hospital scenarios in which nursing students hone their skills. The goal is for these students to receive training on as many scenarios as possible before they work in the real world.
The mannequins are amazingly lifelike: Their chests rise and fall as they breathe. They have mechanical hearts that beat, and students can measure their pulse and blood pressure. Some even blink and cry. Another gives birth, either vaginally or via C-section, to a similarly sophisticated newborn mannequin. And all of them are hooked up to an array of Crestron Electronics audio and visual (AV) technology that serves as the brains of the simulation lab.
The Crestron technology lets CSL instructors act during simulations both as the patient voice and as an omniscient observer with the touch of a button. Instructors also have the option of speaking solely into the earpiece of a person in the simulation room. Meanwhile, complementary Crestron equipment controls simulation room cameras, which can record and play back the healthcare education scenario. Together, the audio and video gear play a vital role in delivering a real-world nursing experience in a controlled, educational setting.
It's a world away from the low-tech learning environment of the past. CSL Director Erin McKinney recalls training on just the patients who came in for treatment during her required clinical sessions and practicing injections on oranges. "The students get what I got in lecture and hospital experience 30 years ago, and they also get simulation," McKinney says.
200 feet The maximum indoor range of the Crestron touch panel's two-way radio frequency wireless connection in the simulation lab at the University of South Carolina College of Nursing. The touch panels also have a one-way infrared wireless capability of 50 feet.
SOURCE:University of South Carolina College of Nursing
A Winning Combination
Simulations have grown in popularity among nursing educators in recent years. By using simulations, students learn how to work through emergency situations in a nonthreatening environment. Yet simulation in its broadest sense has been around for a while, as anyone who has used a dummy for CPR training can attest. What is relatively new is the advanced AV technology that makes today's simulations more realistic than ever before.
At the CSL, educators have merged two distinct technologies to create what Clinical Associate Professor Kimberly Glenn considers a great opportunity for nursing education. Structurally, the first-floor lab covers about 3,700 square feet and includes six replicated hospital suites, a control room, a debriefing room and a large classroom that seats about 40 people.
The lab typically uses nine mannequins. The birthing mannequin, Noelle, and her newborn Baby Hal are connected through a radio frequency module to a desktop computer, explains Lonnie Rosier, the simulation lab's technician and programmer. The Crestron technology provides the audio, video and control capabilities.
When the CSL opened in 2008, each of its rooms included one of Crestron's 5.7-inch TPS-6X tabletop touch panels to control simulation audio and video functions. From the touch panel, the CSL instructor fires up the equipment, selects the simulation mode and acts as the patient's voice.
"As the students speak with the mannequins, we speak back," explains McKinney.
Each of the original rooms also has a Crestron 8x8 wideband RGB matrix switch to route the video and audio, as well as its own AV2 dual bus control system to serve as the brain of the audio and video functions, Rosier says. Each room has two cameras — one wide angle and the other tightly focused for closeups. Instructors view the simulations in live camera mode and record it for playback during student debriefings.
By the time USC's nursing college added three suites to the simulation lab in summer 2011, substantially less equipment was required, Rosier says. A more elaborate version of the AV2 dual bus control system, the PRO2, works with a single matrix switch and a touch panel to run all three of the new rooms, aided by touch-panel desktop software that comes with the package. "It's a piece of software that mimics what that touch panel does," Rosier explains.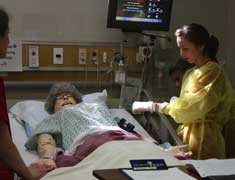 Courtesy of University of South Carolina
Emergency Preparedness
Although all simulation scenarios by their nature differ somewhat, USC educators agree that the high-tech lab has helped standardize the student nursing experience. As Glenn notes, the lab allows instructors to create a clinical environment in which every student is exposed to the same medical situation — no matter how uncommon.
That's especially helpful when training nursing students to work through low-incidence, high-risk situations, such as when a patient's heart stops. These are situations for which educators want all students prepared, but which are unlikely to occur randomly during most clinical sessions, McKinney says.
The simulations let nursing junior Katie Huff learn without the fear of causing lasting damage. "As great as clinical is, I just see a huge benefit to simulation in that you can experience that emergency situation," Huff says, "which makes me feel a lot better."
<p>Jeff Amberg</p>