Amazon's Kindle Fire Comes to Campus
New device offers a feature-rich experience at half the cost of many leading tablets.
The Amazon Kindle Fire is a compelling e-book platform as well as a versatile tablet at a price college students can afford. Amazon's low-cost tablet is a new option for those seeking a capable device at roughly half the price of many competing tablets.
End-User Advantages
With a 7-inch screen and 8 gigabytes of storage, the Kindle Fire is comfortable to work with and has ample storage for e-books, apps, music and videos. It is well constructed, with a sharp Gorilla Glass display and a rubberized back that keeps the device from sliding in your hands.
The Kindle Fire has minimal external interfaces: only a power button, a micro-USB port and a headphone jack. Volume is controlled through the Android device settings tab rather than through an external volume control. This results in a clean surface, which feels very comfortable when relaxing and reading.
The Kindle Fire's e-reader application is flexible and intuitive, supporting gesture-based scrolling, page turning and bookmarking. Several color motifs are available for viewing in various light conditions, and font size and styles are also adjustable.
The device excels at media management. Users can access both the Amazon Store for magazine, newspaper, book, music and movie purchases, and the Amazon Cloud for media and data storage. The Kindle Fire includes 5GB of cloud storage and a one-month membership to Amazon Prime, which provides streaming of free movies and TV shows as well as free 2-day shipping and one free book checkout per month from the Kindle Owners Lending Library. Music purchased through the Kindle Store is auto­matically placed on the user's Cloud Drive (for use on other computers) and is Digital Rights Management–free, so it can also be downloaded to other devices.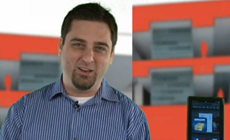 Watch our hands-on review of the Kindle Fire
Why It Works for IT
The Kindle Fire is largely a consumer device, so there's no easy way to manage it across an enterprise network. That said, the Kindle Fire is not likely to require enterprise management. As one of the many mobile devices coming onto campus that stream audio and video content, the Kindle Fire will certainly have an impact on bandwidth. Some colleges will need to add access points, some may need more outgoing capacity and still others may need to tune their radio frequencies differently. Much will depend on the specific campus installation. Otherwise, the device will require little additional management or attention from the IT staff.
Disadvantages
The Kindle Store is one of the greatest advantages of the Kindle Fire, but there are also some disadvantages. Because applications are installed through the Kindle Store, an application that is available on the Android Market but not in the Kindle Store cannot be easily installed. Apps can be "side loaded" onto the unit by installing the application files on another Android device and then copying them to the Kindle Fire. But this is a process that only tech-savvy users can easily run.
Amazon clearly intends the Kindle Fire to be a handheld storefront for Amazon products and services. Users should take note of this before loaning the Kindle Fire to their children for a quick game of Angry Birds.