Students Are Concerned About Graduating on Time, But Mobile Tech Can Help
Survey finds that learners are seeking apps to help with challenging curriculum.
College students often have a lot of balancing to do, from coursework and jobs to maintaining a social life and financial stability.
The 2017 Student Life and Technology Survey by DubLabs found that all this balancing has more than a third of students at least somewhat worried that they won't graduate on time.
Among those surveyed, about 36 percent say that challenging curriculum is their biggest barrier, followed by 27 percent who indicate financial issues.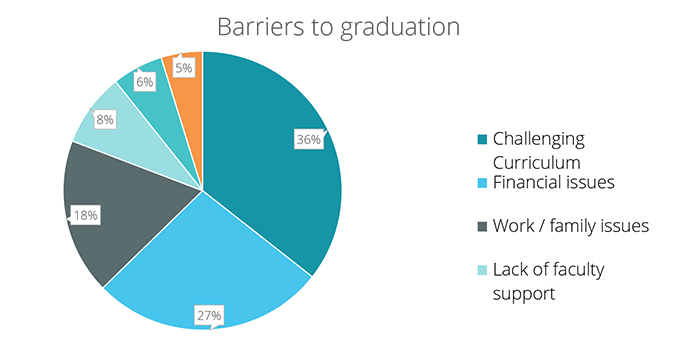 SOURCE: 2017 Student Life and Technology Survey
But, there seems to be hope. Overwhelmingly, students are reporting that campus-supported apps for academic and course-related features are helping them access the information they need to graduate on time. Apps for financial information and financial aid also made the list as important.
Mobile Apps Can Boost Student Learning and Engagement
When it comes to student services like financial aid and campus security, several colleges have found success in providing mobile apps to make them more efficient.
Apps in the classroom, however, have been more slowly adopted, in spite of expert support.
"I think [using smartphones] is a great way to get students actively involved," instructional designer Josh Murdock tells EdTech. "Every classroom doesn't have a computer or a set of tablets."
A research report from the University of Kentucky says that if instructors in general education courses — specifically communication courses — embraced using mobile devices in their classes, they could not only enhance the learning process, but also help students gain multitasking skills they need for the professional world.
"Many basic communication courses identify themselves as a course that helps students transition to college and as preparatory for professional and corporate settings upon graduation," reads the report.
Also, like Murdock, the report indicates that engaging students through their mobile devices — like watching TED talks or recording practice speeches — keep the devices from simply being a distraction.
Another report found the use of mobile apps can help boost test scores of students in introductory anatomy and physiology classes.
"Mobile applications can be a useful tool for many instructors in higher education and researchers are beginning to notice a trend in people's motivation to learn through mobile devices," writes the researcher.
Jacob Ammentorp Lund/Thinkstock
More On