Review: Surface Studio Supports Creative Endeavors
All-in-one PC with touch screen supports interactive learning and innovative classroom programs.
The Microsoft Surface Studio brilliantly combines the ­usability and features found in the popular Surface Pro tablets with a massive 28-inch ­touch screen and enough ­processor power to drive even the most advanced educational programs. At its core, the Studio is an all-in-one PC with the display attached to the CPU block using a rotatable metal stand. The monitor can be positioned upright like a traditional computer or presentation display. It can also lie almost flat, at a very slight angle, like a drawing table.
Each of the included peripherals (keyboard, mouse and pen) are wireless, so setup of the Studio involves attaching power and network cables. If you are using a wireless network, you don't need an Ethernet cable. But classrooms that need to attach peripherals such as projectors, extra drives or programmable robotics will find four USB 3.0 ports and a Mini DisplayPort for expansion.
A High-Performance Classroom PC
At the core of the Surface Studio is the touch-screen LCD, a beautiful display capable of a maximum resolution of 4500x3000 pixels supporting 10 points of contact. The aspect ratio is 3:2 instead of the more popular 4:3, so it offers more emphasis on height. The Studio's graphics are driven by an Nvidia GeForce GTX 980M graphics card capable of almost unlimited color display and contrast combinations. The LCD was accurate in video benchmarking tests despite its large size.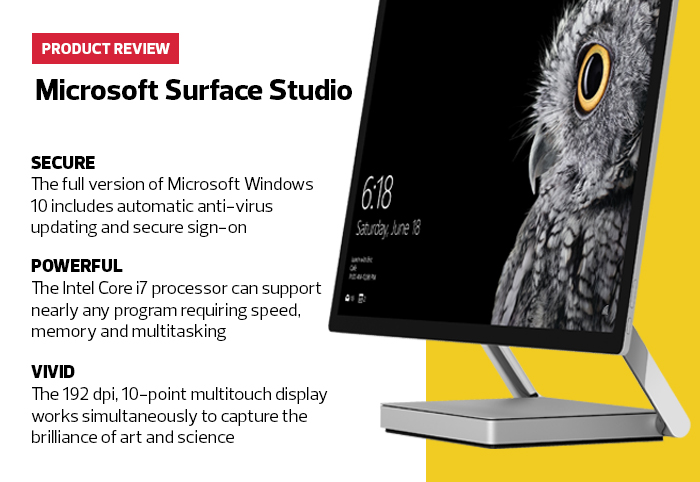 The Studio scored in the 90th percentile of all tested systems on the PassMark PerformanceTest, a benchmark that measures raw PC performance. This means that almost any program can probably run seamlessly on it. Also, spoken voices, remote lecturers, sound effects, and music are clear and loud when played through the included Dolby ­premium audio package.
A Valuable Resource Perfect for Collaboration
The price, perhaps out of reach for ­school districts that need to deploy dozens in a computer lab, is quite economical considering everything the Surface Studio can accomplish. Even a few units spread throughout classrooms could enhance learning. The 2-terabyte drive also makes it easy to share — a nice bonus considering every teacher will want his or her favorite ed tech software loaded on it.
Enroll with the Microsoft Surface Studio
At most K–12 schools, teachers and students will probably need to share the Microsoft Surface Studios, given the cost of each unit compared to normal PCs. Therefore, I wanted to see how it handled a variety of different educational programs and applications in a shared environment.
For starters, I was happy to find almost 2 terabytes of usable drive space in the test unit. Even after installing multiple educational programs, some of them quite extensive, the hard drive was still over 70 percent free.
The first application I tried was videoconferencing, which I imagined would be great for distance learning and guest lecturing. Imagine having a teacher exploring the Arctic, or working in a biodome, or visiting a historic site and lecturing from that location. The Studio worked great for receiving that feed, showing everything in crystal clear clarity in full 1080p HD. And it sounded great too, even from the back of the room.
From there I dived into science, technology, engineering, art and math programs, including an interactive planetarium app that emphasized astronomy and planetary study, and an augmented reality engineering program that challenged students to build structures in their real environment while teaching concepts like angles and arches.
The virtual planetarium was amazing, allowing me to not only see the positions of the various stars in different seasons, but also to "fly" out to planets to view them in greater detail. Given that the Studio is optimized for 3D, this was not surprising, though its 2D benchmark scores were good too.
The engineering program was more resource intensive, given that it was using augmented reality, the Studio's cameras and a construction parts database. It was also rendering student creations and applying a physics engine so I could see if my new London bridges would fall down. Most of my creations crashed, but the Studio never skipped a beat, even when explaining why my projects failed.
The educational advantages of having a Microsoft Surface Studio in a classroom are potentially very high, especially if a school has creative teachers willing to experiment with the nearly unlimited educational programs and apps available. The Studio should have little difficulty supporting any of them.
Microsoft Surface Studio
Processor: Intel Core i7-6820HQ 2.7GHz
Hard-Drive Capacity:2TB
Display: 28-inch touch-screen LCD
Graphics: Nvidia GeForce GTX 980M with 4GB GDDR5 SDRAM
Memory: 32GB LPDDR4 SDRAM
Weight: 21 pounds
 
More On