Review: Acer's Chromebook Spin 11 Is Military Tough
Rugged, flexible Chromebook is built to take a few punches and spills and keep on working.
The Acer Chromebook Spin 11 is one tough hombre, yet still relatively light, weighing in at just over 3 pounds. It is U.S. MIL-STD-810G military spec certified, meaning it passed drop tests to assess its shock resistance and tested well in hot and cold temperatures and at various humidity levels.
The Spin 11 can ­survive drops of up to 48 inches — the height of a ­typical middle school student — and direct downward force of 132 pounds, which is roughly the weight of two middle schoolers. The anti-slip pattern and rubberized base strips help prevent the device from sliding off desktops, and the reinforced corners guard against damage when the Chromebook is crammed into a backpack.
Chromebook Spin 11 Is a Durable Classroom Solution
As its name implies, the Spin 11 is a flexible machine. It has two rugged, inch-wide, 360-degree hinges that allow it to be folded into a tent or tablet configuration, making it a versatile tool for students.
The 11.6-inch touch screen boasts 1366x768-pixel resolution and is made of anti-microbial Corning Gorilla Glass. The keyboard and touchpad are very kid-friendly, with wide, recessed keys that are easy to use and clean. Water and juice spills drain through a gutter system that routes liquids out the side of the keyboard, away from any ­electronic components.
The dual-core N3350 processor with 32 gigabytes of embedded MultiMedia Card storage is more than adequate for most students. A battery test using HD video playback clocked in at 9 hours, 47 minutes — a little short of Acer's 10-hour spec, but strong enough to last through a typical school day. There's no internal cooling fan, which means less noise in the classroom and fewer maintenance headaches.
The device sports a pair of USB 3.0 ports and also two USB Type-C 3.1 ports, which support DisplayPort connectivity over USB-C. These replace the HDMI port available on older models, so adapters may be needed in the classroom to connect to a larger display.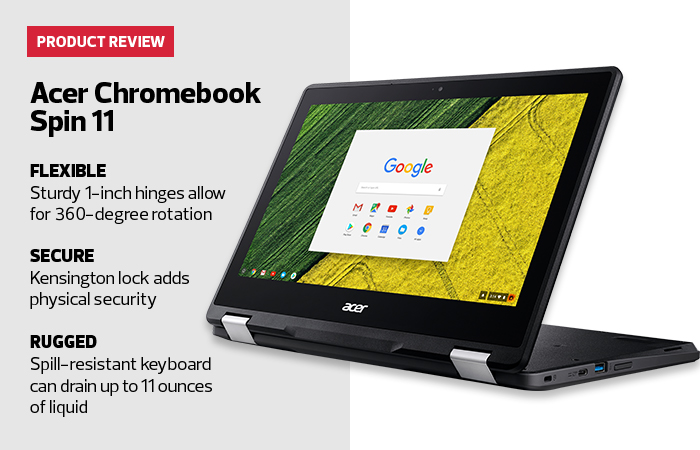 As with all educational equipment, physical and cybersecurity are paramount. The Spin 11 includes a Kensington Security Slot, perfect for multiuser labs or computer carts. With Google Apps, data is stored safely in the cloud. Multiuser logon support allows students to customize their desktop and share it on any Chromebook, which is necessary for a shared or lab environment. And, of course, all Chromebooks can be managed using web-based tools, making fleet administration a simple and straightforward task.
How Do These Chromebooks Compare?
About a year ago, I published a review of Acer's Chromebook 11 N7 (C731) as a wonderful solution for students and teachers. In fact, my 12-year-old son liked it so much, I purchased one for him, and it's been perfect for everything he likes to do (and some things he doesn't, like homework). When EdTech asked if I would review the Spin 11, both my son and I were excited to do it, and justifiably so. But what are the differences, and are they worth the extra cost? It depends.
The Spin 11 is just a touch heavier than the 11 N7 — 3.09 pounds, compared with 2.89 pounds — but I can't tell the difference. Both feel just as rugged and fit in my hand the same way, and I have to inspect the model number to tell them apart. Like the 11 N7, the Spin 11 has two rugged inch-wide hinges, but its screen can be folded a full 360 degrees into a tent or tablet configuration, which allows for a much better student experience.
The 11.6-inch touch screen with 1366x768-pixel resolution hasn't changed, but the Spin 11 has anti-microbial Corning Gorilla Glass. This gives it a slightly different look, perhaps a tad glossier, but it's not a sizable difference. The Corning Gorilla Glass would be beneficial in a shared environment, where multiple students use the device all day long, as opposed to a Chromebook that's assigned to a single user for the year.
The dual-core processor has been updated from an N3060 to an N3350, and instead of just 16 gigabytes of storage, the Spin 11 has 32GB. Storage isn't used as much on a Chromebook, but more is always better. The Spin 11 can do more things at once, but my son and I definitely push the bounds of the Chromebook — after all, it's not a laptop with an Intel core i7 processor.
I tested the battery using continuous playback of a high-definition rocket launch video over Wi-Fi, and the difference in battery life was about an hour less for the Spin (9:47, versus 10:42 for the 11 N7). Regardless, either device will easily last an entire school day. My son uses his 11 N7 all the time, and its rarely needs to be charged.
Connectivity has been upgraded on the Spin 11, which comes with two USB 3.0 ports and two USB Type-C 3.1 ports (the HDMI port has been eliminated). The Type-C ports are a welcome addition, with more peripherals taking advantage of the speed and flexibility it provides — just be sure you've got some adaptors handy.
Given all these factors, it's unlikely that I'll replace my son's 11 N7 with a Spin 11, simply because the additional features aren't worth the effort of buying a new device. However, if I were buying one today, I'd choose the Spin 11 over the 11 N7, hands down. The Corning Gorilla Glass and the USB Type-C ports, plus the flexible configuration, are well worth the incremental cost.
Acer Chromebook Spin 11
Processor: Intel Celeron dual-core N3350; 1.10GHz, bursting to 2.4GHz
RAM: 4GB LPDDR4 SDRAM
Connectivity: Intel dual-band 802.11 a/b/g/n, Bluetooth 4.2
Storage: 32GB eMMC
Dimensions: 11.65x8.11x0.82 inches
More On