Review: Dell Latitude 3390 2-in-1 Is Adaptable to Any Curriculum
This notebook is flexible enough to handle everything from student projects to teachers' administrative tasks.
The Dell Latitude 3390 2-in-1 notebook tested for this review is the high end of a product line specifically created for educational or business functions. The innovative design features a keyboard that rotates completely behind the monitor, supporting a variety of configurations, from a standard notebook to a slate tablet or stand-alone display.
Despite the lightweight, 3-pound frame, the 3390 has a 13.3-inch LCD touch screen with an impressive maximum resolution of 920x1080. It's easily capable of displaying Full HD content, and even very fine details in diagrams are accurately rendered while graphics from most apps display brilliantly on the screen. 
MORE FROM EDTECH: Check out how mobile devices are proving to have a positive impact on K–12 learning.
Dell Latitude Is Both Smart and Secure
The Latitude 3390 features both an integrated video camera and an infrared one. The video camera can be used for distance learning or teleconferencing; the IR works with Windows Hello to support automatic logins using facial recognition in any light, and automatic logouts whenever authorized users leave the area. For example, should a teacher step away, the device will lock down automatically until he or she returns.
Windows 10 Pro Boosts Performance of Dell Latitude
Anyone expecting a stripped-down operating system in such a lightweight device is in for a shock: The Latitude 3390 runs a full, 64-bit version of Windows 10 Professional. Even compute-intensive programs such as photo editors or interactive educational apps won't skip a beat.
Application performance is aided by the Latitude 3390's solid-state hard drive. Nearly akin to memory in terms of read and write speeds, the 256-gigabyte drive also has no moving parts, which makes it a lot more rugged for educational environments, where students might not be so careful with their equipment.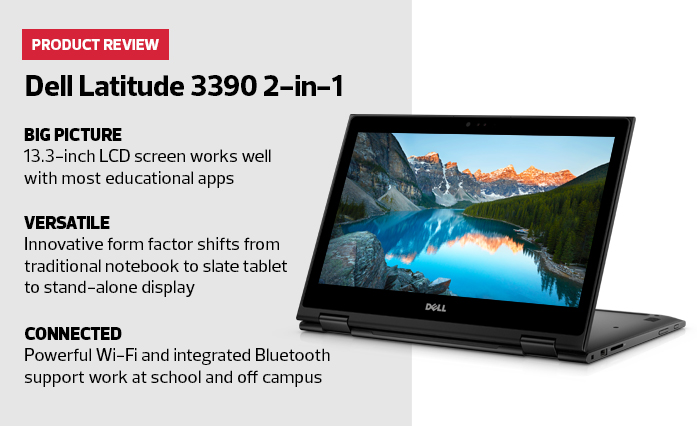 The full-size keyboard is backlit and very quiet, perfect for working in darkened lecture or study halls. The included digital pen, which supports a natural pen-and-paper feel when taking notes, is just another extra that expands the Latitude 3390's usefulness in an educational setting.
In addition to teaching, schools need to keep students and their data safe from threats. Dell offers a variety of protections for Latitude 3390 users.
MORE FROM EDTECH: See how K–12 schools can get started with blended learning.
Dell's Command Suite Makes Studying Online Safer for Schools
While an individual user might need only a few minutes to set up a new Latitude 3390 2-in-1, most schools will have to configure more than just one device — and then keep them safe from threats like viruses, hackers and unauthorized access once they do so. Dell offers several free tools to make that happen.
The Dell Client Command Suite is a new set of tools designed to help deploy and maintain a fleet of Dell systems that have a variety of needs or security levels. It was easy to set up groups of users, such as those within the same grades, or assign Latitude 3390s to teachers and administrators. Each of those groups could have different permissions and policies, all set up and configured before the devices are distributed.
The suite provides a surprising amount of control for a free toolset. Extremely precise controls, such as not putting USB ports high in the boot order for student machines, are possible. We programmed a lot of what-if scenarios, such as how the device will react if its Trusted Platform Module security chip detects a physical breach or changes in the BIOS.
The Dell Data Protection toolset allows even greater control, such as encrypting hard drives or specific work areas across all machines in the fleet or within a specific group. For example, the data associated with a grading application (and the application itself) can be specifically encrypted so that it remains secure even if a device is lost or stolen.
Available tools also support remote troubleshooting through Microsoft System Center and LANDesk — a boon for elementary schools without onsite IT support. In addition to helping correct wayward individual machines, the Dell Client Suite allows full network inventories of all tablets a school system owns, down to what programs run on each device, and the specific security policies applied. The central control also ensures that all devices maintain updated patches and security protections.
Having such powerful tools available to manage a fleet of Latitude 3390s takes a huge burden off of teachers and students, who can instead concentrate on teaching and learning, and using their impressive new devices to aid in that important work.
Dell Latitude 3390 2-in-1
Display: 13.3-inch anti-glare LCD touch screen
Processor: Intel Core i5-8350U
RAM: 8GB DDR4
OS: 64-bit Windows 10 Professional
Hard Drive: 256GB solid-state drive
Dimensions: 8.9x12.8x0.8 inches
Weight: 3.46 pounds
More On