Learning Comes Alive with Virtual Reality and Other Audio/Visual Technologies
Students and teachers bond over 3D display, interactive and sound technologies in the classroom.
A frog appears to float in midair. Using a stylus, a seventh-grader wearing "driver glasses" separates the amphibian's skeleton from its musculature and holds it aloft. 
It may sound like something out of a mad-scientist video game, but it's happening at Teasley Middle School in Canton, Ga., where students are using a tabletop virtual reality system called zSpace.
Teasley is one of 41 schools that make up Cherokee County School District, which is 40 miles north of Atlanta and serves a little more than 42,000 students. 
Cherokee has installed a zSpace lab at five of its middle schools, with plans for a virtual lab that contains 10 workstations for students and an additional two for teachers. 
Virtual Reality Labs Give Students An Opportunity for Exploration
Each classroom in the district is also equipped with either SMART or Promethean interactive whiteboards, says CIO Bobby Blount. The boards are augmented with ­amplifiers and speakers.
Two schools also ­feature interactive touch LED panels running SMART Notebook software.
"Our schools utilize 3D printers, promote and teach coding skills as early as first grade, and are just beginning to explore augmented and virtual reality technologies," Blount says.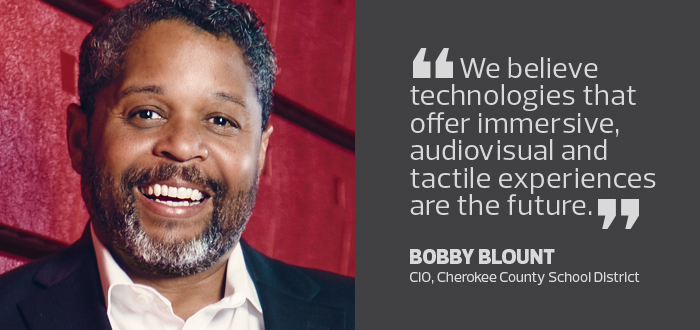 Cherokee is one of many districts nationwide that are using interactive displays and other audio and tactile technologies to get students more engaged with science, technology, engineering, math and other subjects. But these technologies are also a pathway to something larger.
"We want them to be smart learners and figure out how to apply what they've learned in real-life scenarios," Blount says. "We believe technologies that offer immersive, audiovisual and tactile experiences are the future."
SIGN UP: Get more news from the EdTech newsletter in your inbox every two weeks!
Virtual Reality Gives STEM New Life For Students
Inside the lab at Teasley, each workstation consists of an all-in-one PC with a 24-inch screen tilted at a 45-degree angle, a connected stylus and a pair of 3D glasses. 
Sensors on the PC track the position of the stylus and the glasses, allowing applications to create images that appear to float between the student and the screen.
Three students sit at each workstation; two wear standard 3D glasses and look on as the third student handles the stylus and dissects a virtual frog, examines the earth's inner core or explores a medieval castle.
Some teachers use zSpace in combination with a portable 3D presentation system that allows them to share virtual images with the entire class.
Others use wall-mounted SMART LED panels to display the 3D content. Students can then log on to their zSpace systems and explore the inner life of cells on their own.
"An educator teaching about cellular reproduction can point the projector at a blank wall and show the entire class a 3D video on cells undergoing mitosis," Blount says. "The kids are blown away by it."
Visual Classroom Tools Are for Schools of All Sizes
Districts don't need to be large to take advantage of cutting-edge audiovisual technology. 
St. Charles Community Schools, a rural district in central Michigan with just under 1,000 ­students, has 10 zSpace workstations on its centralized K12 campus.
Two years ago, the district passed a bond issue to fund a one-to-one device initiative for its middle and high school students and to upgrade its network infrastructure.
That money, combined with federal E-rate funds, enabled St. Charles to create the zSpace lab, says Superintendent Michael Decker.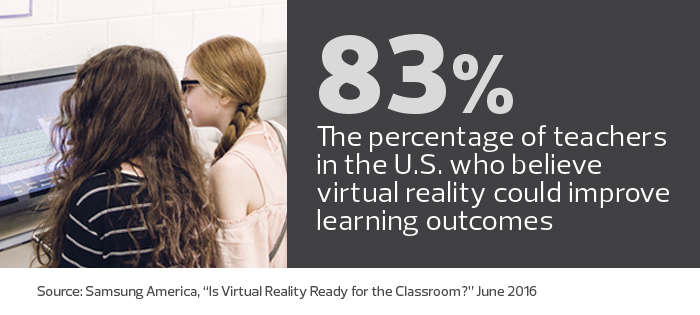 The systems have had the biggest impact on elementary and middle school students, especially on getting girls more interested in science, says Decker.
"Over a two-year period, we have modernized the instructional pieces to be more like how kids learn today in the 21st century," he says.
Integrate Education Technology With A Purpose in Mind
Of course, virtual reality systems and other audiovisual tools that make up a modern learning environment aren't inexpensive. And it's easy to be seduced by the latest technology and forget the fundamentals required to make the investment worthwhile.
Educators need to start with ideas and help students use technology to address those ideas in a meaningful way, says Rushton Hurley, executive director of Next Vista for Learning.
"Whether students are using VR, making videos, or just working with chalk and slate, what makes a difference is giving them the opportunity to grapple with genuinely interesting and creative ideas," he says. 
Making sure tech tools truly amplify instruction is a key part of Robert Dillon's job. He's director of innovative learning for the School District of University City, just west of St. Louis.
The 2,800-student district recently acquired a single zSpace machine at Britanny Woods Middle School for its sixth-graders to experiment with. Like many other districts, University City is transitioning from traditional blackboards to writable digital surfaces.
"In many of our elementary classrooms, we're shifting to flat-panel screens," he says. "That solves a lot of problems with projectors, bulbs and lighting. We're also looking at writable surfaces as a way to help our kids visualize their thinking and collaborate in deeper ways."
But Dillon adds that schools are wrestling with how to get more from their investments in this technology so they can make them essential to school curriculum, instead of merely a cool adjunct.
"You need to have learning before, during and after these experiences. It can't just be in the moment," he says. "That's a challenge and a philosophical shift as people integrate technology into the classroom."
And districts can't achieve any of this without a strong technological infrastructure, Dillon adds.
"You can never have enough bandwidth or infrastructure, and just when you think you do, it's time to refresh," he says. "You need to have a sustainable, long-term refresh plan around everything, from switches and wires to routers and access points, to keep up with bandwidth needed for people who are drawing on video-rich content."
Ryan Gibson