Review: Samsung Gear VR SM-R325 Galaxy Note8 Transforms the Classroom Experience
Virtual reality headset expands horizons for instructors and students alike.
Samsung and Oculus have joined forces to create a virtual reality device that has much to offer to today's classroom. 
I paired the Samsung Gear VR SM-R325 Galaxy Note8 Edition with a Note8 that was preloaded with the Gear VR app. (The headset is also compatible with the S8, S8+, S7, S7 edge, Note 5, S6 edge+, S6 and S6 edge.) I then created an Oculus account to download and access content through the app. 
Interactive VR and 360-degree video are a treat for the senses, especially in an education setting: Imagine immersing a student in the wonders of the universe.
VR is quickly coming into its own as a viable educational tool, as indicated by the uptick in adoption, the expanding breadth of content and bold industry projections. 
SIGN UP: Get more news from the EdTech newsletter in your inbox every two weeks!
The Real Tech Behind the Virtual Experience
In the Gear VR, a smartphone snaps securely into the front cavity of the headset. Users can switch between the new USB Type-C interface and the older Micro-USB connector, which permits compatibility with earlier Galaxy phones. 
In addition to an integrated navigation trackpad, located on the right toward the front of the headset, the Gear VR also comes with its own handheld controller. 
Shaped like a slightly bent spoon, the controller incorporates internal tracking sensors, so a user can deploy it as a laser pointing tool.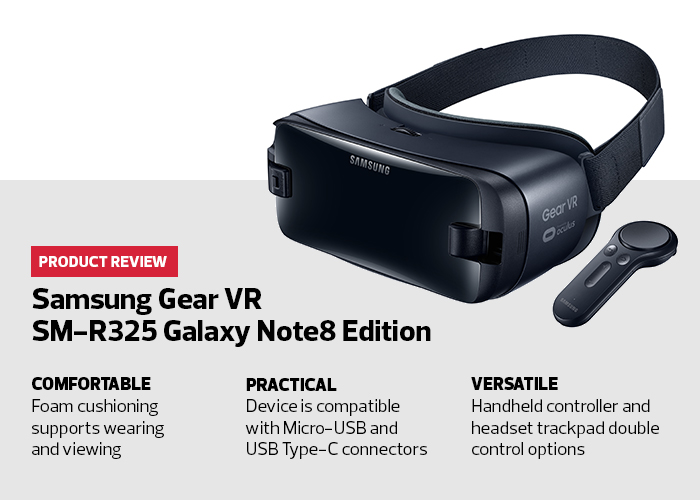 A clickable trackpad, a shoulder button, and buttons for Home, Back and Volume round out the input controls, letting the user create a more customized experience.
Adjustable elastic straps and soft cushioning around the eyepieces make the Gear VR comfortable to wear. Sound is dependent on the speaker quality of the connected smartphone, so I recommend plugging in a pair of headphones for more immersive audio.
I tested several titles from the Oculus Store, including a few from the "Learn in VR" section, and the performance was consistently smooth, with zero latency or stutter.
Video Production, Game Design Come to Life in a VR Classroom
Developers are regularly creating new content for VR devices, and educators in many disciplines are finding ways to integrate VR into their teaching. 
As advanced technology and content continue to evolve, so does the illusion of reality that the Gear VR creates. 
Innovative institutions are preparing their students for careers in game and interactive content development and coding by offering education in VR content creation. 
To that end, Gear VR deserves a place in any video game design classroom. Unity, a popular game engine, has introduced built-in support for certain VR devices, including Samsung Gear VR. 
After creating a VR game or experience, students can publish their projects on Oculus Share, an online community where users share and receive feedback. It's a great way to distribute work and gain valuable insights from players.
Video production is another great use for VR in the classroom. No one can predict how popular 360-degree video content will be in the next five to 10 years, but chances are good that demand will grow exponentially as more devices hit the market at buyer-friendly prices. 
And as the demand for original 360-degree content grows, the need for skilled content creators will grow as well. 
That's a solid reason for students to develop the skills to film and edit all kinds of video content, including 360-degree video. To borrow an analogy from football: A quarterback should throw the ball not where the receiver is, but where the receiver will be.
Finally, it's hard to overstate the transformational nature of learning through immersive experience. It's one thing to study two-dimensional flashcards, but it's something else entirely to travel through the human bloodstream, penetrate a cell and see firsthand how blood cells work to oxygenate the body. 
That's what it feels like inside "The Body VR," a beautifully immersive 360-degree video that takes students on a tour through the human body. Today, there are many immersive VR experiences available, and more are on the way.
Samsung Gear VR SM-R325 Galaxy Note8 Edition
Sensors: Accelerometer, gyro and proximity
Field of View: 101 degrees
Dimensions: 8.2x4.8x3.9 inches
Weight: 12 ounces
More On