ISTE 2017: Google Introduces New Features for Classroom Exploration
The tech giant expands offerings that help teachers use tools like Google Earth Voyager in the classroom.
Educational technology powerhouse Google announced Monday that it is expanding its K–12 offerings for its Google Earth Voyager program. The company launched 10 new interactive guided tours, or stories, using satellite imagery and photographs in its Google Earth Voyager updates.
The tech giant said at ISTE's 2017 Conference & Expo in San Antonio that it partnered with "the world's leading storytellers, scientists and nonprofits," including National Geographic Society, PBS Education, HHMI Biointeractive and Mission Blue, to create the experiences. Each story includes lesson plans and activities to support the program in the classroom.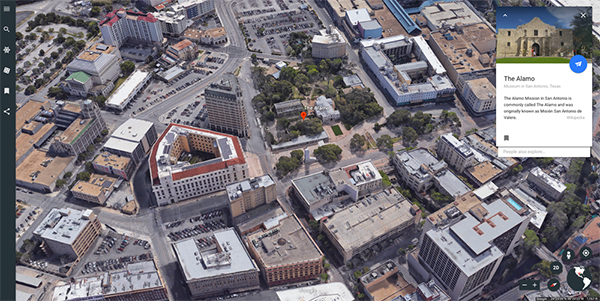 An example of Google Earth Voyager from Google's blog.
In one journey, designed by PBS, students can follow the expedition of Louis and Clark. In another, they can follow Mission Blue on a "high seas adventure to the Costa Rica Thermal Dome Hope Spot, where we follow marine biologists in the field tagging turtles, tracking sharks and more."
The tours let students explore areas using a combination of photos, 360-degree videos, Google Maps Street View and text.
SIGN UP: Get more news from the EdTech newsletter in your inbox every two weeks!
As an added feature,  IT administrators can manage Google Earth through the Google Admin panel, said Google for Education Marketing Manager Melissa Horwitz in a blog post announcing the update.
Google for Education also announced a collection of science, technology, engineering and math (STEM) tools for Chromebooks — Dremel Idea Builder 3D40 3D printer and littleBits Code Kit — that schools can purchase as a discounted bundle.
Additionally, it revealed a self-guided mode in the Expeditions app for Cardboard and Daydream virtual reality headsets, which allows students and teachers to pick any of the over 600 virtual field trips the app offers.
Earlier this month, Google launched Be Internet Awesome, a new digital citizenship and safety program to help students make smart decisions online.
Check out more ISTE 2017 coverage by heading to EdTech's event page.
bowie15/Thinkstock