Q&A: Melissa Dodd on Filling in the Access to Tech Gap
EdTech interviews San Francisco Unified School District's CTO about how to tackle K–12 digital equity issues.
As CTO of San Franciso Unified School District, Melissa Dodd has spent many hours trying ensure that all of their 57,000 students have equal access to the tech tools needed to innovate. We talked with Dodd about this process.
EDTECH: What does "digital equity" mean to you?
DODD: It represents both equity of access and equity of opportunity with technology for our students, specifically our underserved communities. It's not enough to solely focus on equitable access to digital tools and high-speed broadband; we must also focus our efforts on closing opportunity gaps and creating diverse learning opportunities with technology. We have a moral responsibility to prepare our students to compete and thrive in the shifting social and technological landscape of the 21st century.
EDTECH: What are the biggest challenges to achieving digital equity, and how do you meet them?
DODD: About 14 percent of San Francisco Unified School District families do not have access to a computer with internet at home. The access gap is exacerbated for students of color and those living in poverty. We provided 4,600 educators with laptops and shifted nearly 10,000 employees and 57,000 students to a unified collaboration platform. Through partnerships with Salesforce, Digital Promise and the Verizon Foundation, we have expanded access to technology and everywhere learning through one-to-one learning models in middle schools. We are also partnering with city leaders to determine how to provide all residents access to high-speed internet at home.
EDTECH: What is the most vital piece of technology for enabling this?
DODD: Students must have pervasive access to devices, digital learning tools and internet anytime, anywhere. Our students are mobile, and so their learning needs to be mobile. Curriculum content must be digital, and pedagogy must leverage technology in meaningful, personalized ways. Students must have pervasive access to devices, digital learning tools and internet all the time.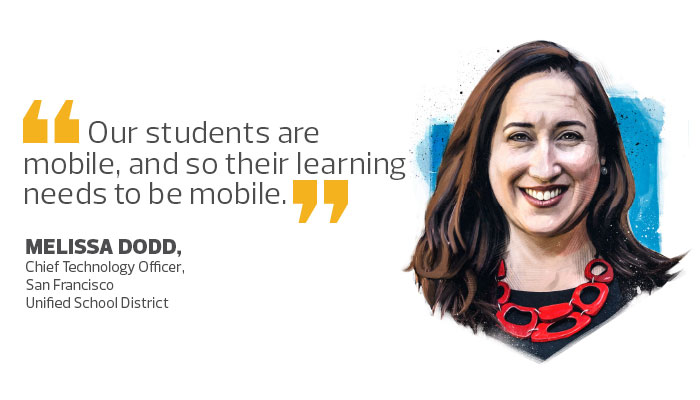 EDTECH: How important is teacher training?
DODD: Building capacity among educators is core to our transformation efforts. Every teacher in SFUSD receives a district laptop for instructional use. We also provide a core suite of districtwide digital platforms for communication, collaboration and student information for our educators. If we expect our educators to leverage technology for their students, they need to have access to the same tools and learning opportunities for themselves.
EDTECH: What role do parents play in achieving digital equity, and how do you get them on board?
DODD: Districts need to enlist families in the effort early on so they understand the value of technology and can partner with school districts to ensure access is available at home. For a district like San Francisco, with more than 40 languages spoken, we must be sure to effectively communicate the vision and goals in their home language. As a district, it's our job to develop a thoughtful vision for how students will use technology in ways that deepen and personalize their learning.
EDTECH: How do you know your efforts are working? How do you measure success?
DODD: Parents are key. Districts need to partner early on with families to achieve digital equity and develop a collective understanding of both families' needs and the value of technology and home access. We also need to build trust with our families and demonstrate that we take precautions to protect their students' data and privacy while online.
EDTECH: What's the coolest or most exciting thing your district is doing to achieve digital equity?
DODD: Just one cool thing? Four years ago, through a public-private partnership with the San Francisco Mayor's Office and Salesforce, the district began infusing our middle school math classes with technology and building capacity among educators to integrate technology into the math curriculum.
Getting to be part of districtwide transformation efforts to enrich the educational experience for students and fully prepare our students for college, career and life is what gets me excited about the work that my team and I are fortunate to do.
Part of the Rise to the Challenge series of interviews with top experts in K–12 education.
ILLUSTRATION BY Ethem Onur Bilgiç
More On