Guiding Principles and Tech Help Students Become Leaders
Education technology tools help promote and cultivate leadership skills.
Student leadership is now being classified as a soft skill that needs to be a part of classroom instruction. Our innovative work force relies on students to demonstrate this skill. However, there is ambiguity around how to organically embed it into instruction. Students now have opportunities to drive their own learning and lead within collaborative environments thanks to progress that has been made around project-based learning, science, technology, engineering and math, and character-based programs.
No matter what student-driven initiative you're leading, following these three principles (with ideas for which educational technology tools to use) will help promote and cultivate student leadership within and beyond your classroom walls.
1. Focus on Who Students Want to Be
When you ask students to complete a task, what does it sound like? "I need you to …" "I expect you to …" "Bring me …" Do you notice the teacher-centric language in these statements? When the narrative is teacher-centric, the focus is on what the teacher wants the student to do. Student leadership, on the other hand, is born out of an intrinsic desire to do something meaningful based on who the student wants to become. Adam Grant's book, Give and Take, inspired me to create a T-chart to help teachers transform their teacher-centric expectations into student-centric aspirations.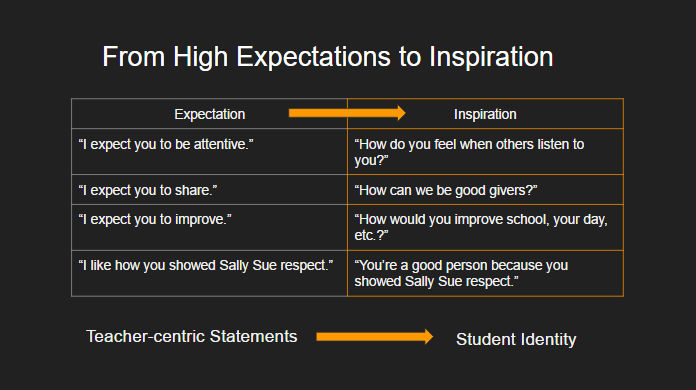 SOURCE: Nathan, D. Lang, Ed.D
When students are inspired to do something meaningful, they become motivated to push through challenges and obstacles. Teachers also provide a platform for boundless innovation and creativity.
Tools to use: Student blogging allows students to showcase their voices. Google Sites and Seesaw provide student-friendly platforms for students to blog about their learning experiences. You also can help them create podcasts with Soundcloud or Vocaroo, so that their voices are heard.
2. Focus on Why Student Must Learn Something.
"What am I supposed to do?" We've talked about the who, which will provide the aspiration for students to pioneer on their own. Students will articulate what they will do next once they understand the "why." Think about a rock climber and her goal of getting to the top. There is a goal to be achieved, an upward climb, but it's up to the climber to take the steps. Sometimes the climber must traverse horizontally before moving upward. A coach can provide support from below, but ultimately, the steps are up to the climber. The steps — or the "what" — will be up to the students in a student-led environment.
Tools to use: Trello and Slack are great project management tools that help students prioritize and organize their work and collaborate with peers.
3.Focus on How to Get It Done.
Instructional technology provides a sturdy bridge between context and content. Content alone is just a conglomeration of knowledge and skills, ready to be unpacked, applied and transformed. The context (the "how," or the medium by which students interface and engage with the world), paired with content, can pivot content from an amalgam of information to a collection of dynamic and meaningful learning experiences. When we focus on the "how," we connect learning objectives to instructional strategies that ensure students are creating new solutions to problems that matter. Additionally, we are mastering skills in the context of innovation and complex thinking.
Tool to use: Crossbraining by GoPro. This technology coupled with teacher support not only aids student creation but captures the learning process.
When promoting and cultivating student-led classrooms, it's important to remember that the teacher's role has never been so crucial. Teachers continually take risks and learn from their own failures as they ensure their students are successful, not only in achieving learning goals, but in attaining skills that prepare them for life.
This article is part of the "Connect IT: Bridging the Gap Between Education and Technology" series. Please join the discussion on Twitter by using the #ConnectIT hashtag.
Purestock/Thinkstock
More On