3M Overhead Projectors Began a New Era of Classroom Visual Aids
Before interactive projectors and document cameras, teachers used these projectors and transparencies.
Thanks to tools like short throw projectors, students can collaborate together in any size room, anywhere in the classroom. Apps like Epson's iProjection allow teachers to let their students connect directly to the projector to share work.
In prior decades, however, projectors in the classroom were pretty limited, as we've covered on EdTech. Flashback 120 years or so: Magic lanterns, which were popularized in the late 1800s, required oil lamps and candles to project.
The projector that most of today's adults would consider most synonymous with their days at elementary, middle and high school is most likely the overhead projector. Who doesn't remember the thrill of being allowed to write on the transparency with a dry-erase marker and seeing the results projected on the wall?
One of the most well-known overhead projectors in the industry are those that were once made by 3M.
 WHAT 

 Is the 3M Overhead Projector?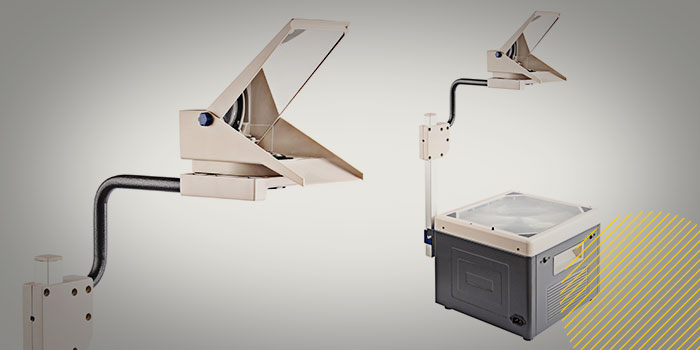 Courtesy Chuyuss/Shutterstock
An overhead projector is made up of a base with a clear glass top housing an interior light and an adjustable arm with a lens and a mirror. A transparent sheet is placed over the glass top, and the machine "projects" the sheet's written material onto whatever surface the lens is facing.
The process to develop 3M's overhead projector began in the late 1950s, when, according to A Century of Innovation: The 3M Story, physicist Roger Appeldorn was challenged by his boss to find a use for the transparency that was a by-product of the Thermo-Fax copier, which reproduced color images onto white paper.
His first try at projecting an image from the transparency produced an image that was dim and brown, but Appledorn's continued research led to the creation of 3M's first marketable transparency film, the 2002 book reports. With the transparency developed, it was only fitting that 3M make its own projector.
 WHEN 

Was the 3M Overhead Projector Introduced?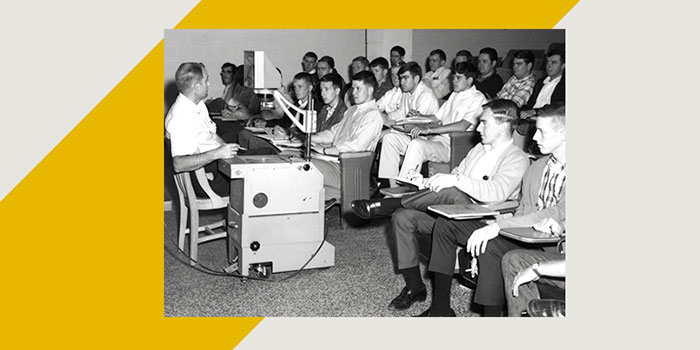 Courtesy College of Textiles. General (UA023.017.000), Special Collections Research Center at NCSU Libraries
The initial prototypes Appledorn created in the early 1960s were considered "too costly, bulky, heavy, hot and noisy to be a big seller."
"We were pushing for a lower cost, even lighter version," says Appeldorn in the book.
On January 15, 1962, Appledorn's team internally debuted "the first overhead projector with a new Fresnel lens made with a structured-surface plastic."
Because of the plastic lens, the projectors could be manufactured cheaply, and the book notes that when production began in August 1962, sales to schools, businesses and government soared.
Thanks to marketing specific to schools — the Smithsonian Institution recalls transparencies created for biology class textbooks — 3M became the major manufacturer of these projectors, which became a mainstay in classrooms through the 1990s.
Educators thoroughly embraced overhead projectors as a "controllable blackboard or bulletin board," a 1967 research paper reports.
A new era of creativity and collaboration in the classroom was ushered in.
 WHY 

Did the 3M Overhead Projector Die Off?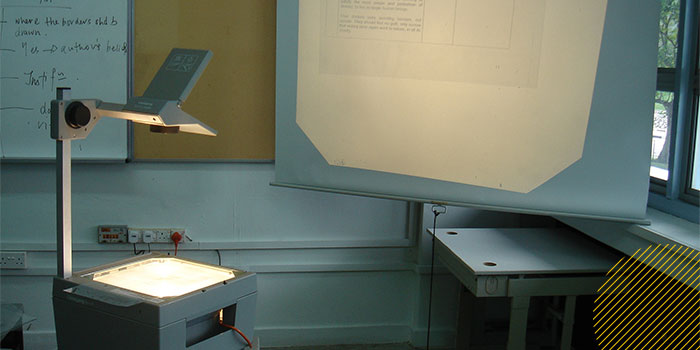 Copyright © 2006 mailer_diablo
As with a lot of classroom tech, overhead projectors declined in use as more high-tech options for classroom visual aids became available.
In the 1980s, data projectors that could be connected to a TV or computer were introduced; by 2010, 3D projectors were on the market.
In 2015, in an announcement on their website, 3M discontinued selling overhead projectors after more than 50 years.
Though it is likely some schools may still have an overhead projector, all schools can thank 3M for creating one of the first interactive visual aids.

One of the first overhead projectors was used in the 1930s by the military for World War II training.
"This Old Tech" is an ongoing series about technologies of the past that had an impact. Have an idea for a technology we should feature? Please let us know in the comments!
More On