Schools Focus on Infrastructure After Securing E-Rate Funding
Districts take advantage of federal funds to upgrade or build out their Wi-Fi networks.
Bloom Township High School District 206's ability to install a new Wi-Fi network this school year is proof that the recent changes to E-Rate are making a significant, positive impact.
"There's no way we could have afforded the connections we are making without E-Rate funds," says Andrew Schmitt, the district's director of technology. "Without the new wireless network, we couldn't access the Internet and Google Apps and Google Classroom like we do. Students have their phones and Chromebooks, and each teacher could have a desktop, phone, Chromebook or tablet going. It's no longer just one connection per person."
During the previous two years, the Chicago Heights, Ill., district applied to E-Rate to pay for a wireless network upgrade, but each year it was turned down; the E-Rate program had allocated all its funding for Internet and phone services, which received priority. No money was left over for a second funding category for internal connections that paid for networking and wireless equipment.
The Federal Communications Commission overhauled E-Rate in 2014 after President Obama asked the agency to modernize the program to ensure that all the nation's schoolchildren have access to broadband and wireless networks within five years. In response, the FCC has increased overall E-Rate funding from $2.4 billion to $3.9 billion annually, including $1 billion a year for internal connections for the next five years. It's also phasing out phone services and eliminating support for other legacy services to provide more money for Wi-Fi.
"We had two years of no Category Two funding," says Mark L. Miller, founder and president of Learningtech.org, a nonprofit organization that provides E-Rate consulting. Category Two consists of the internal connections equipment necessary to bring broadband into schools and libraries. "Schools had faster Internet at their front doors, but they had no way to fan it out on their obsolete networks. That was a problem, but now that's changing and the program is making a huge difference."
The Bloom Township district, for example, received $282,741 in E-Rate funds in 2015 to upgrade its two high schools' wireless networks.
"When they made wireless a priority, we applied again and tried to go for a home run. And right away, we got funding to build out 80 percent of our network, and we will finish it this next year," Schmitt says.

E-Rate Supports Mobile Learning
Despite getting shut out of Wi-Fi equipment in 2013 and 2014, Bloom Township High School District 206 has largely enjoyed success with E-Rate.
Since 2009, the district has averaged $139,000 in annual subsidies to pay for phone and broadband services, including its current 1-gigabit-per-second Internet connection into its schools. In 2009, the district received an additional $380,000 to purchase a new Voice over IP phone system. And in 2011, it received another $878,000 to install fiber and a new state-of-the-art network with Cisco Systems gear.
E-Rate, first officially called the Schools and Libraries Program, was created 20 years ago to ensure K–12 schools and libraries have affordable access to telecommunications and Internet services. It provides subsidies or discounts based on a district's percentage of students who receive free or reduced-price lunches. Bloom Township has historically been in the 85 to 90 percent range, meaning the district pays 10 to 15 percent of the total cost of services or technology, while E-Rate pays the rest.
"My IT budget is half what it was in the early 2000s, so we couldn't have purchased the infrastructure or paid for Internet and phone service without E-Rate's help," Schmitt says.
In recent years, Bloom Township has embraced a digital learning curriculum, which includes online video and cloud applications. The IT department also implemented a bring-your-own-device initiative and purchased 3,000 Chromebooks for students. But to take advantage, the district needed to upgrade its 5-year-old 802.11n wireless network.
This past summer, E-Rate funds allowed the district to buy 280 new Cisco Meraki MR34 802.11ac wireless access points from CDW•G. Schmitt will apply for 30 more APs this year to complete the network. E-Rate has allowed the district to increase wireless coverage from one AP in every four classrooms to about one AP in every classroom.
"Having a much better coverage area really enhances our service," he says.
Schmitt relies on a consultant to apply for E-Rate every year. "The cost of a consultant is far outweighed by the amount of money you can get from E-Rate," he says.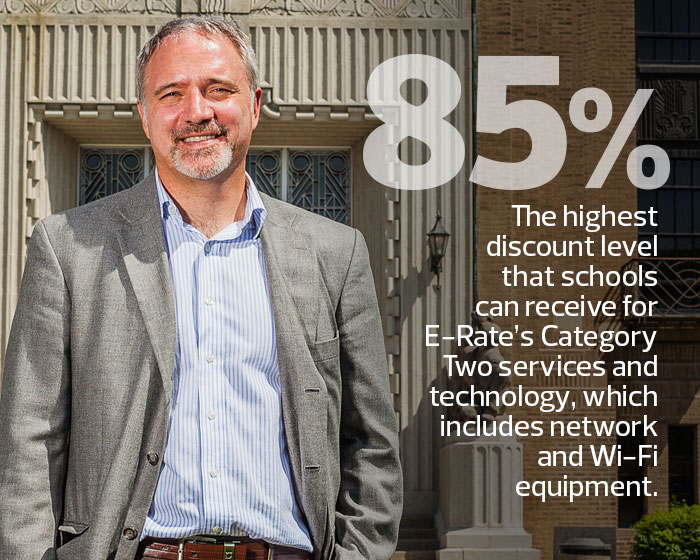 Team Approach to E-Rate
Scottsbluff Public Schools in far western Nebraska, near the border with Wyoming, is also taking advantage of E-Rate's new focus on Wi-Fi. Last year, the district received funding to buy 100 new Aruba 802.11ac APs for its five elementary schools.
Of the $60,000 in new wireless equipment, E-Rate paid $45,000, and the district paid the rest. The upgrade not only doubled the number of APs in each school, but it also doubled the speeds to more than 600 megabits per second, says David Davis, the district's director of technology.
When Scottsbluff initially installed an 802.11n network five years ago, the district had fewer mobile devices. Now, every teacher has a notebook computer, and each school has mobile carts with tablets and Chromebooks.
"Now, there are fewer dead spots, and with higher bandwidth access points, our students and teachers can access content on the Internet much faster," Davis says.
In 2015, the district spent about $100,000 on Internet and phone services — and E-Rate paid about $75,000 of that. For 2016, the district is applying for another $60,000 in E-Rate funds to pay for 100 new APs in its high school, which is currently being renovated with new buildings.
To successfully apply for E-Rate, Davis advises district personnel to take advantage of free training. Also, make sure you have more than one person who is well versed in the application process. That way, if one E-Rate expert retires or leaves, the district can easily apply for E-Rate the following year.
Last year, Scottsbluff's E-Rate expert retired, forcing Davis and several staffers from the district's business office to learn about E-Rate and collaborate on the application process. They took seminars from their Nebraska Educational Service Unit. They also contacted the Universal Service Administrative Company (USAC), which administers E-Rate, and received guidance through its call center.
"We sat down and went through the online forms together," Davis says.
Develop a Deployment Strategy
In California, Rescue Union School District, which is near Sacramento, has relied on E-Rate to pay for Internet and phone services, but it never bothered to apply for Category Two funds for internal connections in the past because its discount rate was 40 percent. Districts with higher discount rates received higher priority, so there would be no money left for RUSD.
Now, Sheila Simmons, the district's director of media and technology services, is capitalizing on E-Rate's changes. Last year, the district received $15,166 to upgrade some network switches and uninterruptible power supplies. For the forthcoming year, the district is applying for 15 external Ruckus Wireless APs, so students can use Wi-Fi outdoors.
As for best practices, Simmons advises districts to plan out how they will use Category Two funds. The new E-Rate rules allow schools to apply for purchases of up to $150 (prediscount) per student over a five-year period.
"Plan it out, so you can use the Category Two funds to their fullest extent," she says. "We probably need to use our funds later in the five-year cycle to replace some switches, and not spend it up front. It will help us sustain reliability and ensure we continue to have a solid network for students."
Bob Stefko
More On