Facebook Commits $15 Million to Code.org
The money will fund programs aimed at increasing gender and racial diversity in computer science education.
Reshaping the workforce of tomorrow requires expanding educational opportunities today.
Facebook leadership acknowledged that long-term need when announcing that the company would donate $15 million to computer science nonprofit Code.org over the next five years.
"We want every person in this country to have the opportunity to learn the skills that our industry needs — and we want the chance to hire them," wrote Maxine Williams, Facebook's global director of diversity, in a diversity update released today.
Launched by brothers Hadi and Ali Partovi in 2013, Code.org aims to make computer science education widely accessible, especially to those racial groups currently underrepresented in the technology workforce.
Backed by Facebook, Microsoft and other major partners, the nonprofit brings coding to the classroom through its Code Studio open-source learning platform — used by more than 11 million students — as well as its popular Hour of Code events.
Code.org also partners with school districts to bring computer science courses to local classrooms. According to the nonprofit's website, of the students enrolled in these courses, 48 percent are black or Hispanic and 45 percent are female.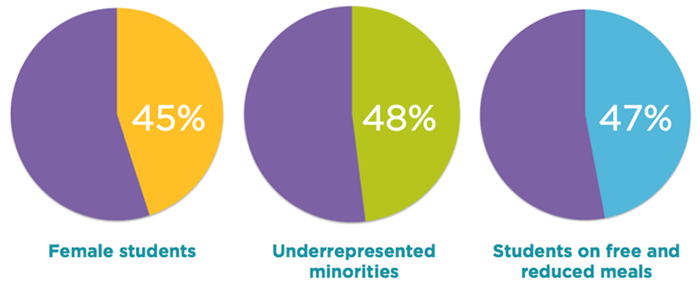 Source: Code.org
The $15 million pledge from Facebook will go toward improving these figures, and could one day impact the social media giant's own demographic breakdown: According to the diversity update, women represent only 17 percent of Facebook employees working in tech roles, but 33 percent of its global employees. Of the company's U.S. tech workers, only 1 percent are African American, while just 3 percent are Latino.
"While there is a lot of distance to cover in the short, medium and long term, we're moving in the right direction," Williams wrote.
michaeljung/ThinkStock
More On