Districts Work to Close the Homework Gap
School districts are sending home mobile hotspots and outfitting buses with Wi-Fi.
The village of Watkins Glen, N.Y., may be small but it is a tourism and digital powerhouse. Boasting a NASCAR racetrack and an impressive collection of wineries, festivals and natural attractions, the village has the kind of robust broadband connectivity necessary to accommodate the tens of thousands of tourists who come here each year — not to mention the digital education needs of the 1,150 students who attend the local Watkins Glen Elementary and Watkins Glen High schools.
Unfortunately, though, "you go three miles outside of town, and all of that is gone," says Tom Phillips, superintendent of Watkins Glen Central School District. "Then you are in rural, upstate New York, and there's not much in the way of Internet infrastructure."
About 15 percent of the district's students live in these areas. And as the district began ramping up its own technology capabilities several years ago, the gap between the Internet "haves" and "have-nots" within the student body became painfully visible.
Expanded Access
The district's two campuses already are outfitted with a Cisco wireless network and learning management system, and high school students are allowed to bring their own devices to school to access Office 365 and other cloud-based applications. Teachers post their class notes, assignments and recorded lectures online and consult with students via email. Increasingly, students need access to these resources to complete homework assignments.
So district officials took steps to bring the school network just a little closer to home: They outfitted the school's fleet of 18 buses with Wi-Fi.
The solution is enabled by Cisco 829 industrial integrated-services routers positioned on each bus, a cellular connection and a virtual private network tunnel that feeds back into the school's centralized Cisco Wireless Services Module 2 controllers and through its Cisco ASA 5545-X firewall. It is "literally an extension of our own wireless network," explains Melanie A. Chandler, the school district's director of technology.
"It's completely seamless, so students just stay on the BYOD network when they get on the bus, and then they can do their homework during their ride home from school," she explains. "They're already authenticated, and everything they do is tracked and filtered, so they don't have to learn anything new or do anything differently, and we secure and monitor it just like we do the rest of the network."
There are some technical issues that need to be worked out, admits Michelle Clark, the district's transportation director.
"The IT department will need to figure out how far the signal strength will extend beyond the bus and if there's any way to boost that to reach more households," she says. "So there are some technical concerns that need to be resolved, but we're really excited about the possibility."
Phillips notes that putting Wi-Fi on the school bus, whether moving or parked, isn't just about ensuring that students get tonight's homework done on time. The long-term picture produces a bright end goal.
"Equitable access is a huge issue that affects not just school success but college and career readiness," he says. "As we solve this inequity issue, we'll be able to say that students who leave here will all have the digital skills and curriculum they need to be truly ready — not just the ones who were fortunate enough to have Internet access in the home."
Broadband in Hand
"The civil rights issue of today is really around broadband access away from school," says Keith Krueger, CEO of the Consortium for School Networking. "Education in the classroom is going digital, and teachers expect that kids outside of school can do their homework on a broadband connection. And that is the equity issue."
Schools are slowly beginning to tackle this issue, he states. The solutions are varied: keeping libraries open longer, subsidizing Internet access costs for low-income families, even building out their own wide-area broadband networks.
While 80 percent of U.S. households with school-age children have Internet access, according to the Pew Research Center, a substantial number still don't, largely because they can't afford it or they live in areas that don't offer economical options. "In some schools, the need may not be as big, but that doesn't diminish the need to address the gap for those who don't have access," says Krueger.

Addressing the Gap
For the Lamar Consolidated Independent School District in West Bend County, 30 minutes southwest of Houston, the digital homework gap is daunting. The district, one of the fastest growing in the country, already has 30,000 students and is adding, on average, a new campus every year. Nearly half of students qualify for free or reduced-price lunch.
"The truth is, we don't know the number that don't have Internet access, though we are in the process of trying to find out," says Chad Jones, the district's director of technology development.
Still, they've started addressing the gap. For three years, Jones and his team have been providing a few hundred qualifying families with a notebook computer and a Kajeet SmartSpot, a MiFi mobile hotspot device that accesses the Internet over cell towers.
"My staff is stretched pretty thin, so we were looking for an all-in-one solution that was also compliant with the Children's Internet Protection Act," Jones says. The Kajeet SmartSpot not only provides the necessary filtering needed for students but also has an administration portal that allows the IT department to keep tabs on users. Jones also has a full-time staff member who routinely monitors and mentors middle and high school students with the devices.
"We can log in and see per device which web pages they've been visiting, how much bandwidth they're using," Jones says. "It lets us really partner with the students and help students be successful."
This coming school year, Lamar CISD will provide Kajeet SmartSpots to 100 middle school students and 200 high school students enrolled in AP classes. During the summer, the IT team also provides notebooks and devices to 200 incoming kindergarteners and first-graders so they can participate for 15 minutes a day in online literacy and learn-to-read programs in an effort to avoid the "summer slide."
So far, the devices have been a huge hit. "The campuses that we've been working with have fallen in love with this idea, and they're helping us expand the program by purchasing their own SmartSpots," Jones says, noting that the IT department will continue to expand SmartSpot availability to other schools, while investigating other potential solutions to digital inequity.
Worthington Schools, which educates about 10,000 students who live in the suburbs outside of Columbus, Ohio, also has chosen to provide Kajeet Education Broadband to students — with a twist.
After a school survey determined that about 500 students didn't have home Internet connectivity, Chief Technology Officer Keith Schlarb negotiated with Kajeet to get Verizon SIM cards built directly into the 512 Chromebooks that his department was acquiring for the initiative. The reason? Easier manageability.
"Our students don't have to plug the device in or keep track of multiple items," he says. "They have their Chromebook and their power cord and then they just open the machine and connect to the Internet. It's simple and easy to use, which is what we wanted."
Connecting Every Student
Achieving true digital equity is the end game for officials at Albemarle County Public Schools, which has approximately 14,000 students and 26 schools in and around Charlottesville, Va.
"Just as we wouldn't tell a child whether or not they can have a textbook based on their address, we don't think that that should be the case with their ability to access digital resources either," says CIO Vincent Scheivert. "Our superintendent has a little wood carving on her desk that says, 'All means all,' and we take that to heart."
So the IT team set about building the ultimate solution to the homework gap: enabling universal broadband coverage throughout all 726 square miles of the school district.
How are they doing it? Some of it is just good luck. As Scheivert discovered, Albemarle County Public Schools actually owned a long-dormant educational broadcast system and its associated spectrum rights. The IT team convinced school officials to repurpose it to enable seamless broadband access throughout the district's entire coverage area.
The solution will leverage LTE technology. The school district's IT team opted to partner with local public safety agencies to gain use of existing macro-cell towers that are used for the county's LTE radio network, but they will need to build out additional coverage by physically installing smaller micro-cell towers on school buildings.
"In terms of overall cost, this is not that expensive because we already own the most important aspects, which are the school sites, and we have fiber connectivity between the campuses," Scheivert says. "The biggest challenge is that it's extremely time-intensive, and it stretches my staff pretty thin because we're getting this done on top of our other duties."
By 2019, when the three-year project is expected to be completed, the extra effort will be well worth it. "We won't have any gaps between school and home," Scheivert says. "Students will essentially never leave our network. They'll be able to get on and do work and access digital resources just like they do when they are sitting in school — whether they're in downtown Charlottesville or in a rural community at the most southern edge of the county. When we're done with this project, all will truly mean all."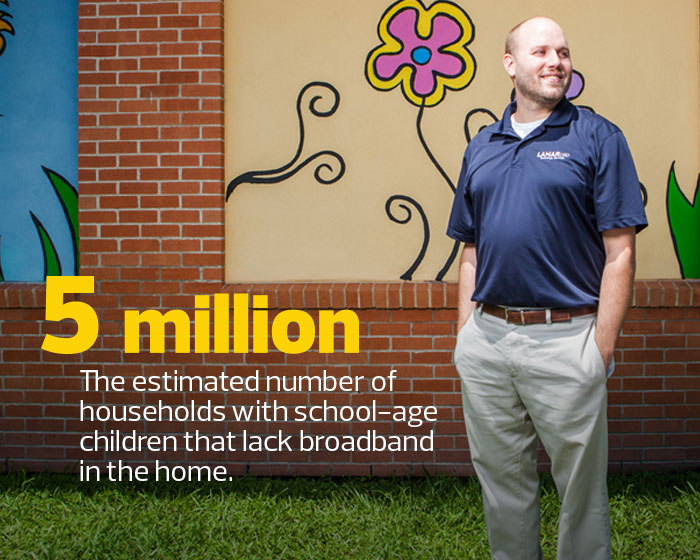 Kate Melton
More On