Teacher Takes a 'Quack' at 3D Printing Feet for an Injured Duck
When Phillip the duck lost his feet to frostbite, a middle school teacher used his 3D printer to save the day.
While it usually requires specialized skills and equipment to design prosthetics, sometimes all it takes is a 3D printer and an amateur's willingness to wing it.
That was true in the case of a duck named Phillip, who is now back on his feet, despite losing both to frostbite earlier this winter.
Phillip's happy ending started when his owner, Vicki Rabe-Harrison, reached out to Wisconsin middle school teacher Jason Jischke after she heard about his interest in 3D printing.
As a technology and engineering teacher at South Park Middle School, Jischke has uncommon access to 3D printers. He started exploring the technology back in November and now incorporates it into lessons that promote design and problem-solving skills.
"I'm by no means a pro," Jischke says. "I just keep using it for more and more practical things."
Jischke's 3D printers usually give shape to student-designed projects, such as key chains, but Rabe-Harrison had a new end product in mind: customized prosthetic feet that would improve Phillip's quality of life. Without them, the duck would need to be put down.
After a bit of convincing, Jischke got on board. He set to work designing the prostheses, using the same software he teaches to his students. Trial and error defined his early process. After his first attempt fell short, Jischke measured Phillip's legs to ensure a better fit and then started again.
But his next trial flopped, too: While useful for many projects, the printer's standard filament proved too rigid to allow for natural movement. Jischke said that, for Phillip, it was "like walking in high heels."
For the next iteration, Jischke tweaked his angles and turned to a flexible rubber filament that would give Phillip a more organic waddle. He prepped the 3D printer and waited while his design came to life over the next 36 hours.
"I was nervous as heck the night before," Jischke says. But his efforts paid off.
Last Friday, Rabe-Harrison and Jischke fit Phillip with his high-tech feet and watched the duck take some of his first steady steps since early winter.
"Seeing him walk — it was heartwarming; sent shivers down my spine," Jischke says.
The experience also stirred up excitement among South Park students. The seventh- and eighth-graders had followed Jischke's progress from the beginning, watching their teacher think through and solve design problems. Now, with three additional 3D printers Jischke acquired with grants and financial aid, the students have ample opportunity to explore the technology themselves.
"I think it's a great feeling for kids to be able to put their ideas into this and hit print and see their ideas be printed out," Jischke says.
And as a prominent example of how 3D printing can change lives, Phillip's prosthetic feet give even more purpose and meaning to their work.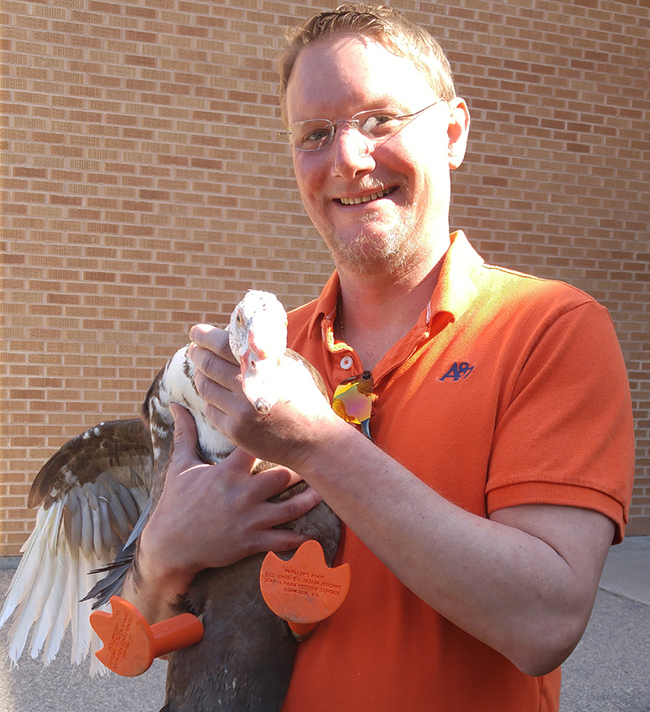 Philip the duck and his 3D printing savior, Jason Jischke.
Photo by Jason Jischke