School Districts Benefit from Marrying Curriculum and IT Planning
To put the focus squarely on student learning goals, schools blend the teams that develop scholastic and tech strategies.
When Springdale Public Schools in Arkansas began rolling out the first of 15,000 Google Chromebooks to students in the spring of 2014, administrators were confident that they had chosen the best device to support the district's curriculum.
Distributing hardware was only part of the implementation plan though. To ensure the technology would mesh with learning goals, the district knew teachers would need training and support.
"We had been looking for the right tool for a long time, and we were pretty sure we had found it," says Eric Hatch, Springdale's director of technology. "But you can't just throw equipment into schools and expect to improve learning. You have to have a professional development structure in place so teachers understand how the technology can help them, and their students."
The Chromebook implementation at Springdale Public Schools exemplifies a growing emphasis in K–12 districts — aligning technology and curriculum planning, says Geoff Fletcher, an educational consultant and the former deputy executive director of the State Educational Technology Directors Association. Not so long ago, many school district technology strategies were essentially purchasing plans, he says.
"They were plans to buy X number of computers and X number of servers in a given year," Fletcher says. "Technology planning was pretty much separate from what the curriculum people were doing and where assessment was going."
Funding silos tended to exacerbate the problem, with departments often having separate "lockboxes" of money for specific projects and little incentive for close collaboration, he notes.
"The evolution we're seeing is that all these people, including IT folks, are beginning to sit down to plan with one another," Fletcher says. "Technology investment becomes a way to help reach learning goals, rather than being an end in itself."
62%
The percentage of teachers who say they want to use technology in the classroom more than they do now
SOURCE: digedu, "Technology Use in the Classroom: Benefits and Barriers," April 2014
Leadership at Every Level in Springdale
At Springdale PS, the Google Chromebooks will be used by third through 12th graders. The district, which serves 22,000 students in 30 schools, purchased the new gear with a portion of a $25 million Race to the Top grant.
District administrators and curriculum specialists participated in the choice of the devices, paying particular attention to how their adoption would serve learning goals, Hatch says.
"The result is better technology decisions and more administrative buy-in," he points out. "Strong leaders keep everyone focused on the mission of the district, which is to prepare students to be leaders in the 21st century. An IT project may have smaller implementation goals along the way, but student success is what we measure ourselves by in the end."
The classroom is where technology and curriculum come together, and systematic professional development for teachers is a must in any technology plan, Hatch says. Technology leaders among the teaching staff can also contribute to a successful implementation that optimizes the tool's impact, he says.
"It's important to find innovators among the teachers early and to reach out to them," he advises. "The early adopters can help directly train other teachers to use the technology, but — even more important — they can also provide examples of how the tool works for learning."
Digital Preparedness in Port Huron
Professional development for teachers is also a key component of the Port Huron Area School District's Digital Convergence initiative, which aims to create an end-to-end technology environment that advances learning, says Theo Kerhoulas, executive director for achievement and innovation.
"We have pockets of good technology use now, but we have to spread it districtwide," says Kerhoulas, whose district includes 16 schools serving nearly 9,000 students from Port Huron and nearby Michigan townships. "Respecting the technology journey of each of our teachers has to be part of the plan."
The Digital Convergence planning team consists of about 30 teachers, administrators and technologists charged with designing blended-learning models. They strive to maximize technology's impact on curriculum objectives, Kerhoulas says. The planning group also is creating templates for electronic content so that students and teachers can manage classwork consistently and, with hope, more easily — even across disciplines.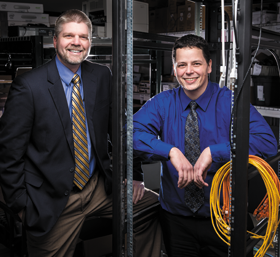 Photo: Kathryn Gamble
Emphasizing learning in IT planning requires focusing on the core network infrastructure, say Brian Unruh (left) and Shane Paige of Cedar Falls Community School District.
Teachers identified as early adopters will pilot the models and templates. A team of integration specialists, including technology instructional coaches hired by the district, will support teachers as they bring digital resources to bear on their lesson plans.
The Digital Convergence project will culminate in the creation of an electronic hub, dubbed the Digital Ecosystem, where curriculum and other information resources will reside in a central portal accessible to students, teachers, administrators and parents, Kerhoulas says. The Digital Ecosystem will include a learning management system, along with an array of other tools.
"We'll bring all our digital content together where everyone can use it to create a curriculum that grows and evolves," he says. "We want to empower teachers to do things like more personalized learning for each student, which is impossible without technology."
Taking the time to build a comprehensive plan is crucial to effectively integrating technology into the curriculum, Kerhoulas adds.
"We want to intentionally design everything we do and not have a lot of technology projects going in different directions," he says. "Go slowly in the beginning and design the big parts of the project carefully, and then trust your people to make it work."
Partnership for Progress in Cedar Falls
At Cedar Falls Community School District in Iowa, the test of any technology has always been how it furthers curriculum goals, says Shane Paige, supervisor of technology services. It's a perspective that's practical, as well as educationally sound, he says.
"Our thinking never starts with acquiring hardware or software," Paige explains. "You can hand teachers hardware, but if they don't know what to do with it and don't have a plan of action to use it with students, you're wasting your money."
43%
The percentage of K–12 districts that report they expect to increase spending on teacher technology training this school year
SOURCE: MDR, "State of the K–12 Market 2014," January 2015
Two years ago, Cedar Falls, which serves 5,200 students in nine schools, hired integration specialist Brian Unruh for a newly created position as coordinator of instructional technology. Unruh helps fuse technology into the district's curriculum, Paige says.
"It's my job to deliver the technology, and Brian helps teachers make use of it to the best benefit of the students," Paige adds.
The standards-dominated educational landscape makes technology integration imperative, Unruh says. "You can't meet a lot of the standards without technology," he says. "In Iowa, technology literacy skills are part of the requirements."
But both Paige and Unruh caution that the focus shouldn't stray from learning. "It's easy to latch on to the newest app or device, and it's also easy to overwhelm teachers, especially reluctant technology users," Unruh says. "Keep the emphasis on instructional strategies, and find technologies that fit their purposes."
A learning management system provides a structure for digital files and resources, and makes it easier for teachers to take advantage of technology, Paige says.
The district's teaching staff evaluated and selected the system that Cedar Falls bought for its secondary schools, he says.
As districts work to bring curriculum and technology planning together, Unruh suggests that they find ways to measure successes and identify problems.
To gauge technology use, student engagement and impact on learning, Cedar Falls has followed up with teacher surveys and some classroom observation, Unruh says.
"You've got to take the time to see where you're at and make adjustments to make sure the technology supports learning effectively."
Dan Videtich