Schools Shift from STEM to STEAM
3D printers, sophisticated software and other technologies are helping many schools incorporate the arts into their STEM curricula.
Students in DeSoto West Middle School's iSTEAM3D Magnet Academy aren't just learning about cities, they're building one from the ground up — complete with running water and working lights. They're using MakerBot Replicator 2 desktop 3D printers to create roads, homes and businesses that bring their imagined city to life.
The lesson integrates all of the subjects students learn about in school — from the mathematics of engineering bridges to the art of designing the objects that will go in their cities. It's the type of project to which students have become accustomed since iSTEAM3D launched last fall.
The unique moniker reflects both the international movement to add the arts — which can include the fine, language and musical arts — to STEM education and the school's desire to help students pursue a different kind of 3D: discovering, designing and developing.
"Everything that we do has an art component to it," says Dr. Jo Green-Rucker, assistant superintendent for curriculum, instruction and high schools for the DeSoto (Texas) Independent School District. "We're educating the whole child."
But STEAM education is about more than just the subjects in its name, says Georgette Yakman, owner and founding researcher at STEAM Education, a consultancy in Marion, Va. She explains the concept by asking people what they do for a living, then pointing out that their careers incorporate all of the subjects that they studied in school. Rather than teach those subjects in a vacuum, STEAM programs integrate them in an inquiry-based, hands-on curriculum that more closely aligns with what ­students will experience in college and the workforce.
That's why technology is such a big part of STEAM programs, Yakman continues. Students are used to working with technology, it's more engaging than worksheets, and it lets them actively seek out information rather than just receive it from a teacher, she says.
What's more, young people inherently understand the digital world and know how to get information. What schools need to do, she adds, is teach them how to organize that information, and figure out what it means to them and what they're going to do with it.
Live and Learn
Teachers in the district's three iSTEAM3D academies work together to teach different aspects of the same topics. For instance, when students at the DeSoto West academy studied futuristic societies, they had to create new ones for science class, use scale and fractions to design their societies for math class, and create brochures incorporating ­persuasive techniques and graphics to sell the public on the value of their ­societies for reading class, explains DeSoto West teacher Yvonne Lowry.
Students use computers and tablets to research such projects and to design and produce the deliverables, just as they would in the workplace. They learn to code and create video games using MIT Media Lab's Scratch programming language. They then use digital cameras, monitors and all types of software to present their findings, Lowry adds.
"Teachers don't hold our hands anymore," says Bree'Ajanai Holmes, a sixth-grader at DeSoto West's iSTEAM3D Magnet Academy. For instance, a math teacher might provide a basic formula, but it's up to students to research and collaborate with classmates so they can apply that formula and complete their projects — as they would at work. "Whether you like them or not, you have to work with them," Holmes says.
Academy teachers also use technology every day, including the Edmodo social network to communicate with students, post and collect assignments, and share information, says Beth Wright, a reading teacher for the iSTEAM3D academy at Curtistene S. McCowan Middle School in Glenn Heights, Texas.
"There are no books," adds Joey Hayward, a science teacher at DeSoto East Middle School's iSTEAM3D academy. When his class created robots, for instance, students went online to find and compare various robot blueprints.
Five dedicated teachers serve the approximately 150 sixth-, seventh- and eighth-grade students who are selected using a lottery system for enrollment in each academy.
"In the beginning, the academies were so open and students had so much freedom that some of them had to come to realize that it's not a party," Lowry says. But with trial and error, the second semester has been much smoother, she adds.
The curriculum covers the Texas Essential Knowledge and Skills ­standards and includes problem-based learning activities, in which students take on open-ended challenges to solve real-world problems of interest to them (for instance, finding sources of green energy) and develop 21st century skills such as collaboration, innovation and creativity, Green-Rucker explains.
Such skills often are missing in ­traditional classrooms, Yakman adds. "If students aren't asked a specific ­question, they have a hard time framing what it can be," she explains. "But that's how life is. We can't teach our kids that there's a bubble sheet answer for everything."
Hayward has taught science for seven years, so he's used to the inquiry-based approach of STEAM. But, he says, "adding the arts is actually bringing it to a whole new part of students' brains."
Not only do they do the work, but they also create skits, poems, artwork, songs and other artistic presentations to showcase what they have learned. That creative process, he says, helps them better retain the material.
Assessment data from the iSTEAM3D program confirms that these approaches are improving learning, Green-Rucker adds. "Our students are outperforming the traditional classrooms," she says.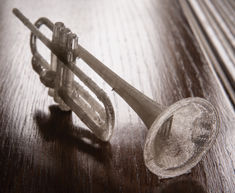 This trumpet was produced using one of DeSoto Independent School District's MakerBot Replicator 2 3D printers.
Courtesy of Houghton Mifflin Harcourt; Courtesy of Center for Game Science/University of Washington
Building Support
STEAM education is gaining ​traction beyond school walls. It's also caught the attention of legislators.
In 2012, Meghan Reilly Michaud, an art teacher at Andover High School in Massachusetts, created a MoveOn.org petition asking Congress to add art and design to federally supported STEM programs. Rep. Jim Langevin of Rhode Island sponsored House resolutions to that effect in 2012 and 2013. Last year, Reps. Suzanne Bonamici of Oregon and Aaron Shock of Illinois started a bipartisan STEAM caucus that now has more than 50 members. "We're absolutely seeing a lot of support," Michaud says.
Michaud's district, Andover Public Schools, is equally committed to the cause, having created a 10-year districtwide plan (now in its second year) that lists STEAM education as its primary goal. Leaders of the program have been working to identify and celebrate teachers who are already doing STEAM-related projects. For instance, Michaud and Andover High math teacher Minda Reidy take students to art museums, where they go on scavenger hunts to find geometric concepts in artwork. "We've been doing that for years," Michaud explains. When she learned that the physics, engineering, math and fine arts departments had all been doing projects in which students build scale bridges, she brought them together with the art teachers to create one project that explores bridges from various perspectives.
Andover High also is training its teachers to create more interactive presentations. This year, all of them received notebook computers, and most classrooms now are equipped with wireless projectors.
The school even created a visiting artist program so students can collaborate with professionals. For instance, Jarrett J. Krosoczka, author of the Lunch Lady children's book series, visited the district and participated in storyboarding workshops with elementary school students, helping them create an animated video. As a result, students saw how English, art and technology are used to create books and films.
"All of these concepts lead to innovation," Michaud says.
Game Changers
There are plenty of free or low-cost online games that ­embrace STEAM concepts and get kids excited about learning, according to Georgette Yakman, owner and founding researcher at STEAM Education. Here are her favorites:
Dan Bryant; Courtesy of MakerBot