Inside Scottsdale USD's eCoach Professional Development Road Show
A transformed school bus is changing how teachers receive technology training.
Let's face it: Training educators to use technology isn't easy. Teachers often have to leave their schools and travel to centralized district buildings for professional development, making the process inconvenient at best and sometimes downright disruptive.
But that's not the case for teachers in and around Phoenix, where ­professional development comes to them in the form of a fully equipped training center on wheels.
"We were striving to deliver ­technology training to our schools and keep our teachers on the cutting edge," explains Tom Clark, chief technology officer for Scottsdale Unified School District, a 32-school district spanning 112 square miles in south-central Arizona. "The district is so large that we were creating a lot of windshield time for our staff."
So the district began searching for "outside-the-box" solutions that wouldn't require teachers to travel, after school hours, for professional development.
The winning idea came from Dr. David Peterson, the superintendent, who wondered about the potential of using an 84-passenger school bus that SUSD already owned as a rolling training lab.
Staff then ran with the idea, ­converting the bus into a mobile learning center in just five months. The eCoach, as it's known, made its debut road trip in early summer 2012.
Fuel for Learning
Making professional development a mobile activity leaves SUSD classrooms open for students. That alone makes the eCoach valuable, says Director of Instructional Technology Kyle Ross.
"We believe that every computer lab should be in use every period of every day, by students, for learning," Ross explains. "But we still have to train our adults. So rather than having them leave their worksite and come to a location, which might take half a day, we can bring the training to them through a mobile learning ­environment that has the same equipment as the classroom. We're not taking time and space away from our kids. That, to me, is the best part."
The bus, which is on the road several times a week, has been outfitted with 4G wireless ­connectivity and a host of equipment used for training, including 10 Lenovo ThinkPad X131e notebook computers; an HP notebook, which serves as the brains of the operation; a system of ShoreTel ShorePhone IP 115, IP 230 and IP 655 Voice over IP phones; a Crestron DigitalMedia ­presentation system; an Aruba Networks RAP-5WN ­remote access point; 10 tablets; and a 65-inch flat-screen TV with a smart overlay and response system.
To equip the eCoach, Clark and his team looked to the district's classrooms.
"We wanted to model the technology that teachers have access to in those rooms," Clark says. "The exception was a ceiling-mounted projector. The roof of the bus isn't tall enough to accommodate that, so a smart overlay was installed over a TV instead to simulate the ­projector boards teachers use in their schools."
Modular workstations that can be configured in any number of ways make working with different group sizes or audiences easy. Bus visitors also are sometimes invited to bring their own touch-screen devices to complete training activities.
Credit: Steve Craft
Achieving Maximum Mileage from eCoach
In addition to its original intended purpose, the eCoach has made ­appearances at open-house events around the district, during which community members climb aboard and see firsthand the technology that area schools are using. Students also have been getting a peek inside at district-sponsored summer camps and other events. Ross says district officials are considering using the bus with students for mini field trips or technology-based scavenger hunts.
Peterson, the originator of the eCoach idea, has been pleasantly surprised by the ways in which the district is leveraging the bus and all of the technology that comes with it.
"Kids can see some of the technology, but it's also being used to give them opportunities to do some of their homework in cases where they may not have access to the Internet at home," he says. "And they have that access using our filters, so parents are comfortable knowing their kids aren't going places they shouldn't."
Students' enthusiasm for the bus extends beyond its learning ­applications, Clark adds, noting that when many students board, "the first question they ask is whether they can ride it to school."
Parents, meanwhile, will appreciate the bus even more when the district opens it up as an enrollment site for the 2013–2014 school year. The move will make the process easier, allowing parents to walk up to the bus, wherever it's stationed, and register their children for classes.
Clark also sees the bus's value in emergencies, noting that it could easily serve as a mobile command center if needed. "It would make a great communication location if we ever had to evacuate a campus," he says. "It gives us access to phones, the Internet — even a whiteboard."
The eCoach also serves as a ­marketing tool. Wrapped in district logos and the logos of the many companies that donated equipment, the bus is essentially a mobile ­billboard for both the district and the technology it houses.
A Shining Example for Other Districts
The eCoach already is a hit with teachers, students and parents, Clark says, calling it a "one-of-a-kind" ­offering that has gotten other districts talking. "We've had nothing but positive comments from our staff and the community," Peterson adds.
Although the district has no current plans to extend the concept to a fleet of buses, Peterson says that it's not out of the question. He's already been approached by a number of districts that want to know how it was done so they can think about replicating it themselves.
"Right now, it's a very hardworking piece of equipment," Clark says. "That's the goal — to make sure we're taking full advantage of all of its resources."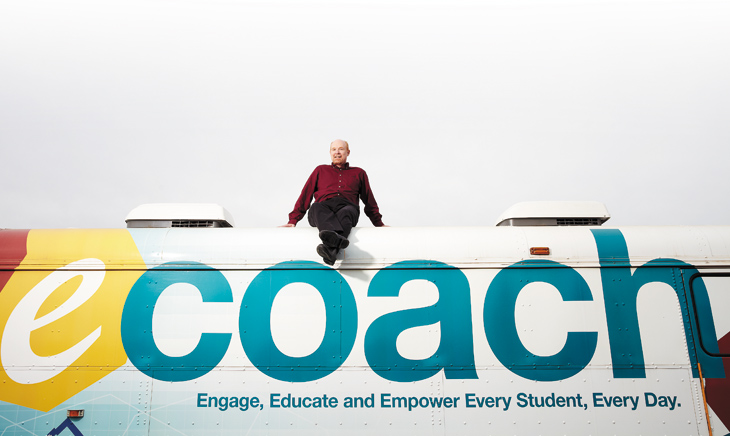 How They Did It
The staff of Arizona's Scottsdale Unified School District hit the ground running when Dr. David Peterson, the district's superintendent, hatched the idea of a mobile learning center to simplify technology training for teachers.
Almost immediately, they found a spare bus that the district was intending to sell. After gutting the bus — "We stripped the interior completely, except for the driver's seat," says Chief Technology Officer Tom Clark — they spent five months outfitting it with equipment, furniture and niceties that make it a comfortable, feature-rich place to spend a day of training.
"We worked with different companies to donate products or their expertise to help defray the cost of putting it together," Clark explains.
In-house carpenters constructed furniture inside to help keep costs down, and district electricians ran the wiring. A diesel generator provides power to all of the installed technologies.
"We designed it to be flexible," Clark says. "If we get a new piece of equipment, we can bring it in and not worry about cabling and plugs. It's all already there."
<p>Steve Craft</p>
More On