How Technology Can Change a Community
Fairmont School District 89 keeps technology flowing by deploying a network security solution.
There's no denying the surplus of research and studies that document technology's impact on enhancing the learning process. But just imagine the potential ramifications if the tool could be used to transform an entire community.  
Within Lockport, Ill.'s Fairmont School District 89, administrators are attempting to do just that.
"The vision here is strong, it is deliberate," emphasizes Dr. Sonya Whitaker, the district's superintendent. "We're not only striving to educate our children, but to empower the whole community. We're improving the lives of adults and children of the Fairmont School District 89."
Indeed, since taking the helm two years ago, Whitaker has brought a fresh — and dedicated — approach to the high-poverty district, which is comprised of a single pre-K–8 school with approximately 250 students. 
Last year, the superintendent not only worked with the board of education to furnish a notebook with wireless capabilities for every 8th grade student, but she also spearheaded the introduction of Parent Literacy Nights, during which a portion of the evening is dedicated to technology training for adults in the community. 
"We wanted to provide parents with information about how they can help us reach their children's literacy goals," Whitaker explains of the endeavor. "But parents have to be fed in order to feed their children. Many parents in this district are unemployed, so we opened up our computer lab and provided training in how to use the Internet to apply for jobs online."
It's a dramatic change of pace for Fairmont School District 89, where 95 percent of the population qualifies for free or reduced lunches. Having previously served in a number of affluent districts in which the majority of students had access to a wealth of technology, Whitaker had very specific goals when she came on board.  
"Number one, I wanted to make sure that we provided the students with as much exposure to technology as is fiscally possible, recognizing that the goal of using technology is to enhance instruction and not to replace it," she explains.
Equally important, Whitaker says, was the desire to expand student knowledge by providing the technological resources students need to access information — most notably, the Internet.
Mission accomplished. Now entering her third year as superintendent, Whitaker has seen Fairmont School District 89 not just supply the student computers, but also place two notebooks in every classroom, deploy wireless access throughout the school, and outfit teachers with their own notebook units.
"This is significant because two years ago, they had no exposure to technology," Whitaker points out.
"Our teachers didn't even have e-mail. We felt it was counterproductive to provide students with exposure and not the teachers responsible for providing the instruction on how to use those computers."
Alleviating Security Concerns
While the new technology has infused an unprecedented level of excitement and expanded learning opportunities within the district, the endeavor wasn't without some challenges, primarily in the area of security. 
"We were providing students with more access, so we needed to protect them even more and make sure the system was secure for them to use," explains John Williamsen, the district's technology coordinator. 
Fairmont School District 89 is not alone in its quest to bolster security. In fact, ensuring that networks are properly safeguarded is an ever-growing concern in educational institutions across the country.
"K–12 districts are now largely dependent on their ubiquitous networks, which allow teachers and administrators to seamlessly communicate. But this has also presented a new, unsafe cyber environment for students, as well as for the districts themselves," explains Ben Ramirez, an industry analyst for Frost & Sullivan's Network Security, Information & Communication Technologies division.
Furthermore, as the cyber threat landscape has increased, school districts have been tasked with meeting stringent government compliance regulations such as the Children's Internet Protection Act (CIPA) and the Family Educational Rights and Privacy Act (FERPA).
"The growth of social networks, physical threats and the increasing popularity of mobile devices, such as tablets and smartphones, have raised security vulnerabilities to their highest levels," Ramirez reveals.
In addition to mapping appropriate student gateways to the web and protecting networks from viral threats, districts must also take extreme care to safeguard their data at all times. Personal information such as birthdates and Social Security numbers; exam and grade information; and banking and financial information including fundraising data should be primary areas of focus for school districts, according to Ramirez.
All of these threats were at the forefront of administrators' minds when considering the best approach to secure Fairmont School District 89.  "We needed to know that our district files, student files and our student management system were all being protected," Williamsen reveals.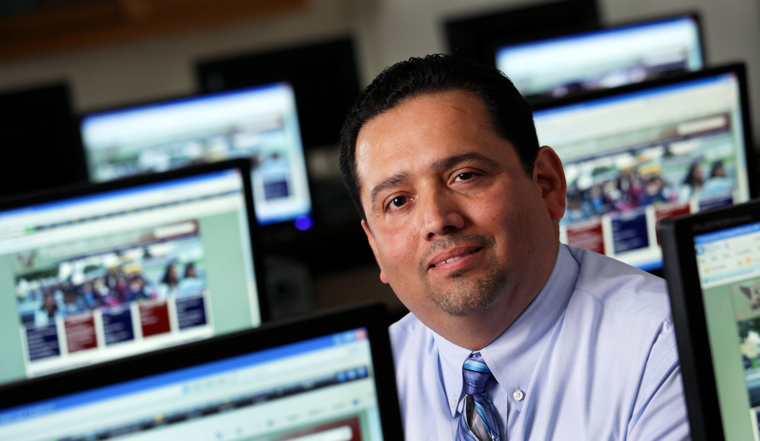 "We were providing students with more access, so we needed to protect them even more and make sure the system was secure for them to use," explains John Williamsen (above). Photo: Paul Howell
Finding the Right Tools
Although Fairmont School District 89 had a basic content filter and firewall in place when it rolled out its notebook program, the solution was coming up for renewal and lacked the levels of security, management tools and reporting features that the district desired. So administrators took a proactive stance and began to investigate other options. 
"We wanted to ensure that we had the proper security in place to achieve our technology goals," Williamsen emphasizes. "So we called CDW•G and explained to them what we were looking to do."
Following an educational webinar in which CDW•G covered three potential product matches, the district chose Kaspersky Security Center, which provided all of the security aspects needed to safeguard its network. Deployed at the beginning of the 2012–13 school year, the solution enables IT administrators to manage policies, scan for viruses, and run updates and backup tasks in accordance with an assigned administration hierarchy. 
"I liked that the product had a variety of capabilities including antivirus, a firewall and computer management, but it also has centralized protection and a nice, flexible deployment," notes Williamsen.
With the Kaspersky solution, infected and suspicious objects are stored in quarantine for ultimate network protection. The product also provides automatic updating of antivirus databases, application modules, application vulnerabilities and file reputations.  Furthermore, administrators are able to centrally poll their controlled machines to obtain a comprehensive hardware and software inventory report that includes a list of known Operating System vulnerabilities and application vulnerabilities that are present on devices.
"We are able to enforce our policies regarding where the students can go and what they can do online," Williamsen says. "I liked that it also had web counsels and dashboards. At a glance, I can see what's going on with our entire system security-wise."
Another advantage was the product's ease of deployment.  "We were able to get it done in a timely fashion," Williamsen confirms. "We like that we can get the security onto our desktops as quickly as possible."
Although the technology coordinator acknowledges that it's still early to measure the solution's overall ROI, he reveals that the cost of the three-year Kaspersky product was comparable to that of a one-year renewal on the district's previous security solution. "And we got a much more superior product," he adds. 
Ultimately, it is the peace of mind that has proven to be the solution's most valuable asset.
"I think the biggest benefit is knowing that the computers will remain working for students so they can access the technology," Williamsen says. "It helps ensure that the students have a nice, safe learning experience while utilizing the technology. It also ensures that the technology remains usable, because we're not bogged down with viruses or spyware on the system. And we're not going to have security breaches where we lose data."
Equally valuable was the assistance Fairmont School District 89 received from CDW•G during the pre-sale, purchase and post-sale processes. Having worked with the company for more than 10 years in a number of different school districts, Williamsen knew that CDW•G was the go-to supplier.
"I think they have a lot of expertise and a lot of resources that enable us to meet our goals," he explains. "They are also very responsive, and we're able to get solutions in a timely manner. Plus, we can always get answers to any questions we have."
For other districts considering a new security solution, Williamsen shares two pieces of advice. First, he recommends that IT professionals extensively research all products being considered. And second, he says, "Be sure you know your district's needs and goals and policies. Have everything you need ready before deployment."
For Fairmont School District 89, another prerequisite to its own successful implementation was the ability to do so within a specific price point.
"We were able to do all of this and maintain a balanced budget," Whitaker emphasizes.
And that's no small feat, according to Frost & Sullivan's Ramirez, who says school funding issues can pose a huge restraint on security executions. "It's impacting rapid, efficient implementation of security measures," he reveals. "This has an effect on other issues and challenges such as inappropriate web content, cyberbullying, proliferating use of personal tablets and smartphones, online cheating and hacking, and physical security."
Thankfully, those issues are no longer a concern for Fairmont School District 89. With its network now fully locked down, the district is able to channel all of its energies into achieving its ongoing technology goals. 
"We want to prepare our students to be able to compete at the local, national and international levels," Whitaker emphasizes. "The best way for us to do that is to provide them with the exposure they need in order to compete." 
Arming students with technology gives them a leg up on achieving that goal by allowing them to focus on their strengths and interest areas, Whitaker says. For example, a student might engage in a scientific experiment in class and be interested in researching the topic further. 
"It's the access to technology that allows them to do so independently," Whitaker points out. "I believe that students very often know more than we think they know, and are capable of more than we may think they are. By providing them with technology, we allow them to spread their wings and fly, and bring back with them the depth of their knowledge.
"This security solution allows us to utilize the technology investment we've made," Whitaker continues. "The work that we're doing is very powerful. We're continuing to work to improve student achievement and yet, equally important, to positively affect the quality of life for people who live in this community. It's hard work," she adds. "But we're having a lot of fun."
<p>Credit: Paul Howell</p>