Why Kemp Junior High School Believes the Future Is Now
This Texas school's student-driven technology literacy program aims to improve technology adoption by students and teachers alike.
"Does a man-eating shark ever eat women?" 
Classmates of Kemp Junior High School eighth-grader Erika Felix know that's just one brainteaser she might ask guests of "The Erika Show."
Felix's show — a segment of the Kemp, Texas, school's biweekly news and information video ­broadcast — is made possible by Future Is Now (FIN), a student-­driven ­technology ­literacy program that aims to improve technology adoption by students and teachers alike. FIN accomplishes this by ­immersing students in projects that teach them how to produce five-minute videos, which replace ­traditional intercom announcements; and how to develop teaching and learning tools using Symbaloo, a customizable, web-based personal learning environment.
The Journey Begins
FIN's story began in August 2011, when the Texas Education Agency's Region 10 Education Service Center invited the Kemp Independent School District and nearly two dozen other districts in the area to participate in a new technology initiative.
Kemp ISD Superintendent of Schools Peter Running invited KJHS, one of four schools in the district, to serve as the initiative's beneficiary. To receive funding, ­participating schools must send ­representatives to two regional group seminars, which are held at the ­beginning and end of the ­academic year. In the spring, each school makes a ­presentation to the group. Otherwise, schools have complete control over their programs.
Because KJHS already had ­notebook computers and a wireless ­infrastructure that could support its technology efforts, the school uses its Region 10 grant to pay for the substitute teachers who fill in for FIN co-coordinators Kelly Delaney, the technology teacher at KJHS, and John Farmer, the school's ­biology teacher, when they are ­engaged in FIN activities.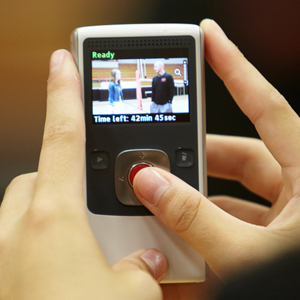 And ... Action!
Get a peek at Future Is Now students using school technology for their projects in our photo gallery.
"We schedule one FIN day every two weeks, except during testing," explains Principal Phil Edwards. "On FIN days, the program's students and coordinators don't participate in their regular classes."
To select program participants, Edwards, Delaney and Farmer created a shortlist of star seventh- and eighth-grade students. After interviewing each student on the list, the trio chose 12, balanced by grade and gender, to join the program.
Edwards established two simple ground rules: "Our program must ­promote our school, and it must be accessible by people outside our walls," he says. "Everything else, ­including the program's name, group members came up with themselves."
Over the course of the first few meetings, FIN participants brainstormed project ideas before ­ultimately ­deciding to focus on video broadcasting and the Symbaloo. Students then split into two groups, each focusing on one project.
FIN-specific technology investments in high-definition video ­camcorders and digital cameras, video editing software, and digital sound equipment for voiceovers soon followed, and in December 2011, the students premiered their first video to cheers from their peers. Broadcasts typically feature Felix's show, ­student-read school announce­ments and a teacher spotlight, along with segments showcasing timely school-­related topics or activities.
"Each video debuts during a ­student assembly and subsequently posts to our school's website for ­parents to access," Delaney explains. "We know parents watch the videos because they frequently ask when the next one will be online."
Do You Symbaloo?
FIN's Symbaloo group, meanwhile, has created one platform for teachers to use in their classrooms and one that facilitates student learning. Functionally, each Symbaloo's ­grid-style dashboard and large, graphical buttons give users one-click access to up to 52 user-­designated websites, which can be projected onto an interactive whiteboard for group activities.
According to Farmer, who began his teaching career seven years ago after retiring from military service, determining which sites to include in each Symbaloo was an educational experience in and of itself. "When FIN students would propose a link, I'd ask them to explain to me exactly how it could be used in the classroom," he says.
Currently, the group is developing "how-to" videos that demonstrate the purpose of each site included in the Symbaloo, as well as a step-by-step guide for creating a Symbaloo.
Wowing the Teachers
When the teachers' Symbaloo was ready for prime time, FIN students developed a Microsoft PowerPoint presentation about the tool, which they delivered at a faculty meeting this past March. "The very next day, teachers e-mailed me about which Symbaloo tools they had already used," Delaney recalls.
90% of all Future Is Now content evolves from student ideas
The presentation even impressed technology-savvy Megan Scholz, who just completed her first year of teaching sixth-grade English and language arts at KJHS. "In college, you're bombarded with different technologies," she says. "Having ­access to tools approved by students in my school makes those tools much more valuable to me."
In fact, Scholz says the Symbaloo's story-generator tool ­immediately boosted student ­engagement in grammar lessons. "Students who I previously had to peel off their desks are now running to use the computer because they love the silly combos," she says. "Watching them get excited about the Symbaloo and then telling them that they can be a part of ­discovering new tools to add — that really sparks their interest. It makes them want to be a part of bringing fun into the classroom, and it's clear that they learn and retain the information better as a result."
Given the rave reviews thus far, KJHS plans to expand the FIN ­program in the coming school year. "I believe the majority of our teachers want to use technology," Edwards says. "FIN is helping them bridge the gap by showing them how."
As for that shark and whether he eats women: According to one show guest, he does so "only on the day he gets dumped." 
Students Have Their Say
Lindsey Baumgartner and Erika Felix call Kemp Junior High School's new Future Is Now technology literacy program the "best school experience ever."
"It's exciting to see projects you've worked so hard on come together and be ­spectacular," says Baumgartner, a seventh-grader at the 332-student school in Kemp, Texas, during the just-completed 2011–2012 school year. "FIN's given me a foundation for using technology so, in the future, when there's even more technology that's more modern, I'll have a head start at knowing how to use it."
Felix credits the program — and the video show she hosted as a result of her ­participation in FIN — with helping her overcome shyness. "Before, I couldn't talk in ­public without my face turning red," says Felix, who moves on to Kemp High School in the fall. "FIN has helped me in every possible way."
Better still, she adds, "It let me participate in something that's not just for our school or state but can be seen nationwide and worldwide too."
<p>Matt Hawthorne</p>