Overcoming the Divide Between Curriculum and Technology Leaders
Synchronizing the work of these departments can facilitate more effective digital learning.
The digital revolution is changing how many U.S. school districts create ­engaging learning environments, with collaboration between the ­curriculum and technology ­departments slowly becoming the norm rather than the exception. By ­developing a common language around how students learn best, these leaders are fostering a shared vision for effective 21st century learning.
Unfortunately, there remains a striking gap between this vision and the day-to-day strategic work these leaders are doing. Historically, ­technology leaders have focused more on technical work that includes data centers, wired and wireless ­environments for data, packet shaping and enterprise e-mail solutions. Meanwhile, their curriculum colleagues often have been caught in the status quo, potentially discounting the ­important role digital technologies should play in preparing students for their knowledge-based future.
Barriers that prevent effective ­collaboration between these departments include the hectic day-to-day pace at which district leaders work; a failure to recognize each department's contributions to student ­success; a "silo" mentality in which each department focuses only on getting "its own" work done; and the absence of a common language for discussing effective research-based teaching and learning strategies and how appropriate technology tools can enable them.
Connecting the Dots
At the national, state and local levels, there is increasing recognition of the need for collaborative leadership, ­vision and policies that effectively bring learning environments into the digital age. Last fall, for example, leaders from the Georgia Association of Curriculum and Instructional Supervisors and the Georgia K12 CTO Council met via video conference to discuss challenges and successes in building engaging 21st century learning environments. They agreed on several key points, including the need to better understand each ­other's role in the educational process; the importance of participating in joint "walk-throughs" to observe ­engagement and existing barriers; the value of including technology leaders in curriculum development and curriculum leaders in tech ­planning; and the significance of a joint curriculum and technology ­collaboration in the budgeting ­process to ensure that everyone is able to do more with less.
The bottom line, they determined, is that better communication and ­collaboration between curriculum and technology leaders can impact teaching and learning in positive ways. What's more, both sides bring expertise to the process. For example, curriculum leaders are knowledgeable about ­research on effective ­instructional ­strategies to improve student ­academic performance. Tech leaders, ­meanwhile, are familiar with educational technology trends and emerging applications in areas such as cloud computing, blended learning, online communities of practice and the use of mobile devices.
Together, these leaders can ­develop a common language that aligns ­evidence-based instructional practices — like those identified in Classroom Instruction That Works by Robert J. Marzano, Debra J. Pickering and Jane E. Pollock — with technology (consider the examples in the table below).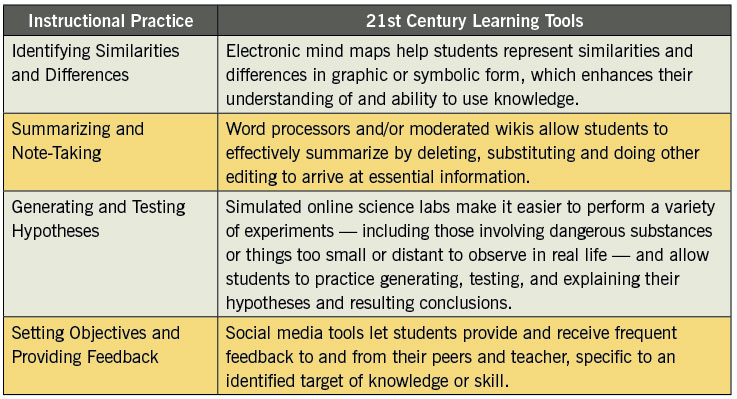 Action Plan
The Consor­tium for School ­Net­working has been interviewing curriculum and technology leaders around the country who share a vision for engaging, student-centered learning environments and are ­committed to collaborating regularly. These leaders agree that curriculum and technology educators need to develop a trusting relationship, and they recommend the following:
Lay the groundwork by discussing why collaboration is important, and agree to honor the decisions made together.
Identify and promote ways in which technology can support best educational practices and address students' diverse needs.
Create cross-functional teams.
Once a joint vision is developed, go together into the schools to see what's actually happening in the classroom.
Build a supportive environment that encourages ongoing  communication.
Collaborate with all stakeholders to create a vision for how technology will support the district's strategic goals for ­improved learning.
Build trust by being transparent about decisions and how they are made.
Take time to stop and listen to each other — and share each other's calendars.
Agree to be flexible; it's impossible to say yes or no to everything proposed.
Honor genuine differences and keep focused on your common purpose.
Read about how an IT director reveals the thinking behind his district's efforts to build a technology infrastructure from scratch.
Recommended Reading
The following literature can serve as a starting point for district leaders who want to synchronize their work and foster a ­common language about how to best utilize technology tools in support of evidence-based practices.
Classroom Instruction That Works: Research-Based Strategies for Increasing Student Achievement by Robert J. Marzano, Debra J. Pickering and Jane E. Pollock (2001)
What Works in Schools: Translating Research Into Action by Robert J. Marzano (2003)
Visible Learning: A Synthesis of Over 800 Meta-Analyses Relating to Achievement by John Hattie (2008)
Teaching and Assessing 21st Century Skills: The Classroom Strategies Series by Robert J. Marzano and Tammy Heflebower (2011)
A Force to Be Reckoned With
Multiple national indicators reflect a need for change in the way students learn and teachers teach. Here are a few examples:
"Online learning is sweeping across America. In 2000, roughly 45,000 K–12 students took an online course. In 2009, more than 3 million K–12 students did. What was originally a distance-learning phenomenon no longer is. Most of the growth is occurring in blended-learning environments, in which students learn online in an adult-supervised environment at least part of the time. As this happens, online learning has the potential to transform America's education system by serving as the backbone of a system that offers more personalized learning approaches for all students." — The Rise of K–12 Blended Learning by Michael B. Horn and Heather Staker (Innosight Institute, January 2011)
Thirty-nine percent more administrators and five times as many parents would incorporate online classes into their vision for the ultimate school in 2010 than in 2008. — Learning in the 21st Century: 2011 Trends Update from Speak Up 2010 National Research Project (Project Tomorrow and Blackboard, June 2011)
Multiple states, including California, Florida, Georgia and Texas, are undertaking digital textbook initiatives that allow for new ways of funding digital learning resources. — "2010 States' Report: Statute and Policy Regarding State Requirements for Digital Adoptions" (National Association of State Textbook Administrators, 2010)
There is an explosion of new devices in K–12 schools, including devices owned by students and teachers, which could be leveraged for learning with smart policies and leadership. — access4ed.net
The use of e-textbooks and other digitally rich content engages students by providing a real-world context for the learning process and allowing learning to extend beyond the classroom walls. — The New 3 E's of Education: Enabled, Engaged and Empowered – How Today's Students Are Leveraging Emerging Technologies for Learning from Speak Up 2010 National Research Project (Project Tomorrow, April 2011)