College-Age Americans Own the Most Mobile Devices
Here's a roundup of the best higher ed stories this week.
This is part of our series of weekly roundups curating the best higher education technology news, articles and resources from around the web. Tweet us to suggest an article.
Will MOOCs Boost Credit Ratings?
According to a new report from Moody's Investors Service, the answer could be yes. Sara Grossman of the Chronicle of Higher Education elaborates:
The latest report, available only to Moody's subscribers, says that, among other things, MOOCs offer colleges and universities increased global brand recognition, new revenue opportunities, and a chance to improve instruction methods. The report also warns that smaller liberal-arts institutions could be left behind, as they lack the resources to compete with better-known universities.
The report also addressed Georgia Tech's $7,000 master's degree:
Moody's also predicted that while Georgia Tech's low-cost computer-science degree might in some ways detract from in-class offerings, its greater enrollment would make up for any financial losses.
If this isn't motivation for colleges to adopt MOOCs, what is?
College Students Have a Lot of Mobile Hardware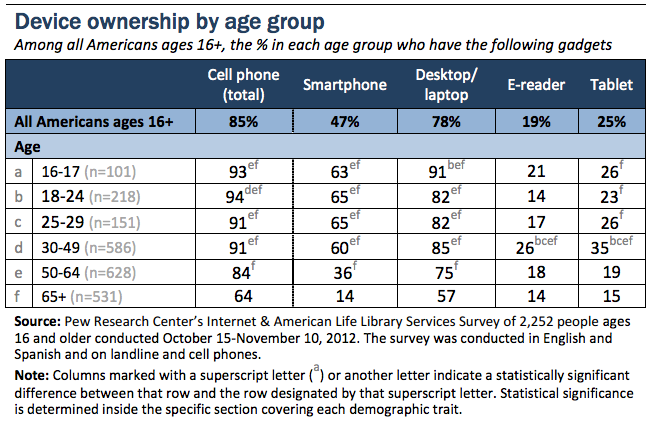 A survey from the Pew Research Center (PDF download) confirms what we already knew about college students and mobile device ownership. David Nagel of Campus Technology breaks it down:
Americans of traditional college age are loaded up with personal devices and have the highest rate of ownership of mobile phones among all age groups, according to a new report released this week by the Pew Research Center's Internet & American Life Project.

According to the research, published in the study "Younger Americans' library habits and expectations," 94 percent of Americans aged 18 to 24 own a cell phone (either a smart phone or feature phone). That's slightly higher than high school-aged kids, 93 percent of whom own a mobile phone, and the next age group up (25–29), 91 percent of whom own a mobile phone.
Read more about how college professors are implementing mobile learning.
The Best of EdTech
Because of the Fourth of July holiday, we didn't publish as many articles as we normally do, but that doesn't mean we didn't release some awesome resources.
Send us a tweet at @EdTech_Highered to suggest stories for next week.
<p>iStockphoto/Thinkstock</p>
More On