AirPods Max Headphones Have a Soft and Comfy Design
Some people reject wireless headsets because they can be difficult to set up and configure compared with simply plugging in wired headphones. Apple has broken down that barrier with the AirPods Max, making them extremely easy to use.
In fact, as soon as the headphones are removed from their case, the user's nearby iPhone (or other Apple device) immediately detects them and starts the pairing process. It's even simpler than plugging in a wired headset.
After the initial setup, the AirPods' great design continues to impress. Lightweight and comfortable, they are hardly noticeable when worn. And unlike earbud-style models, these headphones cup the ears gently.
At 6.6 by 7.4 inches and weighing 13.6 ounces, Apple AirPods Max headphones are heavier and larger than many competitors, but even at that size, the soft cushions over the ears put their surface area to good use by supporting the headphones for long-lasting comfort.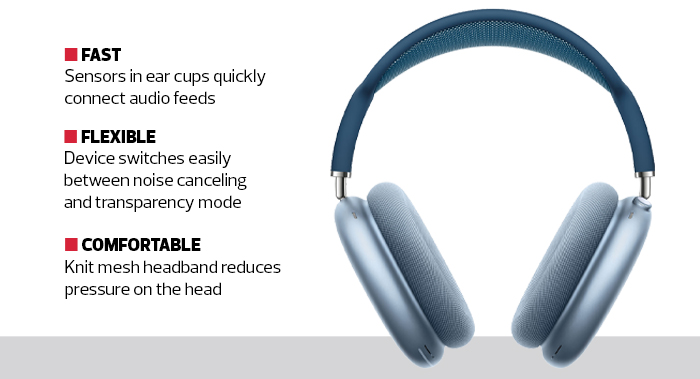 Many of these design advantages stem from the milled aluminum casing, which consists of soft mesh ear padding wrapped around a metal headband, creating a refined feel that surpasses that of more expensive competitors. I was impressed with the headphones' overall quality and feel; plus, should they ever fail, the AirPods' replaceable magnetic ear cups are easy to obtain and remount without having to buy a whole new unit.
Apple Wireless Headphones Are Easy to Control
I also liked the placement of the volume knob, which is located on the top of the right ear cup. It's a convenient spot that makes adjustments easy and intuitive without having to use a remote control device.
The knob is designed as a wheel for volume adjustment, but it can also be pressed like a button to answer or disconnect calls.
As higher education moves toward the new normal of working and learning, AirPods Max headphones can help make remote environments a little more comfortable.
Specifications
Mics: Nine
Connectivity: Bluetooth 5.0
Output mode: Stereo
Sound effects: Adaptive EQ
Magnet material: Neodymium
Compatibility: Apple devices with most recent OS
Battery life: 20 hours