Easy Assembly and Portability Enhance Collaboration Features
Assembling the Flip 2 is simple and quick, though two people are needed to safely mount the display. Once my tech and I placed the frame on a table, we affixed the legs to the unit, screwed on the trays at the top and bottom and attached the screen to the frame. That part took 10 minutes. Then, I simply connected the LAN, HDMI and power cables.
The stand is easy to move, and the unit is stable, making it a good collaboration unit for large classrooms. Students can be a little bit rough with the screen (within reason) without worrying about knocking it over or causing any permanent damage.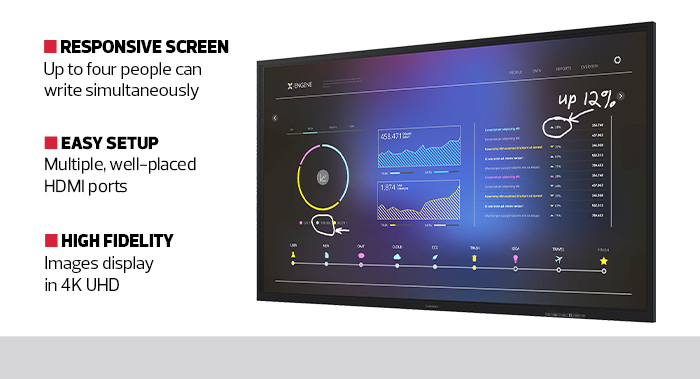 The Flip's Versatile Display Changes Orientations on Demand
The best feature of the Flip 2 is, well, the ability to quickly flip it to change orientation. Teachers and students can quickly switch from portrait to landscape mode in seconds, making the Flip 2 a wonderful tool for STEM classes.
The screen can also serve as a display, which is helpful if you need a large screen in a classroom, even if the lesson that day does not require interactivity.
The Flip 2 is great as a second or primary monitor because of an impressive resolution and a 4K display format. No details will be lost when displayed on this screen.
Additionally, the 60-hertz refresh rate makes it ideal for video and multimedia presentations. These features also make the Flip 2 an ideal unit for professors striving to find a suitable canvas to display works of fine art, which can then be marked up on screen and highlighted using the stylus.
LEARN MORE: What technologies colleges and universities need to support modern students.
Dynamic Stylus and Responsive Touch Screen Make Writing a Breeze
The quality of response when writing on the Flip 2 is in part due to the screen and in part due to the dynamic stylus. The stylus is sensitive enough for any student to use effectively, but not so sensitive that unintended scribbles occur. The touch screen can even tell the difference between a light stroke and a hard one and display an appropriately thick line in response to that feedback.
Having a 65-inch, ultra-high definition screen in any classroom is quite an asset, especially one that is so easy to set up and maintain. Adding all the interactive features and the ability to quickly shift from horizontal to vertical orientation makes the Samsung Flip 2 an impressive tool for even the most demanding or technical classroom subjects.
Specifications
Type: LED-backlit LCD flat-panel display
LED Backlight Type: Edge-lit
Video interface: HDMI
Diagonal Class: 65 inches
Resolution: 3840x2160