LG ProBeam Projects Clear Images in Any Lighting
Practically speaking, in my testing, the LG ProBeam was able to project a bright image in broad daylight, in a bright room, without even dimming the lights.
One of the secrets of the ProBeam's success is that it does not rely on a lightbulb to power its projections. Instead, it uses a mercury-free laser with a projected life of 20,000 hours. You can use the ProBeam continuously for over two years without worrying about its light source.
LEARN: How colleges use audiovisual experiences to attract tomorrow's students.
The ProBeam is not just about power. This projector has brains and brawn. For one, it has a native resolution of 3840 by 2160. Even when a projection is increased to its maximum 300-inch size, images and video are still displayed in 4K resolution. That puts it well above the WUXGA (1920 by 1200) maximum resolution of most other projectors in its class, making it suitable for displaying the accurate details needed for an educational setting.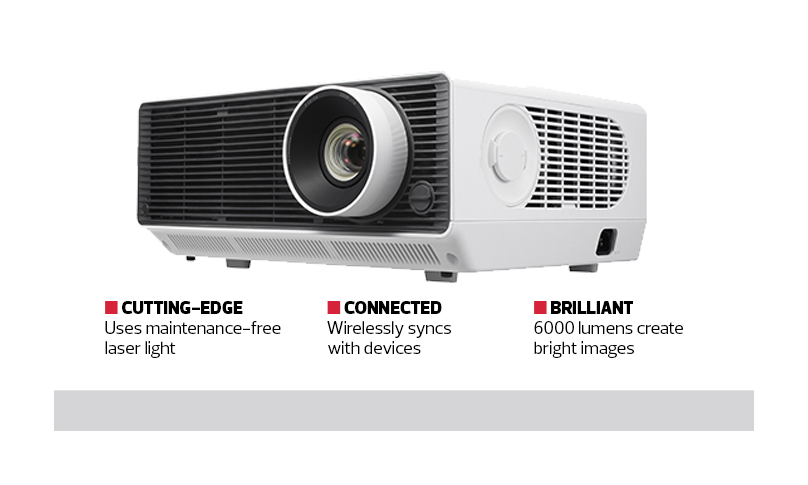 An Audiovisual Solution for Large Classrooms or Lecture Halls
The ProBeam features two surprisingly powerful 5-watt speakers that work together for stereo sound. It also can send audio out from the unit via Bluetooth to a compatible device. Connecting a powerful Bluetooth sound bar or speaker system takes just a few seconds.
Weighing in at more than 21 pounds, the ProBeam is best suited for static mounting in large lecture halls or classrooms. That said, the 12-point warping and adjustment feature gives a lot of options for placement. It's easy to adjust the image to fit within an exact location, even if the projector is mounted off from the center point, or above or below the desired display window.
All of that makes the LG ProBeam BU60PST laser projector one of the best choices for helping illuminate the inquiring minds of nearly any higher education classroom or lecture hall.
Specifications
Native Resolution: 4K
Contrast Ratio: 3 million to 1
Audio Output: Dual 5-watt internal speakers, Bluetooth audio
Dimensions: 14.6x2.8x6.1 inches
Weight: 21.4 pounds