Review: Cisco Meraki MV12W Makes Campus Security Management Easy
Baked-in machine learning capabilities and a powerful API mean this network camera might be the most advanced, easiest to use surveillance device to hit the market yet.
Surveillance cameras at universities have long offered campus protection. But old analog cameras were not only difficult to deploy and manage, they also could only be monitored from a central office. Often, they were not helpful until after an incident occurred.
The new digital Cisco Meraki MV12W mini-dome camera counters these negatives and adds intelligence to the system, enhancing everything the device is able to do.
Each MV12W offers 256 gigabytes of internal storage and useful intelligence, enabling it to automatically record only when motion is detected or send alerts when certain conditions are met, such as someone wandering through a restricted area.
The camera can be wall-mounted using a small, included kit. A CAT 5 cable connects it to the campus' main network, where it can back up recordings to the cloud. Every MV12W supports Power over Ethernet, so no power cord is required.
MORE FROM EDTECH: Check out these four tips for a successful upgrade to digital security cameras on campus.
Cisco Dashboard Supports Easy Integration with Multiple Systems
Setup of the MV12W, whether for one or 100, is extremely easy with the same Cisco Meraki dashboard used for firewall and switch management (a bonus if the campus happens to use those as well). Simply type in each camera's serial number to get started.
No special training is required to use the camera, and it doesn't need a central facility or special network video recorders. In fact, anyone with access to the Meraki dashboard can view live camera feeds through any browser or mobile phone. Law enforcement and first responders could be given a password to access feeds remotely during an emergency.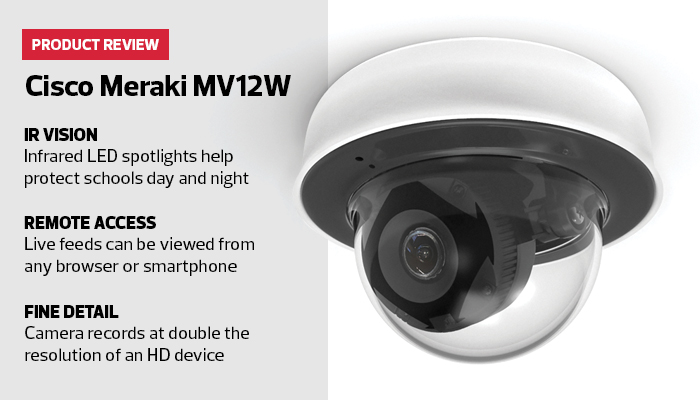 Beyond just recording video, the MV12W has built-in features to support other tasks, such as generating heat maps as a campus' population moves around each day. With the motion search feature, campus security won't waste time poring over unhelpful footage to find a specific event.
The MV12W might be tiny, but it's intelligent and extremely easy to use. Any university looking to upgrade physical security will gain a lot of value from this innovative system.
Cisco Meraki Allows for Easy Management
The Cisco Meraki MV12 camera is an impressive device, but on the back end, the Meraki dashboard and other innovative application programming interfaces make it even better. I experimented with the brains behind these smart cameras.
One of the greatest strengths of the new Cisco Meraki MV12W cameras is the ability to group and organize them through the same dashboard used to manage other Cisco equipment on the network.
Assuming Meraki wireless hubs, switches, security appliances or any other Cisco gear are in place, then IT teams probably are already familiar with the interface. Connecting the Meraki MX450 Cloud Managed Security appliance to the cameras will ensure data feeds are fully protected from unauthorized viewing.
MORE FROM EDTECH: See how partnerships between IT and physical security can keep campuses safe.
Create a Mobile Command Center
The Meraki dashboard is designed to be modular, both in terms of users as well as in how the camera feeds are configured. For example, it's easy to build a video wall that logically groups live feeds; so, IT might display side by side the feeds from multiple cameras that watch the university's main entrance, or cluster feeds from the parking lot in one place, group rooms by geography or by floor — any configuration that makes sense to the security teams who watch and review the feeds.
Specific users can be given access to different groups of feeds. For example, if more than one building uses the cameras, security teams can access the feeds that monitor buildings they are responsible for protecting.
Because no special application or software is required, local police or firefighters could be given passwords to access the cameras in an emergency — and they could do so simply by pointing any browser or even a mobile phone at the dashboard's URL and entering the password to automatically view approved feeds. That could save precious time in an emergency as first responders begin to search the campus for signs of trouble even before arriving on the scene.
Universities with talented IT teams can also use the MV Sense API, which provides access to the MV12W's machine learning and analytics capabilities, and train the cameras to take specific actions, such as sending an alert whenever movement is detected at night. Cameras can be trained to recognize weapons or detect movements that fall outside the typically observed patterns the device sees every day.
The MV12W camera is quite a marvel: It's tiny, smart and records at high resolution, day or night. Its real power comes from the Meraki dashboard back end, which not only enhances everything the camera does, but is also remarkably easy to use.
More On