We had to go back and forth multiple times to make sure the hardware was optimized for the application," Sharma says. "We even studied all the major cloud providers to see if it made sense to just have this built out in the cloud. We also looked at colocation facilities. But those options weren't cost-effective at all."
ACER cools most of its data center through perforated tiles in the floor, but staff placed the GPU cluster in its own hot-aisle containment section with in-row Vertiv cooling and APC power distribution units.
"Because the load was very high, we could not rely on just cold air being pushed up from the bottom. We had to put cooling units in a hot-aisle containment setting," Sharma says. "The solution provides uniform cooling to all the racks, instead of just cold air from the bottom."
At the moment, the new GPU cluster is primarily being used by the lab of the faculty member who requested it, but Sharma says there are plans to open it up for use by other research labs. 
ACER is also hiring a staffer who will serve as a liaison for professors who need assistance using HPC for their research.
"HPC is a great recruitment tool, and something that our colleges are planning to highlight more and more," Sharma says. "Having these resources offered centrally can really make a difference." 
MORE FROM EDTECH: Check out universities use high-performance computing to help troubleshoot faster.
HPC Environments Support Instruction and Research Funding
The University of Virginia's computer science department also recently invested in GPU computing, phasing out inefficient custom-built solutions in favor of a large, standardized environment. The new cluster has five general-purpose machines for testing code, 20 systems with one to two GPUs each and 46 larger systems that each operate with four or more GPU cards.
The department uses Nvidia GeForce GTX 1080 Ti GPU cards on both HPE ProLiant ML350 and HPE Apollo 6500 platforms, and has also deployed the System76 Ibex Pro GPU server (configured with four Nvidia Titan V GPUs per server).
Paul Henderson, director of the department's Research Support Center, says investments like this are key to attracting faculty. But, he says, they also elevate instruction throughout the department, because even undergraduates have access to some of the resources.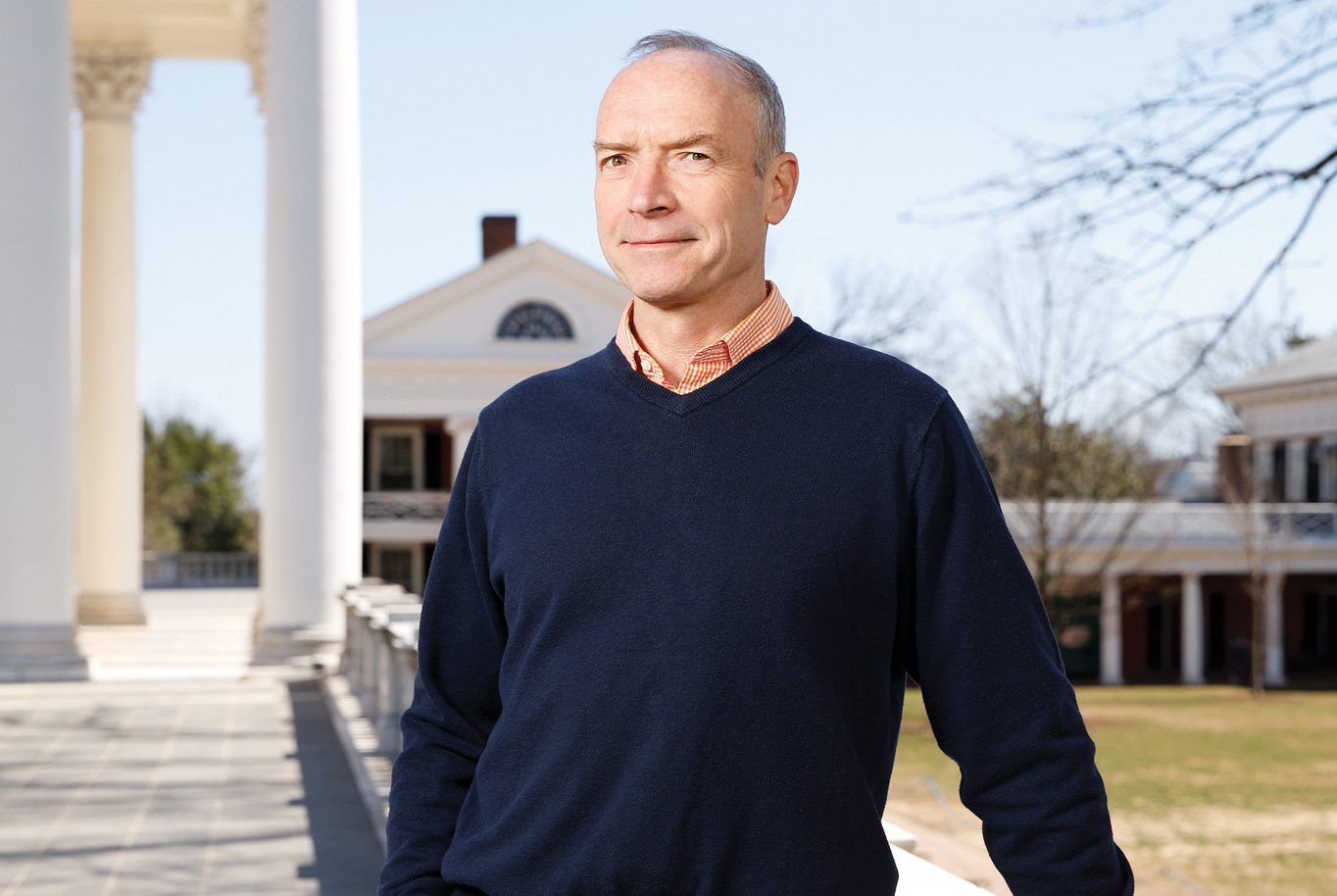 Paul Henderson, Director of the UVA computer science department's Research Support Center, says HPC resources attract strong faculty, enhance teaching and facilitate research funding. Photography by: Jonathan Timmes.
"A lot of researchers were demanding GPU systems," Henderson notes. "In the past year, we've added 12 new faculty members. It's put a lot of pressure on our resources and our capabilities, but that's a good problem to have. The growth has been great, and it's really enabled the faculty to move these systems into instructional use, which is something new that we're seeing — undergrads accessing clusters of machines that they wouldn't have been able to access in the past."
Henderson jokes that his center is a "benevolent dictator" when it comes to parceling out HPC resources. Computer science faculty members use grant money and "startup" funds they receive from the university to help fund new clusters. Then the Research Support Center deploys the resources — with the understanding that others in the department can use them when the initiating faculty member doesn't need exclusive access.
The presence of high-quality HPC resources can potentially position faculty members to win additional grants that further their research.
"Generally, if you can show to a granting organization like the National Science Foundation that you have the capability — the right power, cooling, network and support — to conduct the research, the granting party feels more at ease allocating funding to a researcher," Henderson says. "If you don't have that environment, it becomes more difficult."
Real-Time Data Helps Researchers Deliver Real-World Results
Daniel Reed, senior vice president for academic affairs at the University of Utah and former board chair for the Computing Research Association, says that HPC is gaining importance across academic fields.
"HPC clusters have proliferated across academic campuses because computing is an intellectual amplifier for all disciplines," he says. "Use in the social sciences and the humanities is still small, but it's certainly growing. There's much more balance than there was in the past."