Review: DJI Phantom 4 Pro+ Drone Is an Easy Addition to Campus Fleet
Intuitive flying and smart modes make this drone a user-friendly campus fit.
Drones are soaring in popularity at colleges and universities, showing up in a variety of higher ed applications: capturing footage of campus events, creating captivating flybys of buildings for marketing purposes, monitoring crops in agricultural programs and capturing video for journalism classes, to name just a few. 
Simple Setup Gets Drone in the Air Quickly
The DJI Phantom 4 Pro+ is a state-of-the-art consumer quadcopter with a rigid design, skinned in iconic white with gray accents and weighing just over 3 pounds. The Phantom 4 Pro+ is identical to the Phantom 4 Pro, but adds an integrated 5.5-inch Android tablet affixed to the remote controller. 
That controller has 16 gigabytes of built-in storage, and a micro secure digital card slot gives users the option of adding more. For further variation, a full-sized HDMI port lets users connect to an external monitor. The screen, which is incredibly bright, connects to the base by a rotatable arm that lets users find their perfect viewing angle.
Setup was a breeze. Charging the drone and controller was simple, and speedy navigation through the touch screen made it easy to create the required DJI account. The propellers also installed easily with a simple push and a quarter-turn.
Smart Modes Make Phantom Easy to Fly
Flying was intuitive. What impressed me the most about the Pro 4+ was how easy it was to fly. The drone's ability to hold position while hovering, for example, is beyond impressive. DJI has integrated obstacle-avoidance sensors into the tall landing gear and, when activated, these serve to prevent a crash in all directions except upward.
Several intelligent flight modes give users a few choices for operation. In Draw mode, for example, users simply draw a route on screen and the drone moves in that direction while keeping its altitude locked. For those new to flying drones, the Return to Home mode reduces the potential stress of flying. In this mode, the 4 Pro+ automatically selects the best return route, and because it records its route as it flies, it can return along the same route (while avoiding obstacles) even if the control signal is disconnected.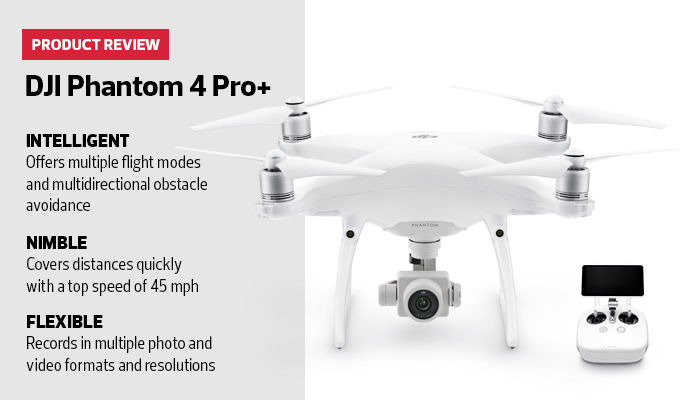 The camera, suspended from a three-axis gimbal and attached to the drone's undercarriage, boasts a 1-inch CMOS sensor capable of capturing 20-megapixel stills and 4K video. During testing, the video footage I shot was crisp and clear, and the photos were bright and vibrant. Even in moderate winds, the gimbal stabilization produced zero shake or bounce. 
As educators continue to find new uses for drones on campus, the DJI Phantom would be a smart, versatile and user-friendly addition to the fleet.
Drone Applications Take Learning Outside
In higher education, drones enable students to explore the intersection between art, technology and research in new ways, such as mapping lava flows, surveying rainforests or gathering geological data. Video production and photography programs can make drones available for checkout and experimentation, giving students a new tool in their creative repertoire. For example, students could use them to capture high-angle photographs from hard-to-reach places and produce swooping, cinematic shots — and for much less money than renting cranes and dollies. Agriculture students are using drones to monitor environmental conditions that affect crops.
On the administrative side, drones can be used to facilitate building inspections, monitor construction projects and carry out land surveys. Campus public safety departments are starting to use drones as an alternative to contracting with municipal and county law enforcement organizations for use of pricey helicopters, providing aerial surveillance that's cost-effective and serves to improve public safety. 
As a middle school video production teacher, I researched and tested my share of drones before choosing the best one. I was looking for the right balance between ease of use and high-quality video footage. My conclusion was that the DJI Phantom 4 Pro+ blends the two perfectly. It easily became my top choice.
DJI Phantom 4 Pro+
Communication Distance: 4.3 miles
Flight Time: 30 minutes
Remote Controller Display: 5.5 inches, 1920x1080 resolution
Global Navigation Satellite System: GPS; GLONASS
Camera Sensor: 1-inch CMOS
Photo Resolution: 20 million megapixels
Video Resolution: Up to 4K
More On