Review: NETGEAR ReadyNAS 424 Gives Users Speed and Flexibility
Customize and connect disk arrays to form a campuswide storage network.
The need for reliable storage and backup is critical in a higher education environment. Student records, along with all the typical files needed to run any organization, must be safely stored and easily accessible. Storage solutions must also be easy to use, because they may be under the purview of educators or administrators who aren't necessarily IT professionals.
The NETGEAR ReadyNAS 424 4-Bay disk array fulfills all these needs, especially when deployed in large numbers so the devices can back up one another's data around campus. 
SIGN UP: Get more news from the EdTech newsletter in your inbox every two weeks!
Combine Storage Devices for Mutual Support
Setting up individual 424s is easy. Users simply pop 2.5- or 3.5-inch disks into any of the empty four bays and the ReadyNAS, or network-attached storage device, configures them for use. A graphical user interface lets users set the RAID configuration that perfectly balances capacity and redundancy for the environment.
Each ReadyNAS is powered by the latest Intel Atom processor, which boosts read and write performance without draining too much power or generating excess heat. Combined with 2 gigabytes of RAM, a ReadyNAS 424 can easily support up to 40 users and a maximum capacity of 40 terabytes of storage, assuming four 10TB drives are installed.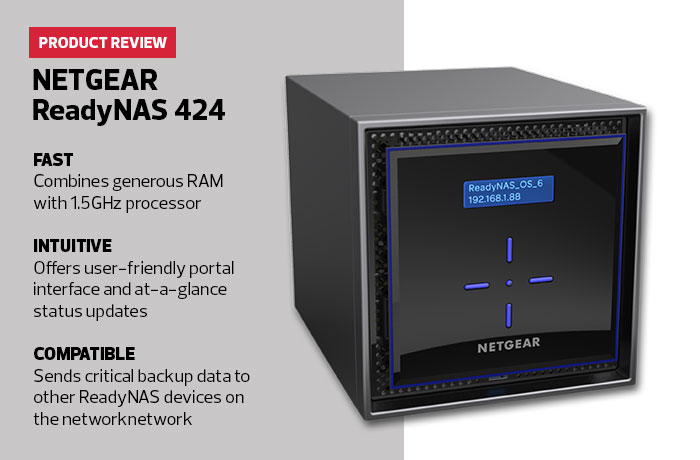 Beyond quick and easy storage for local groups and classrooms, each ReadyNAS is designed to combine with others to form a mutually supporting, campuswide storage network. From the main interface, users can flag critical files and folders for backup to other ReadyNAS devices on the same network, even if these reside in separate buildings or across campus. 
For example, the engineering department might back up files to a ReadyNAS in the English department, and vice versa. Or schools might want to set up a separate, secure space populated with ReadyNAS arrays where everyone can back up their files. For administrators who want to remove physical considerations altogether, the interface also supports backups to the cloud.
Restore Data Easily with Unlimited Snapshots
Data integrity is paramount with the 424, even as a standalone device. In addition to whatever protection is offered by the configured RAID level, each ReadyNAS comes with unlimited snapshots. Users can examine files by date and roll back to earlier versions with a single click.
Today's connected classrooms and high-tech learning institutions have significant storage needs that will continue to grow. The ReadyNAS 424 can help to meet that challenge with a simple interface, quick performance and a focus on keeping data safe.
Check out a how the NETGEAR ReadyNAS 424 4-Bay disk array can help universities customize their data protection here. 
NETGEAR ReadyNAS 424 4-Bay Enterprise
Processor: Intel Atom C3338 1.5GHz Dual Core Processor
RAM: 2GB DDR4
Free Drive Bays: 4
Maximum Capacity Supported: 40TB
Dimensions: 9.4x7.3x7.6 inches
Weight: 8.71 pounds
More On